The U.S. Embassy to Egypt's Oddly Informal Twitter Feed
The diplomats in Cairo, apparently attempting to wield the power of social media for public diplomacy, put out official tweets with an unusually conversational tone.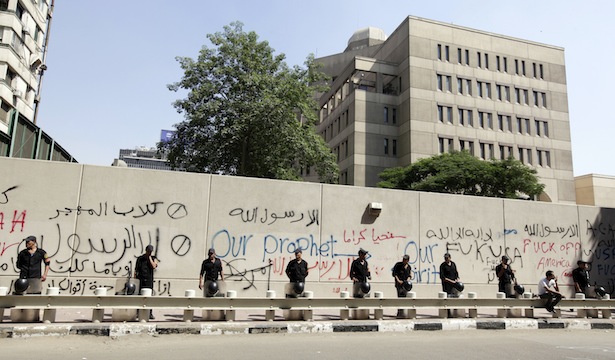 American diplomat Larry Schwartz has gotten himself into some trouble this week. A senior public affairs officer at the U.S. embassy in Cairo, Schwartz on Tuesday wrote a much-discussed memo stating that the embassy "condemns the continuing efforts by misguided individuals to hurt the religious feelings of Muslims," as well as several defensive tweets, some of which he later deleted. For example: "This morning's condemnation (issued before protests began) still stands. As does condemnation of unjustified breach of the Embassy." Romney condemned the "apology," as he described it, and the White House quickly disavowed the memo.
State Department officials back in Washington, it turns out, had reviewed the memo and
explicitly told Schwartz not to publish it
, which he did anyway. "Frankly, people here did not understand it," a State Department official
told
Foreign Policy's
Josh Rogin. "The statement was just tone deaf. It didn't provide adequate balance. We thought the references to the 9/11 attacks were inappropriate, and we strongly advised against the kind of language that talked about 'continuing efforts by misguided individuals to hurt the religious feelings of Muslims.'"
Tuesday's controversial tweets from the @
USEmbassyCairo
account, which Schwartz reportedly runs, were unusually provocative and political but otherwise generally consistent with the feed's noticeably conversational tone. American embassies
across
the
globe
have
taken
to Twitter over the last year or two, an impressive soft power outreach to citizens of foreign countries, but the Cairo feed has stood out. Other feeds, even when they tweet frequently, tend to take the staid tone of official diplomacy, tweeting press releases, quotes from U.S. officials, and relevant headlines.
Not Cairo. The official Twitter account for the embassy to Egypt often engages directly with Egyptian Twitter users and with American journalists in Egypt, replying to their questions or forwarding their tweets. The feed can at times feel less like an outlet for official embassy news than the personal account of an American who happens to be working at the embassy. It
quotes
 or
mourns
famous authors, sends out silly links about "
tweeting plants!!
," makes
pointed references
to
West Wing
episodes
(one of which seemed to
criticize Egypt's decision
to adopt an American-style presidential system),
hashtags heavily
, and asks,
for example
, "How is everyone out there on Twitter today?"
If Schwartz oversees the embassy's official Twitter feed, as
Foreign Policy
reported, then it's worth considering whether his unusually personal, informal style on Twitter might also inform his decision to so brazenly publish Tuesday's memo against the wishes of the State Department. After all, Schwartz grew visibly more comfortable over time in using the Twitter feed as an outlet that increasingly reflected his voice and, on issues often banal but sometimes consequential, his point of view. That this might carry over to a
press release
about the length of three tweets wouldn't seem shocking. If nothing else, by going forward with the memo despite the State Department specific instructions not to, Schwartz seemed to feel comfortable, in that instance, making the decision for himself as to what the American embassy would say publicly.
Despite yesterday's backlash, the U.S. embassy to Egypt's particular Twitter style seems to be continuing. The account has tweeted 25 times since Tuesday's controversy over the embassy's memo and tweets, which apparently drew Secretary of State Hillary Clinton's
personal involvement
and public comment from President Obama in an interview. More than half of those have been responses to other accounts. I don't know whether or not Schwartz is still involved in the account, but the account got into a surprisingly heated, somewhat bitchy exchange with the official Twitter account for the Egyptian Muslim Brotherhood, with which Egyptian President Mohammed Morsi is strongly affiliated:
.@ikhwanweb Thanks. By the way, have you checked out your own Arabic feeds? I hope you know we read those too.

-- US Embassy Cairo (@USEmbassyCairo) September 13, 2012
.@usembassycairo we understand you're under a lot of stress, but it will be more helpful if you point out exactly the Arabic feed of concern

-- Ikhwanweb (@Ikhwanweb) September 13, 2012
Twitter is a social medium, and it both encourages informality and rewards users who embrace that more conversational style. It does not reward users who put out only staid press releases and official statement. The diplomats who run the account of the U.S. embassy to Egypt seems to have understood this, attempting to master Twitter's more conversation style to maximize its public diplomacy potential. But one problem with this is that, if succeeding on Twitter outreach means running the feed like a real person instead of a faceless bureaucrat, does that make the feed reflect the individual behind it more than the broader United States and United States government, which is what the feed and embassy are meant to represent?
More social interaction and more informality is a good thing in social media terms, but the goal of the @USEmbassyCairo feed is presumably not to be good at social media, it's to be good at official government diplomacy. Those aren't always the same thing. The minor Twitter spat above, and maybe this week's imbroglio over the tweets that State Department officials seem to consider ill-considered, are a reminder that this approach, for all its success, also has downsides and risks.