Moment by Moment, How a YouTube Clip Snowballed Into MidEast Violence
What we know about the events that started with Egyptian media airing some offensive clips from an obscure movie to the death of a U.S. ambassador.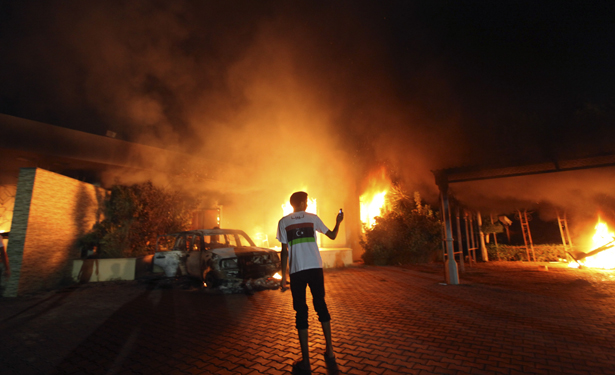 The U.S. Consulate in Benghazi is seen in flames. (Esam Al-Fetori/Reuters)
After incendiary clips from an anti-Islamic film aired on Egyptian television last week, protesters stormed the U.S. embassy in Cairo Tuesday. The attacks were followed by further violence in Libya, where at least 20 assailants struck the U.S. consulate in Benghazi with assault rifles and rocket-propelled grenades. U.S. Ambassador to Libya Chris Stevens, along with three other Americans, were killed in the violence. Much of the story is still being pieced together, but the timeline of events below reflects what we know so far about how a bizarre YouTube clip ended in the death of a U.S. diplomat.
Sept. 9
Clips from 
Innocence of Muslims
 are played on
Egyptian television
. The original, 14-minute collection of clips had been online in English since July and was re-posted to YouTube, this time 
dubbed in Arabic
, the week before. Public outrage begins to circulate online and in the media.
Sept. 11
MORNING IN CAIRO:
 Protesters gather in Cairo. The U.S. embassy to Egypt, located downtown, issues a
statement
condemning the video. Some confusion follows as to whether the embassy is speaking for the State Department or on its own authority.
14:07 (WASHINGTON) | 21:07 (CAIRO):
U.S. security forces
fire warning shots
 to warn off protesters massing outside the embassy in Cairo.
16:47 (WASHINGTON) | 23:47 (CAIRO):
The U.S. embassy in Cairo
confirms
that Egyptian demonstrators have stormed the compound and taken down the U.S. flag.
16:58 (WASHINGTON) | 23:58 (CAIRO): Crowds in Cairo start to dwindle.
18:00 (WASHINGTON) | 01:00 ON 9/12 (CAIRO): Violent protests begin in the Libyan city of Benghazi. A Libyan security official reports gunfire between demonstrators and American security forces.
18:26 (WASHINGTON) | 01:26 (CAIRO):
#Benghazi becomes
a trending topic
on Twitter.
19:17 (WASHINGTON) | 02:17 (CAIRO):
State Department spokesperson Victoria Nuland
confirms in a statement
 that the U.S. consulate in Benghazi has come under attack and that security forces are working to regain control of the compound. No mention of any deaths.
20:07 (WASHINGTON) | 03:07 (CAIRO):
The Libyan government issues a
statement
condemning the Benghazi attack and announces an emergency cabinet meeting.
22:00 (WASHINGTON) | 05:00 ON 9/12 (CAIRO):
Washington
disavows
the Cairo embassy's statement from that morning, saying it was never cleared by the State Department.
BETWEEN 18:00 | 01:00 AND 22:00 | 05:00:
Two of the four Americans to be killed overnight in Libya die in a shootout while
evacuating a safe house
. It's unclear whether those individuals were U.S. Ambassador Christopher Stevens or Foreign Service Information Management Officer Sean Smith, both of whom were later confirmed as among the casualties.
22:51 (WASHINGTON) | 05:51 (CAIRO):
In a statement, U.S. Secretary of State Hillary Clinton confirms that one U.S. citizen has died in Libya.
Reuters' initial report has 3 wounded, one of them possibly American, according to Libyan security officials.
SkyNews reports 1 American dead.
DURING THE NIGHT IN WASHINGTON:
 President Obama is informed that Ambassador Stevens is unaccounted for. He is not notified about the diplomat's possible death.
Sept. 12
01:06 (WASHINGTON) | 08:06 (CAIRO):
Alex Gianturco, a video gamer who was a personal friend of Sean Smith, 
leaks news
of Smith's death. The report is picked up by gaming website
Eurogamer.net
.
04:59 (WASHINGTON) | 11:59 (CAIRO):
Reporter Zaid Benjamin
tweets
a photo believed to be of Ambassador Stevens.
EARLY MORNING IN WASHINGTON: President Obama is notified of Ambassador Stevens' death.
05:15 (WASHINGTON) | 12:15 (CAIRO): Al Jazeera cites a Libyan security official saying that Ambassador Stevens is among the dead.
07:21 (WASHINGTON) | 14:21 (CAIRO): The White House confirms Stevens' death in a statement. 
07:42 (WASHINGTON) | 14:42 (CAIRO):
The State Department
officially confirms
Stevens' death, and for the first time, the death of Sean Smith, in a statement. Officials are still attempting to notify the next-of-kin of the remaining two Americans killed in the Libya attack.
07:49 (WASHINGTON) | 14:49 (CAIRO):
Appearing on Al Jazeera English, Libya's General National Conference Chief Mohamed Almagariaf
apologizes
to the United States.
08:09 (WASHINGTON) | 15:09 (CAIRO):
A detachment of U.S. Marines heads to Benghazi to
reinforce
the American contingent there.
09:30 (WASHINGTON) | 16:09 (CAIRO): Secretary Clinton holds a press conference. "It is especially difficult that this happened on 11 September. Every year on that day we are reminded that our work is not yet finished," she says. "Now it is a day we will remember Sean, Chris, and our colleagues."
10:43 (WASHINGTON) | 17:43 (CAIRO): President Obama holds a press conference in the Rose Garden of the White House. "The United States condemns in the strongest terms this outrageous and shocking attack. ... And make no mistake, we will work with the Libyan government to bring to justice the killers who attacked our people."
12:48 (WASHINGTON) | 19:48 (CAIRO):
The State Department issues a travel advisory for Libya and
recalls
all non-essential personnel.
13:22 (WASHINGTON) | 20:22 (CAIRO):
U.S. officials say the Libyan attack
may have been premeditated
and not linked to the film protests.