Michelle Obama's DNC Speech Goes Viral in China
Some Chinese viewers seem a bit jealous of the American political system -- and maybe of President Obama.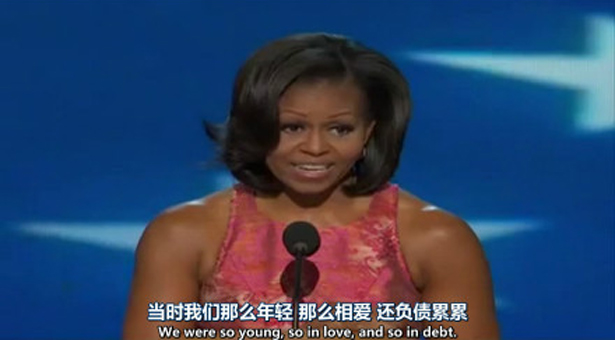 First Lady Michelle Obama knew she was speaking to the American electorate when she took the stage yesterday at the Democratic National Convention in Charlotte, North Carolina. But she may not have known the size-or, it turns out, the enthusiasm-of her Chinese audience.
After mockingly calling for the U.S. to pay China back after Romney complained last week about the size of American debt, Chinese netizens again showed a keen level of interest in American political theater. Video clips of Michelle Obama's speech made the rounds September 5 on Sina Weibo, China's Twitter, garnering over 9,000 retweets and over 1,000 comments.
With a swell of rumors and predictions in advance of China's upcoming leadership change, the country's netizens are keener than ever to learn how the game of politics is played overseas. Perhaps because they are accustomed to stone-faced leaders engaged in back-room shenanigans, they gave Ms. Obama's speech a particularly warm reception.
Many felt Ms. Obama's speech was "inspiring" and "divine." @那时的烂漫  from Shandong province felt touched from thousands of miles away: "This is not only moving, but the kind of thing that can cross borders pull heartstrings!" @Paulus_Lee  from Guangzhou was equally effusive: "Wow, America's first lady is too awesome [Chinese slang literally meaning 'give power,' or '给力']. A speech this wonderful and sincere is fresh English-language study material and awakens my interest in studying English [again]. Nice."
One common conclusion: President Obama is lucky. @aviatorpink from Shanghai wrote in English, "She is damn amazing...Lucky Obama." @天能渡 from Sichaun province wrote, "Not bad, I feel it's much better than President Obama's speeches." And @Evil摄影师 from Hangzhou commented: "This is the kind of woman a man needs."
A minority of netizens expressed cynicism. @在麦田里东张西望 from Hangzhou wrote that "learning how to 'make a show' is required learning for every politician."@托尼怕渴 from Nanjing sighed, "They're all just actors."
Cynics aside, an undercurrent of jealousy in netizen comment was easy to detect. @花轩羽 from Beijing wrote subtly, "It was really good, so good that this Chinese person wants to vote for her husband..." One netizen from Shanghai was more direct, complaining in English, "Even our grandchildren still can not choose their f***ing president!"
Another netizen from Jiangsu seethed, "'As long as you work hard you can realize your dreams.' In China, this phrase truly is a joke. It should be changed to something like: 'If you have money and connections, you can get a job.'"
Netizens seemed to agree that China's current leadership lacks the charisma factor on full display in Charlotte last night. One netizen from Beijing asked rhetorically, "Who knows who the first lady of China is?" Another from Hangzhou couldn't help but notice, "The big difference with our Party Congress is: The audience [at the DNC] have expressions, they're laughing, or thinking deeply, or getting passionate. Our representatives are always without expression and applauding mechanically." Until then, Chinese netizens will continue to hope they eventually get a leader who connects with them on an emotional level. One Beijinger's English-language comment summed this sentiment up: "Love this speech! Thank you for giving us hope.... China when can [we] have a great first lady like her?"
This article originally appeared at Tea Leaf Nation, an Atlantic partner site.