How China's Mainstream Media Ignored the Anti-Japanese Riots
Massive demonstrations earlier this month went viral on domestic social-media channels, but there was no coverage of the unrest in newsprint.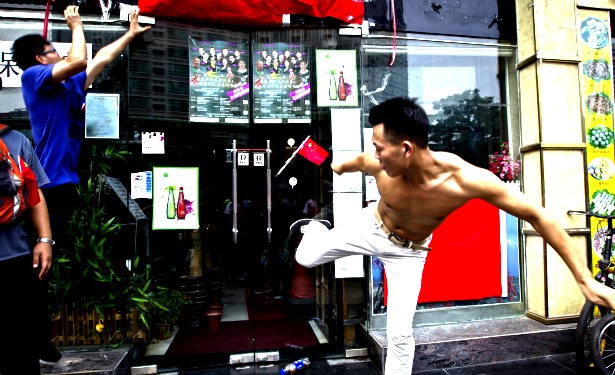 A man kicks at the door of a Japanese pub during a protest in Shenzhen, China. (Stringer/Reuters)
It's already entered the annals of China's brief but rich Internet history: On Sina Weibo, China's Twitter, posts showing massive anti-Japan protests in China went viral on September 15th and 16th. Out in the real world, protestors across dozens of Chinese cities marched in the thousands. In addition to rejecting Japan's claim on the uninhabited island, Chinese Web chatter has zeroed in on two issues: China's nationwide anti-Japan protests and some protesters' violent behavior.
Sina Weibo initially seemed unsure of how to deal with the events. It deleted a number of "sensitive" posts, extending even to one feel-good story surrounding the protests involving a young man who bravely fashioned a makeshift sign warning drivers of Japanese cars to avoid one violent scene. On September 15, user @鹦鹉史航 sighed, "I don't know how many posts you (Sina) have deleted today, but it makes me sick to see you delete that post. ... The government won't force you to delete this one." The photo was posted by other users and in the end "survived" the censor's scalpel.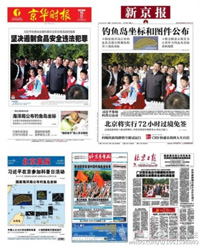 A glance at Beijing print newspapers from September 16 suggested things were rather harmonious.
Meanwhile, Off the Grid
However, given China's strict media censorship system, are the majority of Chinese people who don't use the Web aware of the violent protests in the real world? How about the older and the less connected, those not on Weibo who rely on traditional print and broadcast media for their news?
This writer conducted a search of the front page headlines of 19 major print media in the cities of Beijing, Qingdao, Changsha, Guangzhou and Xi'an on September 16, the day following the first day of mass protests in these cities. Thirteen of the 19 covered only the geographic location of the Diaoyu/Senkaku islands as released by China's State Oceanic Administration on September 15. Beijing Youth Daily (北京青年报) and Xiao Xiang Morning News (潇湘晨报) were the only two media outlets surveyed that actually published photos of their respective cities' protests on their front page. Xi'An Daily (西安日报), Xiao Xiang Morning News (潇湘晨报), Southern Metropolis Daily (南方都市报), and New Express Daily (新快报) included calls to express patriotism in a rational manner.
China's mainstream media was scarcely more forthcoming on the Internet. A search of keywords such as "anti-Japan (反日)" and "anti-Japan protest (反日游行)" on the websites of several major print media in China on September 22 showed a similar caution when it came to reporting facts on the ground.
One example is the website of Nandu Daily, the most influential daily newspaper in southern China known for independent-minded reporting. Searches for "anti-Japan protests" up to September 22 yielded only two news stories. One had been published on November 7, 2007, covering soldiers in the Second World War against Japan, while the other was published on May 12, 2008, and reported on a lecture about patriotism.
The website of the Dongfang Daily, a major Shanghai-based major newspaper, was little better. The same search yielded eight stories, none of which covered the protests directly. Five of them covered the reactions of Japanese people, Japanese embassy and Japanese car companies to the protests. One article from Xinhua News, China's government-controlled wire service, called for "rational patriotism" in the face of tensions.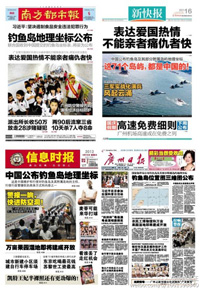 Protesters were on the streets of Guangzhou September 16, but not the front page of Guangzhou's papers.
After reviewing the evidence, it is clear that iSun Affairs' Zhibiao Song was correct when he wrote, "Except for a few left-wing media in Beijing, most of the traditional media in Mainland China are prohibited from reporting [on the protests.] Print and broadcast media are all staying away from this topic, not to mention providing a full report or comprehensive commentary." Indeed, this writer asked one Weibo user from Guangdong TV whether they were forbidden to cover the protests. "Yes, you understand," he responded on Weibo.
A Few Brave Souls
Some media outlets made an effort to cover the protests. The historically heterodox Caijing Magazine created an album called "Photos of Anti-Japan Protest Slogans" on September 18. On September 21, it published an article titled, "Experiencing the 9.15 Anti-Japan Protests in Beijing," which described reporter Jin Song (靳松)'s experience covering a protest on September 15.
Perhaps more obliquely, 21CN News, another major news website, curiously mentioned the protest in its sports section with the title, "Rational Patriotism Shown During Nationwide Anti-Japan Protests; Japanese Player in Shenzhen Not Afraid of Pressures."
These are at least efforts at bringing sunlight to a traditional media landscape that remains highly opaque. However, for journalists and other Chinese determined to broadcast the word on the street, Weibo remains the primary destination. Those in China without social media savvy continue to make do with less.
---
This post was produced in collaboration with Tea Leaf Nation.