China's Anti-Japan Protests Attract Some Chinese Criticism
As demonstrators smash Japanese stores and burn Japanese cars, cooler heads are prevailing in Chinese web discussions.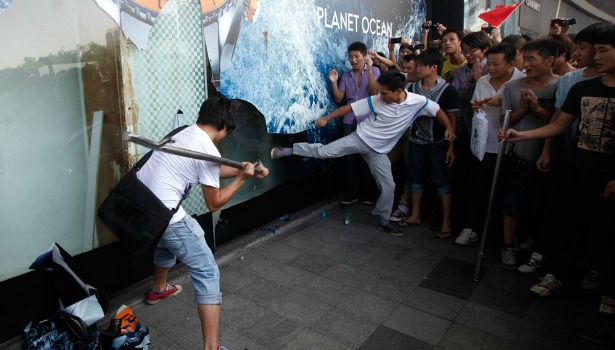 On Saturday protestors in dozens of Chinese cities took to the streets to voice their anger at the Japanese government's nationalization of the Diaoyu Islands (Senkaku Islands in Japanese) in the East China Sea as a flagrant violation of Chinese sovereignty.
In Beijing, thousands of protestors besieged the Japanese embassy, hurling eggs, bottles and anything else at hand - sometimes hitting unfortunate reporters stationed nearby - and tried to storm the barricades manned by hundreds of riot police. The unrest was apparently too unsettling for censors, who have made "Japanese embassy" a banned search term on Sina Weibo, a popular Chinese social media platform.
Reports also poured in of attacks in several cities against Japanese nationals - including one person who was had ramen poured on him, another who had his eyeglasses broken and tourists who had bottles thrown at them - and vandalism of Japanese cars and restaurants and stores selling Japanese food and goods. One owner of a Japanese car even reportedly set his own car on fire in protest.
In Huangdao (黄岛), a commercial development district near the seaside city of Qingdao, a massive crowd (pictured up top) smashed their way into the local Jusco, a large Japanese department store, leaving heaps of wreckage in their wake.
@记者刘虎, a reporter in Guangzhou, tweets, "Today, the Mitsubishi elevator factory in Qingdao was set on fire, the Heiwado [a Japanese department store chain] in Changsha was broken into, the vandalism and rioting is so severe in Xi'an that many residents are scared to go out. Many cities are in a state of chaos. Is this any different from the Boxers and the Red Guards? Many cities are in chaos. The thugs have just changed their clothes...Why does history keep repeating itself? Where is the government's ability to enforce the law?"
Netizens on Chinese social media, while being almost unanimously against the Japanese government's action and calling for Japan to respect China's sovereignty, also for the most part condemned the vandalism and the violence against Japanese nationals.
He Jiong (@何炅), a celebrity TV personality, in a tweet that received over 200,000 mostly supportive comments and retweets, wrote, "Patriotism is a very noble word. For those compatriots who smash cars, who eat at Japanese restaurants then curse and don't pay, who assault foreigners for no reason in front of their homes, don't degrade the word patriotism! The [Diaoyu] island is definitely ours, but the dignity of our country is also in our hands!"
@徐静波微博 agrees that "those who don't know how to respect others will not gain others' respect. I'm strongly opposed to any attacks on ordinary Japanese people. Chinese people can't promote an image of being hooligans in international society!"
@潘軼彪 tweets,"Put yourself in the other person's shoes. I certainly don't hope to have a bowl of hot ramen poured on me when I walk on Japan's streets. No one has been given the right to exact this type of revenge."
@反裤衩阵地 reports that some 'protestors' may be taking advantage of the situation to get a free lunch: "I just spoke with the manager of a Japanese restaurant, an authentic Beijinger, who reported 'After a group of customers finished eating they suddenly pulled out Chinese flags and started shouting slogans! After they caused a scene, they didn't pay the bill and just ran off! Who ARE these people!!!!'"
宁财神), a screenwriter in Shanghai, is even encouraging netizens to "collect the pictures of these violent thugs along with the time and location of their crimes. There's too much deletion [on this topic] today. Wait a few days then put those pictures up and make sure the police enforce the law. In a society ruled by law those who break the law must pay the price.
@陆小巍kenny tweets from Japan to reassure family and friends in China concerned for his safety, "Thanks for everyone's concern for me. I'm fine here, very safe! At least when I walk on the streets of Tokyo, I won't get attacked for no reason, and no one's going to pour ramen on me. When I go to a restaurant, I won't see a sign saying 'No Chinese Allowed' and I certainly won't see crowds of people smashing up Chinese restaurants! It's life as usual in Japan..everything is the same!"
For the tens of thousands of Japanese nationals living in China, it may be some time before it's back to life as usual.
This article originally appeared at Tea Leaf Nation, an Atlantic partner site.