How Apple's newest device became an accessory to an international crisis.
Just as tempers had begun to cool off after anti-Japanese riots left Hondas and Toyotas strewn, vandalized, across China's streets two weeks ago, tensions on the microblogging site Weibo began to rise again over news that in Japan, the newly released iPhone 5 listed a set of contested islands -- known as Diaoyu in China, Senkaku in Japan, and claimed by both countries -- as part of the Okinawa Prefecture, part of Japan. To complicate matters, the Senkaku-labeled islands appear beside a duplicated set of the same islands, labeled the Chinese way. Within the first few hours after news broke, over 760,000 outraged posts appeared on Weibo, nearly all calling for boycotts of the latest iPhone.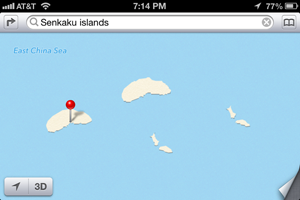 Apple's new iPhone displays two sets of the disputed islands in the East China Sea. (Anthony Adragna)
Some of the Weibo posts demonstrate more nuance than others, but a common theme they share is an underlying assumption that the iPhone symbolizes America's political stance -- and by extension, U.S. hypocrisy. Miyou de jiang (@米油的酱) writes "Boycott Apple!!! Make them declare their position on the diaoyu islands (抵制苹果!!!让他们表态。)." Pan Xinyi De Weibo (@潘欣毅De微博)" wrote, "It is the United States supporting Japan from behind that Japan dares to buy the Diaoyu islands (就因为有美国在背后撑腰,小日本才敢购买钓鱼岛。)." Beijing Morning Post (@北京晨报) puts it rather bluntly, "Double-faced practices! ( 两面派做法吧!)."
For these microbloggers, the iPhone 5 map is the latest in a long line of U.S. missteps regarding the recent Sino-Japanese dispute. Officially, Washington has nothing to say on the issue. But when State Department spokeswoman Victoria Nuland said in a briefing on August 28 that the United States formally refers to these "special little rocks" as the Senkakus and not also the Diaoyus, it signaled to China that perhaps the United States was not really playing Pontius Pilate.