China Censors Discussion of Next Leader's Disappearance, but Web Users Find a Way
Vice President Xi Jinping is nowhere to be found.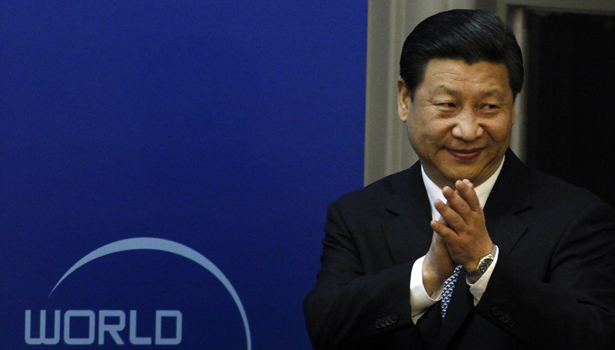 You want to know about politics in Beijing? Four words: Watch your back, Jinping.
At Tea Leaf Nation, we often try to distinguish facts from the many rumors circulating on Chinese social media. When we heard rumors that Mr. Xi Jinping, the Heir Apparent set to take over as China's next paramount leader, was the target of an assassination attempt just because he cancelled a few meetings with foreign dignitaries, we thought, "Oh c'mon..."
Alas, the next thing we knew, the rumor was being printed in the venerated pages of the New York Times.
As the eleventh day of Mr. Xi's "disappearance" rolls to a close, it is now clear that something has happened, and it is not a minor incident that can be brushed off. "'The Disappearing Heir Apparent' is now playing in theaters," commented one netizen on Sina Weibo, China's Twitter.
It's a cat and mouse game for netizens who are interested in Mr. Xi's coming and goings. Certain code words for Mr. Xi, such as "Crown Prince (太子)" or XJP, are blocked search terms on Sina Weibo. However, netizens have invented others, such as heir apparent (王储) and second in command (二当家). A search for the phrase "Where is She," a play on the pronunciation of Mr. Xi's name, yielded more than 9,000 results.
Some netizens still believed that Mr. Xi suffered a minor ailment that will not jeopardize his succession, citing as evidence the busy travel schedules of the other leaders. "It's probably not a big deal, otherwise the chairman [Hu Jintao] and general manager [Wen Jiabao] would not be traveling on business," said one. According to official news outlets, Mr. Hu attended APEC meetings in Russia and returned to China on September 9, and Mr. Wen attended the Summer Davos in Tianjin on September 11 after visiting an earthquake disaster zone in Yunnan.
Many made light of the widely different versions of the rumors about Mr. Xi's disappearance. "The version where he gets hurt playing soccer is pretty good. Our leaders have great quality of life," tweeted one. "Is there something wrong with his card that he can't punch in?" asked another.
Others, however, sensed the gravity of the situation. On the speculation that Xi suffered from a heart attack or a stroke, one netizen commented, "If [Xi] has a serious health issue, that is a hard indicator [of his unsuitability for succession], so he would have no chances anymore." Another commented that the incidents where a member of the Politburo Standing Committee is known to be involved in an accident or minor injury can be counted on one hand. Even if Xi's illness is not serious, some speculate that his ability to serve as China's head honcho for the next decade could be called into question by the current top leadership, who is rumored to have started implementing a Plan B in which current vice premier Li Keqiang would take the top seat instead.
The lack of concrete sources of information in foreign media is also taken as a sign of troubles afoot. "There are only speculations outside the [Great Firewall], so there is very little information leakage. The leadership is taking this quite seriously, it's probably not a small matter," tweeted one netizen. Another agreed, "I hope Xi and He [Guoqiang] show up soon, otherwise I can't imagine what would happen!"
On the suggestion that Xi's temporary disappearance has no impact in the grand scheme of things, a netizen disagreed, "The disappearance does have something to do with us. 1. It's a good drama to watch. Since there is nothing good on television, we can only watch them fight. 2. The worse the infighting is, the weaker they will be afterwards."

This article originally appeared at Tea Leaf Nation, an Atlantic partner site.