When a Celebrity Tells Her Dictator-Host, 'No Thanks'
Tyrannical regimes love to hire celebrities as entertainment and as a sort of indirect PR, but one African ruler's effort might have backfired.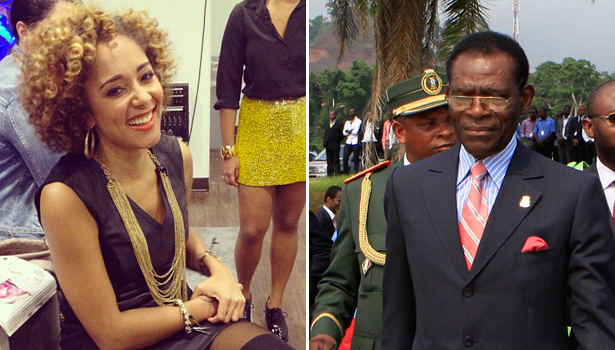 Actress and sometimes MTV host Amanda Seales says she knew "absolutely nothing" about Equatorial Guinea when she received an invitation to the Leon H. Sullivan Foundation's biennial summit, held last week in the tiny African nation. The 31-year-old has acted in a Nickelodeon series, hosted on MTV, released music, poetry, and visual art, and earned a master's in African American studies from Columbia University. It's easy to see why the Sullivan Foundation, an organization dedicated to continuing the work of social activist and religious leader Leon Sullivan, decided that Seales had something to add to what their promotional materials describe as "a gathering of the African Diaspora."
And it's just as easy to see why Seales, who has never visited Africa, might have jumped at the opportunity, especially after running an internet search for pictures of Equatorial Guinea, a coastal nation with a population of only 600,000. "There's this beautiful island, and there're white sand beaches," she told me. "And I'm like what, that's where we're going? And I'm told we're going with the government, so we'll be taken care of."
That last part ended up being a problem for Seales. Some time before the summit, an aunt alterted her to the Equatoguinean government's record of human rights abuses. Seales, worried that attending might help legitimize an oppressive, autocratic government, cancelled.
Had Seales accepted, she would have joined a long and prominent list of celebrities who have appeared on behalf of dictatorial governments. In 2009, Sting performed for the daughter of the dictator of Uzbekistan, for which he was reportedly paid between two and three million dollars. (Two years later and perhaps chastened by the international backlash, he canceled a concert in Kazakhstan over its suppression of workers.) In 2011, Beyonce Knowles and Hilary Swank made paid appearances at a New Year's celebration for one of the sons of Muamar Gaddafi and a birthday party for a Chechen warlord, respectively. As the Washington Post put it at the time, "A raft of Western entertainers and celebrities, including Mariah Carey, Usher, Beyoncé and Sharon Stone , have hired themselves out to some of the world's most odious human rights abusers, their children or close associates."
Why do dictators hire out such pricey and famous guests and entertainers? Sometimes just because they can; Hannibal Gadafi was famously profligate. In instances like the Sullivan Foundation meeting, they seem to use celebrities or international organizations to project an appearance of normalcy and cooperation to the outside world. Seales decided this was a trend she didn't want to be a part of. "I realized," she said, "that if I were to go I would actually be undermining everything I stand for."
•       •       •       •       •
The Sullivan Foundation conference, which Equatoguinean dictator Teodoro Obiang opened on August 20, showcased a tiny country with a thriving energy sector and an outsized regional profile. Equatoguinean dictator Teodoro Obiang is the current president of the African Union, as well as one of the continent's longest-tenured and most oppressive leaders. Since seizing power in a 1979 coup, Obiang has presided over what one researcher describes as "a quintessential criminal state" and has overseen abuses ranging from petty rent-seeking to ethnic incitement.
The country is sub-Saharan Africa's fourth-largest oil producer, with an average annual income of $13,000. Yet over 70 percent of residents live on under $2 a day. "Equatorial Guinea is a grotesque example of a country that has generated a lot of cash for a very small elite, and where we have seen virtually no trickle down to the regular population," says Todd Moss of the Center for Global Development, who described the country's political and economic system as "extremely opaque."
Armed with petro-dollars and a bit of potentially strategic Atlantic coastline, the regime has pursued respectability in international circles. The Sullivan meet is just one part of a broader attempt to situate Equatorial Guinea in the political and economic mainstream. In 2006, the oil minister explained his government's global ambitions during a speech at a Madrid conference co-sponsored by Harvard's Kennedy School In 2011, the capital city of Malabo hosted the annual African Union summit, and Obiang continues to sponsor a UNESCO award.
Much of Obiang's efforts focus on the U.S. Obiang has variously retained the services of high-powered consultant Lanny Davis as well as a Washington, D.C.-based PR firm. Arrianna Coleman, an activist who attended the conference, estimated that one third of her fellow delegates were American. When I attempted to reach the Equatoguinean embassy in Washington, D.C., for comment on August 27, I was told that officials were unavailable, as they would be attending the Democratic and Republic National Conventions.
•       •       •       •       •
Seales told me that she didn't struggle with the decision to reject the invitation. "You don't get the luxury of being frivolous in your choices [as a public figure], especially when it has to do with something like this, where it's affecting other human beings," she told me.
By attending the conference, Seales argued, she would be complicit in Obiang's outreach efforts and, by extension, the country's continued misery. "I can't sit on a beach knowing there's an entire country of people that have a complete lack of resources, etcetera," she told me, "while we're being treated like princes and princesses for the purpose of further mistreatment of the people." She feared her presence would be manipulated to give the appearance of supporting Obiang's political program, no matter what she said in the panels or talks she was scheduled to participate in. "Really it's a political and diplomatic exchange between America and Equatorial Guinea, and I don't want any part of that."
Coleman, the activist who attended, said by email that the event was "propaganda," and mostly consisted of "African heads of state giving speeches praising [dictator Tedoro] Obiang [Sullivan Foundation CEO Hope Sullivan] Masters while paying lip service to 'democracy, 'human rights,' 'development.'" Meanwhile, "none of the planned panels happened," and "the Youth Summit was censored by EG gov't officials." According to the Equatoguinean government's own press releases, only a quarter of the anticipated 4000 delegates ended up coming.
In a response to criticism leveled at the Sullivan Foundation for holding its conference in Equatorial Guinea, Hope Masters Sullivan has publicly defended not just the decision, but Obiang himself. "President Obiang has modernized his country and has implemented major political reforms," she wrote in an August 6 statement.  "It appears the entire country is a worksite in which capital and technology from around the world participate without discrimination." The Sullivan Foundation didn't return my requests for comment.
•       •       •       •       •
Seales' case shows the potential pitfalls of Obiang-style PR. Celebrities by their nature bring media and public attention with them, and that attention doesn't always focus where the host might like.
If the glitzy Sullivan Foundation event was intended to distract from Obiang's dismal human rights and development record, then it was a failure for its hosts, according to Thor Halvorssen, who as director of the New York -based Human Rights Foundation had lobbied some invitees (including Seales) against attending. The summit, he says, only drew attention to Equatorial Guinea's problems. "If I were to say Equatorial Guinea is bad, people would say yeah, but what else is new," he told me. "[The summit] offers us a perfect light to shine in a way that isn't otherwise possible...in the same way that Hilary Swank did an enormous service for human rights for taking money from [Chechen president] Ramzan Kadyrov."
Seales says that few people outside of her inner circle have talked to her about her decision, and that she had nothing other than her own individual principles in mind when she opted to stay home from Malabo. "I wouldn't consider myself a revolutionary in the way of an Angela Davis of a Huey P. [Newton]," she said. "But everyone should seek to be a revolutionary within their own means."