Was Your Stuff Made by Slave Labor? It's Not Always Easy to Tell
There are 21 million slave workers in the world, and some of their products end up in the U.S.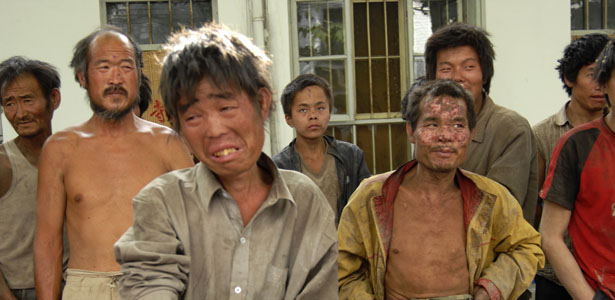 ---

MORE FROM THE COUNCIL ON FOREIGN RELATIONS
---
The latest estimates by the International Labor Organization state that nearly 21 million people are victims of forced labor--and a significant amount of this suffering is fueled by every day products available on American shelves.
In Bloomberg Business Week, E. Benjamin Skinner documents how fish caught by slaves made their way onto plates in the United States. The path is convoluted: Indonesian recruiters deceived desperate men looking for work. Ship captains on the Korean Melilla 203 ship abused the laborers--forcing them to toil for as long as thirty consecutive hours, subjecting them to sexual abuse, and refusing to properly compensate them. New Zealand companies purchased the fish (and New Zealand environmental inspectors reportedly overlooked the slavery and responded to a plea for help by saying, "Not my job"). Finally, U.S. distributors bought the catch, which wound up on American dinner tables.
By ratifying the Trafficking in Persons protocol to the UN Convention on Transnational Organized Crime (TIP protocol), 151 countries around the world have agreed to criminalize human trafficking within their borders. Article 10 of the protocol also commits states to exchange information with foreign authorities and cooperate with foreign law enforcement agencies to prevent and detect human trafficking.
Meanwhile, at sea, the vast majority of major economies engaged in global trade have ratified the UN Convention on the Law of the Sea (UNCLOS). (The United States stands as an important exception and is not party to UNCLOS, but has ratified the TIP Protocol.) Part VII, Article 99 of that accord requires states "to take effective measures to prevent and punish the transport of slaves in ships authorized to fly its flag."
And yet, these international frameworks are loosely monitored and do not foster enough cooperation among international law enforcement agencies. In particular, this case underscores one of globalization's major challenges: the number of sovereign jurisdictions involved in one crime. Indonesian authorities were either not aware of the crime, or chose to overlook it. Korean authorities, under whose flag the ship sailed, did not investigate the labor standards onboard Melilla 203 (South Korea has not ratified the TIP protocol, but did neglect its treaty obligations under the UNCLOS, which it has ratified). And New Zealand authorities failed to identify the slave labor on ships docked in their harbor.
Human trafficking is notoriously difficult to investigate and prosecute due to its clandestine nature, corruption of local authorities, mobility of traffickers, and underreporting because victims fear for their safety or that of their families. However, challenges are compounded when only one country oversees a single link in the chain.  Separate law enforcement agencies charged with investigating and prosecuting crimes are constrained by national boundaries, while the illicit actors permeate borders with ease. The regime is wildly vulnerable to exploitation.
In theory, Interpol coordinates among sovereign jurisdictions, but with an annual budget of $78 million (59 million euros) in 2010, the organization hardly makes a dent in human trafficking worldwide. Indeed, in all of 2011, Interpol reports only one operation on its website. In that operation, Interpol agents assisted Ghanaian police to rescue children between the ages of five and seventeen who were forced to work on fishing boats in Lake Volta. Given that Ghana exports roughly 11 percent of its fish, it is probable that the catch traveled well beyond its national jurisdiction. In total, the Interpol-supported operation rescued 166 children. That amounts to .0000079 percent of the estimated victims worldwide.
Law enforcement operations cannot be expected to tackle human trafficking alone, and rescue is not always a viable solution. High demand for cheap goods, opaque supply chains, and low consumer awareness are underlying structural conditions that contribute to the prevalence of labor trafficking.
Seventy-eight percent of U.S. families reported choosing organic foods in a November 2011 survey, despite the fact that they are often more expensive. In a new Gallup poll, 5 percent of Americans identify as vegetarians for environmental reasons or because they object to the inhumane practices of many meat producers. Is there even a word to describe people who choose to eliminate slave-made goods from their daily lives? How often do we see asterisks and a note that ingredients in a meal were harvested freely by people being compensated according to domestic or international law? The American Humane Association has trademarked the "No Animals Were Harmed" ® disclaimer, and yet, no such tagline exists for cruelty to people.
In the Melilla 203 case, McDonald's refused to purchase the fish from the New Zealand supplier because it requires all of its suppliers to submit to third-party audits on its labor standards. The 2010 California Transparency in Supply Chains Act of 2010 requires companies that operate in California with an annual worldwide profit that exceeds $100 million to "disclose what efforts, if any, they have taken to eliminate human trafficking from their supply chains." This is a laudable first step.
Companies like McDonald's that prioritize the elimination of slave labor from their supply chains would benefit from printing the fact on their products. As consumers become more conscious of their purchases, a label on a box that distinguishes their product--"This company and its suppliers submit to third-party audits on its labor standards" or "No slaves were used"--would go a long way. For their part, countries, or even U.S. states with large economies where multinational companies have a large stake, should lead the way by requiring companies to publish such taglines on products.
This article originally appeared at CFR.org, an Atlantic partner site.