The Two Chinas at the Olympics
Who had a bigger impact on the London games, China's athletes or its manufacturing workers?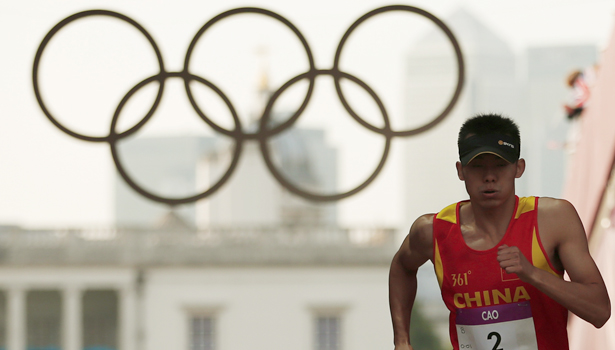 Now that the London Olympics have come to a close, it is time to reflect on another aspect of China's role in the games. No, not the medals that Chinese athletes hauled home (second place in the world with 88, a lucky number!), nor the potential U.S.-China rivalry at the games. Let's instead reflect on how the China that never even got close to the games is the one that London could not have functioned without.
Yes, I'm talking about China's manufacturing sector. That's the part of China that apparently inspired populist outrage among some members of Congress over U.S. Olympian uniforms that were made in China. It was a rare occasion in which Democrats found common-ground with Fox News on manufactured patriotism. Or if you're Peter Navarro, you'd probably just call it "Death By China." Far from death by a thousand Chinese widgets, it turns out the London Olympiad would've barely survived without them -- it wouldn't have had fireworks, the soccer field would've been incomplete, and referees would've had to officiate in their underwear. Courtesy of the fantastic Ministry of Tofu, via Sina, here's an infographic compilation of what Chinese products made their way to London:

This list reveals both the challenges and aspirations of where the Chinese economy is attempting to go. It is a complex duality distilled into simple terms by a couple comments accompanying this products list. As one Chinese commenter quipped, "Even if the entire world is 'made in China', does it matter? You're still just a factory." Another retorted, "Chinese manufactured products in the Olympics is just the beginning. In the future, we'll have many more Chinese brands and designs."
The gap between reality and aspiration is both what frustrates many Chinese but confounds just as many observers. It's a reflex of many U.S. commentators to trumpet "outsized Chinese aspiration" in an attempt to cajole America into taking whatever he or she sees as the necessary actions to rejuvenate itself. For many Chinese, an often cynical bunch, they would rather ground themselves in the realities of today, much closer to the mundane than to grand ambitions. The central government may field the first manned space station mission or claim that the national revival project is 62 percent complete, but many Chinese disagree or are simply apathetic, as they believe none of this will alter their station in life.
A recent series of profiles from the estimable Southern Weekend perfectly captures that growing gap between national ambition and average Chinese realities (hat tip again to Ministry of Tofu). In their simple and quotidian ways, each of these individuals contributed to the success of the London Games. Yet not one of them actually participated. These are some of the Chinese men and women who quietly and dutifully performed their jobs, largely sheltered from the magnitude of the sporting event to which they were supporting and unaware of the fact that their 12-hour shifts created political ripples in Washington.
Meet 57-year-old Wu Wenxin. She is up at 4:30am every morning and arrives two hours later at the Beijing Olympics training center, where China's elite athletes prepare for national glory in London. She is a janitor, whose duties include ensuring that the basketball court is spic and span at 9 a.m. and at noon so the athletes can start their practice on time. In her two years at the training center, she has never taken a sick day and only took one day off for Spring Festival, because the athletes don't get a break either. Some athletes occasionally exchange niceties with her, but none is likely to remember her name. Wu's day ends around 9 p.m., when she returns home to prepare lunch for the next day. Recently, the training center hired new janitorial staff, causing a drastic reduction in her monthly salary to 1,800 yuan (about $300). Her reaction, "our kids are all grown and out of the house, we old folks don't have that many responsibilities anymore. See, I'm still eating pretty well these days aren't I?"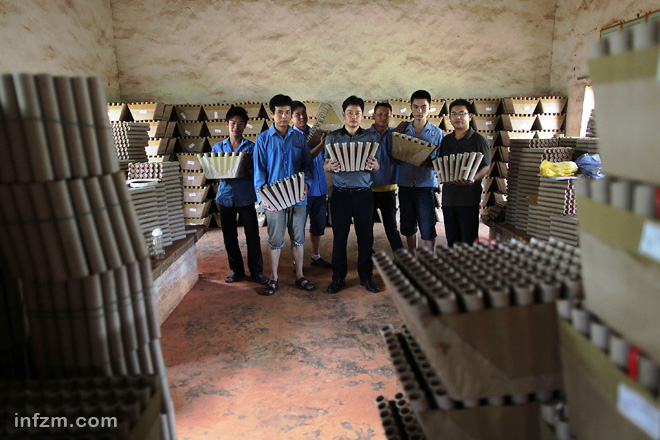 Meet the pyrotechnic whizzes from Tanghua fireworks factory in Hunan province. They have long been one of the major suppliers to the London company that provides Olympics fireworks. Tanghua's fireworks have traversed the world -- they were seen at the 2006 winter games in Torino, Italy. If it weren't for Tanghua, London's closing ceremonies pyrotechnic orgy would've been 75 percent less spectacular. Their biggest gripe isn't that China failed to outcompete the U.S. in medals but that London spent just 1/30 the amount that Beijing did on fireworks for 2008. "We usually export more than 100,000 cases of fireworks a year, so the London order was just about 1 percent of our total," reported one of the employees.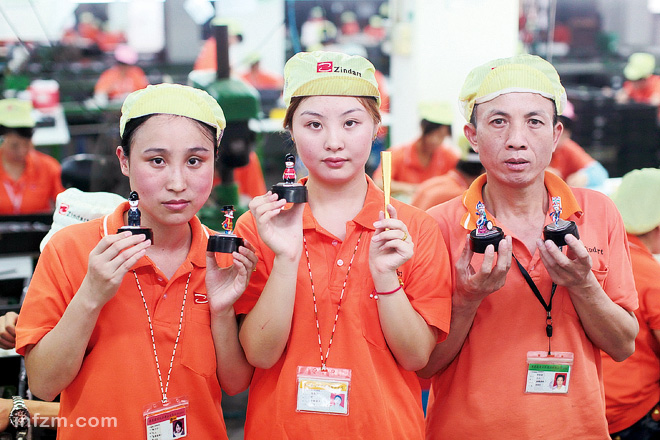 Meet the beneficiaries of China's entry into the World Trade Organization. This is Dongguan, the heart of the Chinese manufacturing beast. Sprawling over 73,000 square meters and housing 3,800 workers, this Xinda factory has secured the right to produce the London Games' official souvenirs. Zou Tiankui, a migrant worker from Chongqing, has been working in the factory for four years. But for the last couple years, he has been dedicated to one thing: spray painting the souvenir figurines in preparation for London. Each day, he has to perform the same action up to 3,000 times, all the while breathing industrial paint fumes behind a face mask. He wears some protection so that he could be more productive, which earns him an extra six cents an hour. At 42, Zou belongs to an older generation of migrants who left their homes during the great migration of the late 1990s. He is relatively content, even if he only get a one-hour break in a 12-hour shift.
Others have come and gone on the souvenir assembly line, such as 41-year-old Li Yuxiu. But many do not recollect what products they were assembling and what important event it was meant for. "I've come across too many toys," one said. "I only remember snapping in a large plastic eye on many different things." Zou certainly had little awareness of the symbolism of the thing he was spray painting so many times. He had never actually watched an Olympic event. His only reaction to the London Games came when the Southern Weekend reporter revealed to him that the souvenirs are selling for 9.5 British pounds, or 100 yuan. Zou would have to paint 4,500 figurines just to afford to buy one in London.
"Hmm, that's too expensive," he said. Of course it is. After months of debate with his wife about whether it was worth it, Zou finally dropped $350 on an air conditioner. That was made in China too.