The Symbolic Victories of Saudi Arabia's Female Olympians
As the saying goes, "If you can't see it, you can't be it."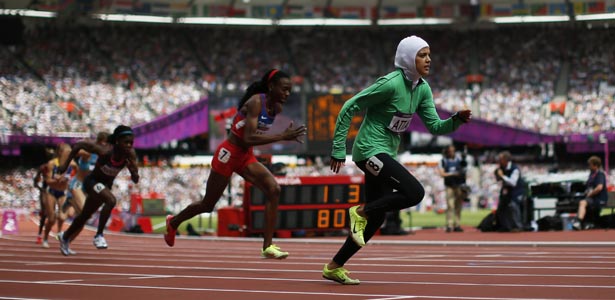 ---

MORE FROM THE COUNCIL ON FOREIGN RELATIONS
---
For the first time ever, each participating country has sent at least one female competitor to the Olympics. The participation of two Saudi Arabian women was particularly groundbreaking: until the eleventh hour, it looked as if the Saudi government would not allow them to compete. Now, as the end of the Games approaches, these women have won symbolic victories, though not without struggle and controversy.
Just 16 years-old, Saudi Arabia's judo athlete Wojdan Shaherkani last week officially became the first Saudi Arabian woman ever to compete in the Olympics. Although she lost quickly to Puerto Rico's Melissa Mojica, a 28 year-old ranked 13th worldwide, she was cheered by a supportive crowd. Shaherkani's time at the Olympics was also marked by debate over her attire. The Saudi government required her to wear a head covering, which judo's official rules, grounded in concern for athletes' safety, would not allow. Eventually, Shaherkani was permitted to wear a head covering that looks like a swim cap in the match.
Saudi Arabia's other female athlete, the 19 year-old runner Sarah Attar, a dual Saudi and American citizen, had an unremarkable finishing time in the 800-meter race, but the audience rose to its feet and cheered anyway, recognizing the symbolic value of her participation. As a U.S. runner who shares Attar's coach put it, "She carried the weight of Saudi Arabia's women on her shoulders." Attar's comments after the race were very brief, raising questions of whether she had received instructions not to speak with the press.
While many Olympic athletes attract criticism and praise based on their personal characteristic instead of their athletic performance, Saudi Arabia's female athletes get more scrutiny than most due to their country's deep social conservatism. On Twitter in Saudi Arabia, Attar and Shaherkani's Olympic participation has generated hateful comments. One Twitter user, apparently a Saudi Arabian man, started a hash tag calling Saudi Arabia's female competitors "prostitutes of the Olympics," sparking both support and ire. For instance, a lecturer at a Saudi university reportedly tweeted that "You [Shaherkani] do not represent the chaste Muslim women." Other comments on Twitter about Shaherkani's judo participation have been so offensive that her father is trying to sue the Saudi Tweeters. (Good luck to him.)
These comments are a sobering, though not unexpected, reminder of the harsh attitudes and social constraints that female athletes in Saudi Arabia are up against.
But the reactions of other Saudis, men included, range from supportive to ecstatic. As the AP reported about the reaction to Shaherkani's quick defeat, "A Saudi-born man who has a blog called Saudi Root wrote, 'I'll walk out later with the Saudi flag around my neck and my head up high as if we won the biggest gold medal in the history of the Olympics.'"
Speaking to the debate over Shaherkani's headscarf, a star (male) Saudi Arabian soccer player declared, "I believe that women can represent Saudi Arabia in the Olympics ... and that they can represent the Kingdom well. Yes, of course, there are problems with the headscarf in sports, but we have to find a solution that is acceptable for both parties."
Shaherkani and Attar are participating in the Olympics this year because of a special wildcard invitation from the International Olympic Committee (IOC) -- they did not qualify to be in the Olympics on their own merits. Some have questioned the value of such invitations. If these women cannot compete at Olympic standards, why are they are invited to participate? How does this further the cause of women in sports?
As another commenter noted -- and as I agree -- the IOC has an admirable tradition of extending Olympic invitations to increase the presence of athletes from underrepresented countries. One of the more famous wildcard athletes is Eric Moussambani of Equatorial Guinea, who competed in the 2000 Olympics in Sydney despite having only swum in a river and a hotel pool before the Games. He had a challenging race, to say the least, but is now Equatorial Guinea's national swimming coach and dreams of entering the 2016 Olympics -- an affirmation of the kind of interest and enthusiasm that a wildcard invitation can generate.
Indeed, as the saying goes, "If you can't see it, you can't be it." In the past two weeks, girls in Saudi Arabia have gone from having virtually zero athletic role models to seeing crowds give standing ovations for their female Olympic competitors. I have to believe that this will help build some momentum back home for allowing young girls to participate in sports at school. That would be real progress for Saudi women.
This article originally appeared at CFR.org, an Atlantic partner site.