The Slow-Motion Political Crisis Behind India's Power Outage
Local and regional parties are pushing for policies favorable to them, making it increasingly difficult to govern the world's largest democracy.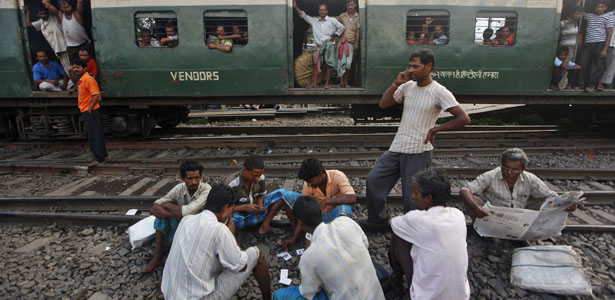 India has earned the dubious honor of having experienced the world's largest power blackout. On Tuesday, three of the country's power grids tripped leaving 20 states with a total population of 600 million without electricity for several hours. This followed a collapse of the northern grid on Monday that put out the lights in a few states, including the capital New Delhi, for a similar period of time.
Though there were cases of miners&and city commuters stranded under the ground and in trains, there were no reported casualties and the impact of the blackout was surprisingly minimal for many Indians.
One reason is that about 30 percent of the population already has no access to electricity. The other reason is that India has suffered from chronic power shortages for decades. Factories, hospitals, office building, apartment complexes and even individual houses have, over the years, installed spare generators to compensate for ubiquitous small powercuts. Estimates say India has four to five million such private, largely diesel-powered, backup generators.
Experts noted that India had experienced a similar blackout only 11 years ago. The latest one only highlighted that the many dysfunctionalities that affect India's power sector remain unsolved after so many years.
Some of the clear and present issues:
1. India's power generation capacity has fallen dramatically behind demand as its economic growth surged over the past decade, with the growth rate peaking at 9.5 percent in 2008-09. India has been building new plants furiously, adding 23,000 megawatts last year, but continues to fall behind. On average, power generation is 8 to 9 percent short of demand.
2. Other infrastructure, such as transmission lines and grid management technology, have not kept pace either. A grid that is struggling to keep up with the sheer increase in electricity is one of the key reasons for the repeated instances of grid failure. The grids in southern and western India have proven ahead of the curve in this regard. The northern and eastern grids are stragglers.
3. The biggest problem afflicting the power sector today is a lack of market-based pricing for fuel. With the
Manmohan Singh
government seen on its last legs and elections expected either in 2013 or early 2014, his coalition government is crippled by expanding populist demands by local politicians. An estimated 20,000 megawatts of generating capacity is idle because of a lack of gas and coal. There is no shortage. The government is unwilling to allow market-based prices for the fuel and the power generated so utility companies are unwilling
---

MORE FROM ASIA SOCIETY
---
In many ways, the present power crisis is a metaphor for how local politics is eating away at the Singh government's ability to make rational policies at the central level. For example, the present grid crisis is being partially blamed on the largest state, Uttar Pradesh, overdrawing electricity from the northern grid. But Uttar Pradesh is ruled by a regional party that Singh needs in order to pass legislation. So though the outgoing power minister (he was transferred to another post even before Tuesday's crisis was fully resolved) promised penal action against UP, everyone knows that electoral politics will ensure that nothing more than a slap on the wrist will follow.
This is also why it is assumed that only an election can clear the air on reforms.
This article originally appeared at Asia Society, an Atlantic partner site.