Manic Pixie Dream Dissidents: How the World Misunderstands Pussy Riot
Western coverage has reduced these Russian dissidents to more familiar narratives of youthful rebellion or damsels in distress, missing their entire point and adopting Moscow's own language.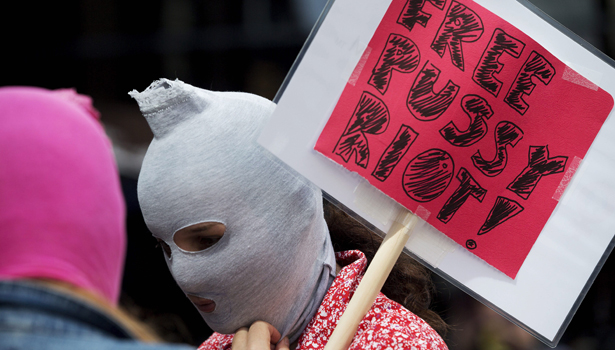 Imagine this: The three men sit in a Moscow court, awaiting their verdict. The youngest, an experienced dissident described by Western media as a "sultry sex symbol" with "Angelina Jolie lips," glances at his colleague, an activist praised by the Associated Press for his "pre-Raphaelite looks." Between them sits a third man, whose lack of glamour has led the New Republic to label him "the brain" and deem his hair a "poof of dirty blonde frizz." The dissidents -- or "boys" as they are called in headlines around the world -- have been the subject of numerous fashion and style profiles ever since they first spoke out against the Russian government. "He's a flash of moving color," the New York Times writes approvingly about their protests, "never an individual boy."
If this sounds ridiculous, it should -- and not just because I've changed their gender. These are actual excerpts from the Western media coverage of Pussy Riot, the Russian dissident performance art collective sentenced to two years in prison for protesting against the government. Pussy Riot identifies as feminist, but you would never know it from the Western media, who celebrate the group with the same language that the Russian regime uses to marginalize them.
The three members of Pussy Riot are "girls," despite the fact that all of them are in their 20s and two are mothers. They are "punkettes," diminutive variations on a 1990s indie-rock prototype that has little resemblance to Pussy Riot's own trajectory as independent artists and activists. "Why is Vladimir Putin afraid of three little girls?" asked a Huffington Post blogger who is not prominent but whose narrative frame, a question intended as a compliment, is an extreme but not atypical example of the West's reaction to and misunderstanding of Pussy Riot.
As far as Pussy Riot's problems go, being characterized as "girls" by the press ranks pretty low. So does the lack of vegan food in Russian prisons (the object of a clueless campaign by fellow 1990s throwback Alicia Silverstone). Both are trivial compared to the two years of hard time they face. But Pussy Riot tells us a lot about how we see non-Western political dissent in the new media age, and could suggest a habit of mischaracterizing their grave mission in terms that feel more familiar but ultimately sell the dissidents short: youthful rebellion, rock and roll, damsels in distress. The fanfare surrounding the trial has been compared to Kony2012, and while that may be true in terms of public attention, it is not in substance -- unlike the Africans depicted in Kony2012 by American activists, Pussy Riot are the directors of their own campaign. But looking at their Western supporters, one wonders how well their message is getting across.
You don't call your group Pussy Riot without trying to construct a gender identity. The description of the women as a punk band is inaccurate, the claim that they take cues from Riot Grrl culture is correct, and Pussy Riot seems to be designed with Western reception in mind. In Russian, Pussy Riot's name is the English words "Pussy Riot" written in Cyrllic, where they carry the same connotation. Sex was always part of their shock repertoire, from the band name to the penises drawn on bridges to the public orgies to the creative use of frozen chicken by one of the group's members. They courted controversy and were aware of the repercussions. "These women, and they alone in this mess, know exactly what they are doing," wrote Michael Idov, the editor-in-chief of GQ Russia, in the Guardian. Yet it is precisely this sense of agency missing from much of Pussy Riot coverage.
In 2005, film critic Nathan Rabin coined the phrase Manic Pixie Dream Girl to describe a woman who "exists solely in the fevered imaginations of sensitive writer-directors to teach broodingly soulful young men to embrace life and its infinite mysteries and adventures." You might say that Pussy Riot are being treated as something like Manic Pixie Dream Dissidents, blank revolutionary slates onto which Westerners are projecting their hipster fantasies.
At a recent sympathy rally in New York, celebrities such as Chloe Sevigny pretended to be Pussy Riot members (a tribute yet to be paid to imprisoned Russian men like Garry Kasparov or Mikhail Khodorovsky) and fans proclaimed to feel their pain. "Pussy Riot makes me feel like, I can imagine being thrown in jail for doing absolutely nothing," said one attendee. The three women were actually imprisoned for a deliberately provocative act, not "for doing absolutely nothing" -- which was the point, and speaks much more highly of Pussy Riot and their mission -- but this sort of reaction isn't about reality, it's about a Western fantasy of relevance and dissent. "Punk matters," claim legions of articles on Pussy Riot, with the subtext:  "I matter, too." And so, around the world, we have Pussy Riot reenactments, Pussy Riot sublimations -- protests free from arrest or anxiety, isolated from historical or political context.
It's not fair to generalize across the entire media, of course, and sympathetic celebrity would-be-activists like Sevigny contribute to the confusion. Western outlets that more regularly cover Russian politics have noted that male Russian dissidents have been ignored as Pussy Riot draws world sympathy. ("I wonder if #PussyRiot would get so much attention if they were a male band called #DickMob", mused one commenter on Twitter.) Removing Pussy Riot from the broader problem of political persecution in Russia is one thing, but the case also raises specific questions about gender, media, and politics.
In the same week that Pussy Riot was profiled in the New York Times style section, the Boston Review''s Tumblr republished a 2010 Q&A with Hillary Clinton, in which an interviewer asked her who her favorite designer was. "Would you ever ask a man that question?" she snapped. "Probably not, probably not," the reporter replied. The American media embraced Clinton's riposte, reprinting it widely. But when it comes to foreign female dissidents, they seem to adopt the same values Clinton was rejecting.
Russian state media have sexualized and infantilized the women of Pussy Riot, likely in order to marginalize their critiques and to drain them of their political value. "We are here only as decorations, inanimate elements, mere bodies that have been delivered into the courtroom," defendant Nadezhda Tolokonnikova complained. But by focusing excessively on physical appearance and nostalgic notions of youthful "punk" individualism, the Western press is often doing the same. The women of Pussy Riot must be made into "girls," to conform to more familiar Western narratives and to fuel fantasies, never on their own terms.
A version of this post also appears on Registan.net.