Iran's Supreme Leader Joined Instagram—Here's His First Photo
Grand Ayatollah Ali Khamenei, three years after his government shut down the internet, has joined its latest social media fad.
Grand Ayatollah Ali Khamenei, the supreme leader of Iran since 1989, may or may not have some interest in nuclear technology, but he is not especially known as an early adopter when it comes to social media tech. And yet the unelected septuagenarian, after successfully launching his Twitter account (almost 3,000 tweets, over 4,000 followers, and not following a soul), has taken to Instagram. Instagram!
The bearded, spectacled dictator has sent out four photos of himself in the week since joining. They're pretty banal, as far as propaganda goes -- praying, standing around with officials, sitting over a Koran -- which somehow makes them even more surreal. Three years after
shutting down
Internet service after Iranians used Twitter and photo-sharing services to coordinate mass protests and tell the word about the Iranian regime's brutal crackdown, that same regime is getting in on the Twitter and photo-sharing action themselves.
Here's Khamenei's
first Instagram photo
. It shows Action Ali, apparently sitting at a religious gathering, probably pertaining to Ramadan, which began a couple of days before. Yes, this is the sort of excitement we follow @
khamenei_ir
for.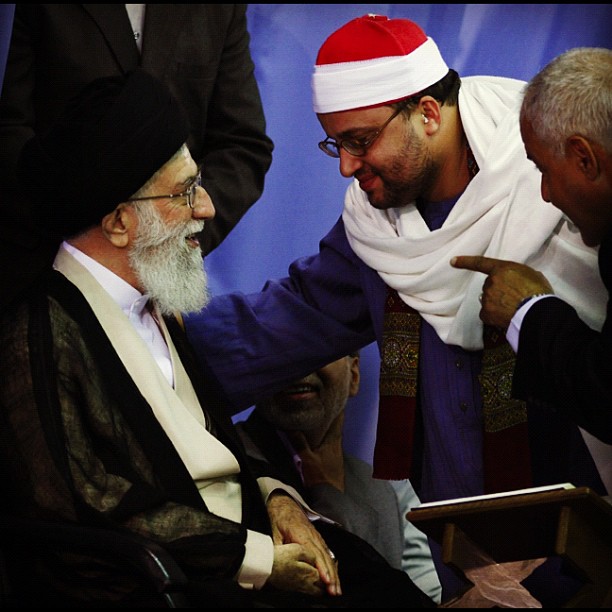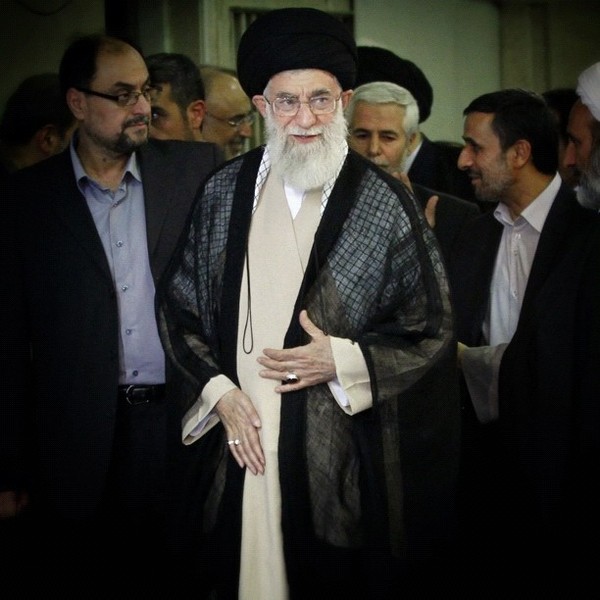 That's Iranian President Mahmoud Ahmadinejad on the right, just over Khamenei's left shoulder. Ahmadinejad and Khamenei have been
bitterly feuding
for over a year, the end result of which could be the president's "loss" in the 2013 "election." That doesn't mean the two leaders aren't still occasionally in the same room, of course, but it's interesting to see that Khamenei's social media handlers would make their second-ever Instagram one of their boss alongside his domestic rival. (That's head of Khamenei's security detail, Ahmad Vahid Dastjerdi, over Khamanei's other shoulder, according to Al-Monitor's always-knowledgeable Laura Rozen).
The last two aren't so interesting, but they're
here
and
here
if you want to see them. We'll let you know if the supreme leader starts taking mirror shots, applying
dreamy filters
to his photos, or starts tweeting photos of "
bikini babes
," an ultimate Instagram cliche that would definitely make some news.