If You'd Like a Sense of Australian Comic Sensibilities
The Chinese and American media differ in many ways, but they're similar in taking an overall chest-thumping "We're Number One!" approach to the nation's proud sporting achievements.
The Australian media resemble their Brit forebears in writhing/reveling in defeat. For instance, here is how the Sydney Morning Herald greeted the nation's silver medal in rowing today (sorry for any spoiler effect):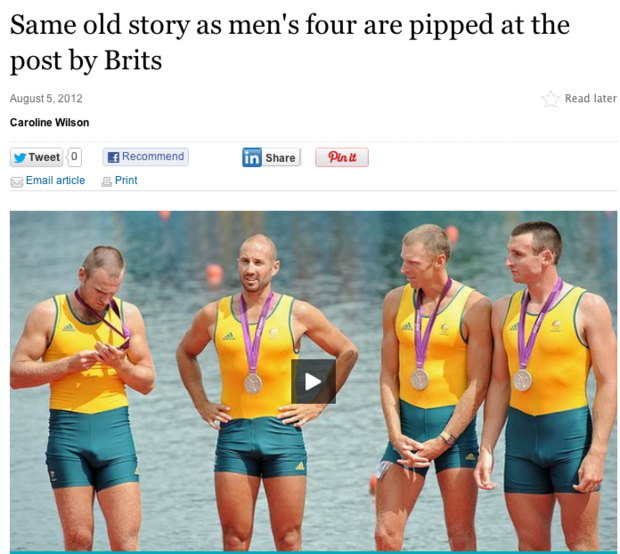 For a very nice mock-interview satirical video of how Australian TV is handling the nation's "failures" in swimming, rowing, and other national-specialty sports, please check here. (Doesn't seem to be embeddable.) It's by the well-established comedy team of John Clarke and Bryan Dawe in Australia, and it goes into some of the reasons for the disappointment.

BRYAN DAWE: Now the Australian swimmers obviously haven't gone quite as well as they should have.

JOHN CLARKE: Well, a lot of other countries, it turns out, have sent swimmers to these Olympics....We didn't have any idea this was gonna happen... I mean, we knew the Americans were gonna be here, but a lot of non-swimming countries have sent swimmers this time.

BRYAN DAWE: This is outrageous. I mean, like who?

JOHN CLARKE: Yeah. Well, France for example.

BRYAN DAWE: France?

JOHN CLARKE: What are they doing at the swimming?

BRYAN DAWE: Good Lord.

A quick way of getting oriented in a culture is to see see what people laugh about, and how and whether they can laugh at themselves. The Aussies set an example in this regard among others. Thanks to reader I.V.