If You Thought Those 'A Simple Touch,' Cialis Ads Were Unsettling ...
... then you should see what the Government of Singapore has in store. (And, about the Cialis ads: Just about the only reason I am glad my kids are grown and gone is that they're not around to watch those ads aimed at their parents' generation, while sitting there on the couch next to their parents. Yuh-ucch!)
Back to Singapore. For years it has been worried about flaccid birth rates among its people, often with an edge of eugenics thinking. So in partnership with Mentos, it's trying a more direct and with-it approach. I don't know what you'll be doing on the night of August 9, but if you're in Singapore  -- well, see for yourself. Seriously, check this out.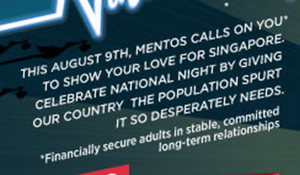 About the only thing that needs explaining is when, around time 2:18, the video talks about "putting a
bao
in the oven," a
bao
is like a little bundle or dumpling or bun. And before that, in the line: "I know you want it / so does the SDU,"
here
is what they're talking about. But even if you didn't know that you'd get the idea. There's a little more explanation to the right, which says a lot about Singapore in just a few lines.
The Singapore government has often been criticized for being too Gradgrind-like and strait-laced. So, no joke, congrats to whoever broke the stereotype by doing this. And ... ummm, Happy National Day / Night!