Hitler-Brand Wines and Europe's Debate Over the Limits of Free Speech
Germany and Italy forbid glorifying Nazis or fascism, but disagree over whether these tasteless, kitschy wines qualify as harmful to society.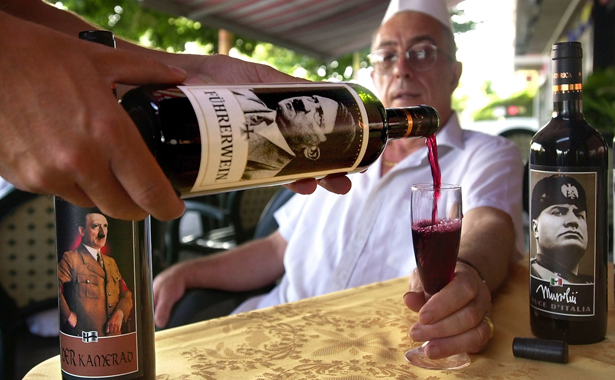 The Fuhrer is causing a furor. Italian winemaker Vini Lunardelli's breathtakingly tasteless line of Nazi-themed wines has offended again, with two American tourists understandably peeved about discovering some bottles adorned with Adolf Hitler's image in a shop in Veneto province. The Italian-produced wines bear dozens of different labels displaying, with no hint of irony, such names as "Ein Volk, ein Reich, ein Führer!" (a Nazi slogan meaning "One people, one empire, one ruler"), "Der Prosecco Vom Führer," and, simply, "FÜHRERWEIN." Another line bears the images and slogans of Benito Mussolini and his fascist regime.
The American tourists, incensed (one of them noted that her father lived through Auschwitz), protested to Italian authorities and to the local, and then international, media. "We would think of it as neo-Nazism," one
told
the U.K.
Telegraph
. "It makes you wonder about the sympathies of the local people." You don't have to be Jewish or the child of a Holocaust survivor to find the wine labels appalling and odious, but it doesn't hurt. Local prosecutors say they've opened a formal inquiry, and a cabinet-level Italian minister issued a statement to "reassure our American friends" and to condemn the wines for "compromising the image of Italy abroad."
Italian officials might be expressing shock, but the Vini Lunardelli wines have been offending for almost two decades, and this is not their first international incident. There's no doubt that Führerwine is offensive, and it's difficult to know the vintner's motivations for sure. But it might reflect less "neo-Nazi sympathies" and more a crass willingness to exploit shock value and Europe's particular sensitivities to the fascist legacy -- not to mention the international media attention that comes with infuriating foreign governments -- to make a few bucks. And it seems to be effective.
Lunardelli launched their "Historical Series" in 1993, printing labels bearing "personages of Italian and world political history." The first Führer vintage was introduced in 1995, becoming "a great marketing success," the winemaker
later told
Decanter.
 In 1997, the German government began lodging official complaints. Germany takes the Nazi legacy very, very seriously: neo-Nazi parties are illegal, Hitler's autobiography
Mein Kampf
has been officially
banned
for decades, and the German Parliament
almost blocked approval
for a relatively straightforward genetic testing law, apparently over the echoes of Nazi eugenics programs. By 2003, Germany's battle against Lunardelli had so escalated that the German justice minister wrote a
formal letter
to her Italian counterpart asking for Italy consider shutting down the "contemptible and tasteless" wines. The German state of Bavaria, the closest to Italy, opened an investigation as to whether any bottles had crossed the border.
Nothing came of it at first. Then, in early 2007, some German tourists
ended up buying
some number of the wines while in Italy. It's not clear how their purchases became public, but it re-sparked the old controversy. In September, Italian police finally moved against the wines,
confiscating bottles
for their "glorification of the perpetrators of crimes against humanity." The public prosecutor, according to Lunardelli, accused the winemakers of being Nazi apologists. Like in Germany, Italian law forbids the glorification of the 1930s fascist regime that helped spark World War Two, which cost tens of millions of lives. But, one month after police had seized the wines, an Italian judge ruled that they were
OK to sell
; the second time that Lunardelli had been exonerated of promoting fascism.
It's a sign of Germany's sensitivity to anything remotely hinting of Nazi sympathies that the government would not only formally investigate whether a bottle of Führerwein might have entered the country, but publicly request that the Italian government intervene to stop production. It's also an interesting contrast to Italy's own laws, which while similar in intent to Germany's, appear to be laxer in restricting speech, at least when it comes to these wine labels. 
I don't have an answer as to whether or not the wines promote Naziism and fascism, but it's worth noting that this doesn't seem to have been Lunardelli's intent. "We would not have produced them unless there was a demand," the winemaker
told
Decanter
in 2007. "In fact the Hitler labels were not our idea, they were specifically requested by customers in Germany and Austria. ... When they saw the labels with Il Duce and Che Guevara, they suggested a series with Hitler." The company's website
proudly boasts
the line, not as a victory in Aryan soft power, but as a marketing triumph. "Thanks to this invention, the wine company Alessandro Lunardelli has obtained a lot of attention from the media all over the world both for the originality of the idea and for the quality of the wines." They say that line, which has 50 different labels, now makes up 
half
of their sales.
In any case, some of the labels
carry images
of Stalin, Marx, and Che Guevara, not savory figures by any means but sworn enemies of Hitler and fascism, suggesting that the line is indeed less about glorifying any singular ideology than about shock value and the free marketing that comes with, for example, stories like this one.
The wines are interesting test case for Europe's decades-old speech restrictions against glorifying the nightmarish regimes of the 1930s and 1940s, meant both to
guard against the rise of all-too-real neo-Nazi or neo-fascist parties
 and to maintain the carefully instituted national histories that hold these ideologies as a horrid mistake. It seems unlikely, as the Italian courts may have concluded in allowing continued Lunardelli production, that slapping Hitler's face on a cabernet label is going to increase popular support for a return of the Third Reich.
Still, Neo-Nazism and the ethnic nationalism behind it remain 
real, if marginal, forces
 in Europe. Treating Hitler and his Nazi slogans as kitsch, as fodder for a bit of silly shock value, would seem to risk divesting these images of the horror and shame that two generations of Germans and Italians have ingrained to remind themselves of one of history's greatest crimes. Buying a bottle of Der Prosecco Vom Führer might just be a bit of harmless fun, but maybe, from the German perspective, that's exactly the problem.