Dani Dayan's War: Can Israeli Settlers Control Both the West Bank and Themselves?
The man who heads an organization of 300,000 settlers is declaring victory in his fight against the two-state solution. But is he losing control of his own movement?
Dani Dayan has decided to come "out of the closet," he tells me as we sit in a coffee shop looking out onto the Judean hills earlier this summer. The head of the Yesha Council, which represents the approximately 300,000 Israelis who live in the West Bank, was not referring to his strident opposition to the creation of a Palestinian state; he's been an out-and-proud critic of the two-state solution for years, prominently showcased in an inflammatory op-ed last week. When we met in Jerusalem, he was actually in the process of coming out as a moderate. He has finally decided to take sides in the warring factions that comprise the settler movement.
"I would even dare to say that the only tangible threat that exists today for the continuing presence of Israel in Judea and Samaria [the biblical names for the West Bank] is our own mistakes," he tells me as he sips a double espresso. "My understanding of the events in the last few months ... is that I have to decide between the two ways, and not try to balance it anymore."
Dayan and I met as the Israeli government was preparing to evacuate the West Bank outpost Ulpana. The incident highlighted the growing rift between those two ways: the pragmatists in the movement, like Dayan, and the hardliners and ideologues who refuse to budge from the smallest amount of territory in the West Bank. "Trying to reconcile between them leads us nowhere -- a zigzag that leads nowhere," he says. "I have to pick a side."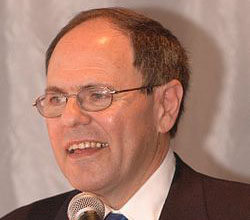 Dani Dayan. (Wikimedia)
Calling Dayan a moderate is certainly a relative description for a man whose op-ed last week, which argued that "Israel's moral claim to [the West Bank], and the right of Israelis to call [it] home today, is therefore unassailable," earned him labels such as "anarchic," "beyond the borders of reality," "patently immoral and spectacularly unwise," "terrifying," and "dangerously naïve."
The more time I spent with him, the more it became clear that his temperance is only limited to his means, not his ends. Beneath his boardroom-style professionalism and carefully crafted image of "moderation," his ideology is as extreme as those he claims to be eschewing. And beneath his bravado and confidence about the permanence of Israeli presence in the West Bank lies a hint of fear about whether the settler movement is digging its own grave. Radical settler groups are breaking away from Dayan's umbrella organization, moving beyond even his already-extreme agenda and potentially endangering more than just the settler movement.
As the most powerful single force in Israeli politics today, the future of the settler movement may be one of the most significant -- and most overlooked -- factors in whether Israelis and Palestinians will be able to resolve their decades-long conflict any time soon. As Thomas Friedman argued in The New York Times this week, partially in response to Dayan's article, "There are real lives at stake."
•       •       •       •       •
Dayan immigrated to Israel from Argentina in 1971 at the age of 15, founded a successful IT company in Tel Aviv in the 1980s, and moved to the West Bank settlement of Maaleh Shomron. He took over the Yesha Council in 2007, a moment when the settler movement was in shambles after Israel's unilateral evacuation of 8,000 Israeli settlers from the Gaza Strip. "It was virtually inexistent," he says in faintly accented English.
Dayan is motivated by nationalism and his view of Israel's long-term interests, but not by the Jewish faith itself. As only the second-ever secular chairman of an organization that is largely driven by religious settlers (Dayan was the only non-religious member of the council's 80-person executive committee), he faced the difficult task of rebuilding the movement and providing a vision for a group that seemed to be investing itself in a failing project.
Short and husky with a jovial personality and a steely gaze that peers from behind sensible, wire-rimmed glasses, his calm demeanor seems more fitting to a boardroom than the hilltop caravans that most people associate with settlers. He has tried to bring a businessman's composure to the movement, focusing on the long view and concrete gains rather than theatrical rabble-rousing.
For the first few years of his tenure, he tried to stay above the movement's internecine feuds in order to keep it from splintering. He never had patience for the symbolic resistance to Israeli soldiers, for which many settlers were advocating in the lead-up to the Ulpana evacuation. "They say, 'We are not friars [a popular Israeli slang word for 'suckers'], let's be like the Bedouins -- when you try to evacuate the Bedouin illegal outpost then hell breaks and then maybe the police is deterred'," he says, trying to explain their rationale.
"But we are not Bedouins," he counters, "in the sense that we have a responsibility to the Israeli society that the Bedouins do not have," he says, in one of the many not-so-subtle jabs he takes at Arabs over the course of our conversation. Dayan thinks these tactics "lead nowhere, gain no benefits," and "alienate the Israeli society from supporting us."
Dayan would rather engage in Washington-style lobbying campaigns, such as deploying thousands of robocalls to politicians and influential figures in Prime Minister Benjamin Netanyahu's Likud Party. He credits this strategy for successfully pressuring Netanyahu not to renew the U.S.-brokered ten-month settlement freeze in 2010, even against the direct beseeching of U.S. President Barack Obama, as well as an American offer of 20 F-35 jets worth $3 billion. He's also launched a public relations campaign that includes wine and organic cheese tastings in the West Bank for Israeli tourists, as well as Wikipedia-editing workshops for settler activists and a Facebook page with over 15,000 fans.
But Dayan's relatively responsible stewardship of the settlement movement has been eclipsed in recent months by his struggles against internal fringe elements that have become increasingly radical and violent. Their rage has culminated in the "price tag campaign," the name given to acts of random violence by Israeli settlers who, according to The New York Times, "exact a price from local Palestinians or from the Israeli security forces for any action taken against their settlement enterprise."
Dayan is quick to condemn the campaign. "It's terrible, terrible, terrible, it's a terrible thing," he exclaims. "First off, from the moral point of view, it's really terrible, a shame," he says with visible annoyance, as if it is a line he has had to repeat numerous times over the past few months. "And it's the greatest damage that I can see today to our cause, and so the people that do these things, if they think that they help our cause, they are both criminals and stupid."
So Dayan has finally decided to take a stand. The same week that he "went out of the closet" to me last month, he gave a bombastic interview to leading Israeli daily Yedioth Aharonot in which he dropped all pretenses of representing the radical fringes of his movement.
"There are those in the community of settlers who need to receive two slaps in order to wake up from this nonsense. We live in the psychology of siege and cannot seem to break free," he told Maariv. "There are those fanatics who are disconnected from reality -- out of touch -- so that according to them [Prime Minister Benjamin] Netanyahu is Titus [who destroyed Jerusalem in 70 AD], [Defense Minister Ehud] Barak is Chmielnicki [who massacred tens of thousands of Jews in the 1600s], and [Likud politician] Benny Begin is Flavius Josephus, the traitor. ... This is total nonsense and idiocy."
Dayan believes that the vast majority of settlers agree with him, though you wouldn't know it from the loud spectacles made by his opponents. "We are much less vocal, because, you know, it's a bourgeois perspective, not as exciting as 'Let's make a revolution,'" he says as he nonchalantly silences the ringer on his iPhone -- one of seven calls he ignores during our conversation. That same week, he announced his intention to hold a vote of confidence in which all settlers can participate, promising to step down if he does not receive a strong majority of the ballot.
Ulpana's residents -- "considered to be part of the most extremist faction of the settlers," he says -- were eventually willing to compromise and leave peacefully, which he sees as a sign of a "strategic shift of power within the settlers' community to a more moderate path." The evacuation of Ulpana was interpreted by many right-wing leaders in Israel as a major defeat for the settlement movement. But Dayan approaches the issue as if he were reading a balance sheet, highlighting the bottom-line benefits of negotiating with the government: namely, "the 300 additional units and elsewhere another additional 550" in the West Bank that Netanyahu promised to approve in exchange for the peaceful evacuation of Ulpana.
To illustrate the success of his strategy, he quotes a story from a friend who attended a Peace Now party thrown to celebrate the court's decision to evacuate the West Bank outpost Migron. Amid the festivities, the friend got up and said, "Guys, you are so pathetic. So okay, we won a legal victory here, but at the same time that we are celebrating here, the Yesha Council is erecting houses in one hundred settlements."
Dayan can't help but laugh as he envisions the looks on their faces. "It's pathetic, and it doesn't serve any cause. I mean, they're fighting the previous war," he says. It is unclear whether he is naïve or willfully ignoring the war that is still very much raging within his own movement, threatening it from within when it already has so many opponents without.
•       •       •       •       •
Dayan's optimism is not limited to his self-declared victory of the moderates over the radicals in the settlement movement. He believes he's winning the broader war within Israel to make Jewish settlement of the West Bank permanent. The establishment of a Palestinian state is becoming a near-impossibility, he says, and he believes he has more than just settlers to thank.
First of all, he argues, it would be too difficult to uproot the large number of Israelis who would have to be removed from the West Bank to create a viable Palestinian state. "One of every ten Jewish Israelis already lives beyond the green line," Dayan says, referring to the borders of Israel up until 1967, often called the '67 lines. "That's an amazing figure -- the first time I realized it, it amazed even me." That also means that 90 percent of Israelis do not live in the West Bank, I pointed out. "But we started from zero and against all odds," he responds.
Dayan exaggerates the amount of Israelis that would need to be uprooted from the West Bank in a final peace agreement: He puts the number at 160,000, while the most recent official Israeli proposal, made during the Annapolis negotiations in 2008, was closer to 70,000. But even the more realistic figure would be a significant challenge to relocate. And the number is growing rapidly: Dayan gleefully contrasts the two percent birthrate in Israel proper to the five percent birthrate among the almost-300,000 Israelis currently living in the West Bank. He dismisses initiatives by left-wing activists to incentivize settlers to move back to Israel, as well as other proposals made by Israeli NGOs, as "pathetic."
Not only are his ranks growing, Dayan argues that they are inherently more committed to their cause than are proponents of the two-state solution. He tells his own story of leaving the "employment, gastronomy, culture, shopping ... every good thing that Tel Aviv has to offer you" to move to the West Bank "in order to win the ideological war." And he's "just one of the thousands and thousands of examples" of settlers who made similar compromises, he says. "When I heard that [last summer's social justice protests] stopped during the winter because of the winter rains, I understood that you have no chance to prevail, to win. It's a lost cause."
There's no "magic number" of how many settlers have to inhabit the West Bank for the Israeli presence there to pass the point of irreversibility, Dayan says. It's "not mathematics" that he believes will bring the movement its victory but rather a growing resignation among supporters of the two-state solution. He recounts a recent meeting with a European ambassador, where Dayan launched into his usual arguments against the establishment of a Palestinian state. "For the first time that it ever happened to me," Dayan says, "the ambassador stopped me at 30 seconds, and told me, 'Mr. Dayan, let's skip this part of the conversation, we know it's not going to happen, the Palestinian state is not going to happen.'"
Dayan points to former Israeli Prime Minister Ehud Olmert's failed 2008 negotiations at Annapolis as his second piece of evidence that the two-state solution will never happen. "The basic fact is that the aspirations, the demands of the Palestinians and of Israel cannot be reconciled," he tells me. "You can doubt Prime Minister Netanyahu's sincerity when he talks about two states -- I myself I really don't know if he's sincere or not, and I'm not sure he knows. But you cannot doubt Ehud Olmert's, his predecessor's, sincerity about establishing a Palestinian state." And even Olmert's generous offer was not accepted by Palestinian President Mahmoud Abbas, who later told the Washington Post that the gaps were too large between the two sides, Dayan points out. (Olmert has said subsequently that he believes he could have reached a compromise with Abbas if he'd had more time.)
Dayan obviously thinks this failure is a good thing, since in his eyes, the establishment of a Palestinian state would be "catastrophic." He paints a gloomy picture for the day after a peace deal is signed: "You can negotiate with a puppet Abbas or someone but what happens the day after, how can you prevent Hamas from taking power and the agreement will collapse?" He also warns that the Palestinians will inevitably have to make compromises on their professed right of Palestinian refugees to return to Israel -- "a million refugees will flow to the Palestinian state, not Israel okay, the Palestinian state, to Nablus, to Ramallah, to Hebron, to Jenin." He sees this as a recipe for the new Palestinian state becoming "a boiling pot of frustration, because the [Palestinians displaced from Israel in 1948] want to go to Jaffa and to Beershava and to Haifa," inside Israel proper.
In the end, Dayan predicts that chaos would follow a two-state solution. "Israel will have to conquer again Judea and Samaria, and the only difference is that we will find there are one million additional Palestinians on the ground," he argues. "So the two-state solution is both unfeasible, and if it is feasible, it is a catastrophe. So yes, I think it's a great thing that we are preventing it from happening."
So if Dayan thinks that the creation of a Palestinian state is both unfeasible and catastrophic, then what is his endgame? The traditional argument for the two-state solution is that, unless Israel withdraws from the West Bank, demographics will one day lead Arabs to outnumber Jews between the Jordan River and Mediterranean Sea, forcing Israel to choose between being Jewish or democratic. Does Dayan envision a scenario that does not "drive Israel right off a cliff."
Dayan does, in fact, have an endgame, which he professorially explains to me as he sips his coffee. And it is here that it becomes clear that, while he may be breaking from the radical members of his movement over their violent or theatrical tactics, he most certainly shares their extremist vision for the future.
Dayan proposes a "two-stage solution" -- a concept that you more often hear to describe Palestinians who want a state in the West Bank and Gaza Strip as a temporary staging ground to take over all of Israel. Dayan has his own twist on the concept -- "not, of course, like the Palestinians want," he explains with a smile.
The first stage, as he describes it, is "finding an equilibrium on the ground" -- in other words, maintaining the status quo of Israeli control of the West Bank. He acknowledges that "it's not ideal for anyone, not for Israelis, not for Palestinians, but it's, you know, it's satisfying." He argues that the Israeli occupation provides security to the West Bank, relative autonomy for the regions where 98 percent of West Bank Palestinians live, and a relatively booming economy -- all points that are certainly debatable, especially from the Palestinian perspective. Proposing a permanent Israeli presence in the West Bank places Dayan firmly outside mainstream discussion of how to resolve the conflict -- a position that erodes the "moderate" image he is trying to cull.
Even Dayan admits that the status quo as it exists today is not acceptable to the Palestinians, suggesting that Israel would "have to make improvements, even dramatic improvements, as much as we can, as much as security allows." He highlights "human rights" and the treatment of Palestinians as "the main shortcoming right now" and advocates for removing as many checkpoints as possible to bolster their quality of life.
Before Dayan can engage with the reality that none of his steps would actually satisfy Palestinians, he quickly moves to telling me about the second stage of his end game, which begins with a story from his recent trip to Jordan. "I saw the personality cult, it's pathetic," he says of Jordan's Israel-allied monarchy, as Dayan waves jovially to a former Netanyahu chief of staff who walked into the coffee shop. "They know they need to put everywhere the picture of the king and the heir to the throne, an ugly 18-year-old boy with glasses, in order to promote loyalty."
Dayan believes that the days are numbered for this "primitive way of governing," particularly in light of the Arab Spring. He shares the assessment of numerous right-wing Israelis who predict, improbably, that Palestinians in Jordan (who constitute a majority there, according to some estimates) will overthrow Jordan's government, and turn it into a Palestinian state -- a scenario that analysts consider deeply improbable. Dayan is confident that "the Palestinian majority will take the helm [in Jordan], the control of the country," allowing for "a whole new range of solutions that today are unfeasible."
Dayan envisions two states, but not the two states you might be thinking of: "Israel west of the Jordan River and Palestine east of the Jordan River [in what is now Jordan], with shared responsibility, not sovereignty, responsibility for the Arab population of the West Bank ... and even over the places in East Jerusalem." Israel would retain sovereignty over all the territory west of the Jordan Rover ("because sovereignty means security"), while Palestinians in the West Bank would vote for the parliament in the new Palestinian state of Jordan. Dayan's revival of the "Jordan is Palestine" meme, which resurfaces every few years on the Israeli far-right as a way to avoid establishing a Palestinian state in the West Bank, also places him firmly outside the mainstream.
As for Gaza, he thinks the ideal solution is to create an independent Palestinian state there, since "I don't see Gaza and the West Bank linked in any way in the future." He compares it to the establishment of Bangladesh from the geographically separate section of Pakistan. "There are smaller states than Gaza," he says. "Of course it's not smaller I think than Singapore." (It is actually half the size of Singapore.) He sees Gaza already as an independent state today, "whether [the Palestinians] call it a state or not" -- and if they did decide to declare independence there, "I don't think Israel will make any problems about that."
Despite the fact that the Yesha Council (an acronym for Judea, Samaria, and Gaza in Hebrew) still retains the "A" in its name, which stands for Gaza in Hebrew, and to which many settlers in his movement hope to return in the future, Dayan sees himself as a pragmatist who deals strictly in the realm of the possible. "I would like the Gaza disengagement rewinded, but I do not invest my energy in lost causes," he says. "One of the funny things is that people say that we are, I don't know, messianic. But we, the setters, are the most realistic group all over the Middle East."
He believes that these arrangements would address Israel's -- and the international community's -- concerns about demography and democracy. "I am not advocating a one state solution. Not in the first nor in the second stage," he says. "So demography, as much as it is important, is not the crucial thing." To be sure, his conception of a "two-state solution" is very different than what most of the international community envisions for Palestinian statehood in the West Bank. "Realistic" is not a word that most would attribute to his vision for resolving the conflict.
He admits that his solution is "complicated" and stretches traditional conceptions of international relations, sovereignty, and diplomacy. "The conflict here is so peculiar that it will need a peculiar solution," he says. He does not seem concerned that the Palestinians would be unlikely to ever accept such an arrangement.
The big problem, he says, is the rest of the world. He wants to convince the international community that the traditional conception of the two-state solution is just not possible. "The international community [needs to] understand that this is the maximum that we can attain right now," he says, "and shift its position from deploring the status quo to supporting it."
•       •       •       •       •
Dayan is sanguine about the fate of his cause. He believes that his movement is growing stronger, that he is victorious over its internal ideologues, and that both domestic and regional forces are aligning against the establishment of a Palestinian state. "In the overall picture, I am very optimistic about the future of Judea and Samaria," he says, leaning back in his chair, putting his hands on his paunch, and looking up into the air.
To be sure, Dayan is lukewarm at best on Netanyahu. He describes the first 18 months of the prime minister's term -- when he declared his support for a two-state solution in a speech at Bar Ilan University and then implemented a settlement freeze -- as "catastrophic," a period which he blames on Netanyahu being "terrified of Obama."
Now he sees Netanyahu as "a moderate ally," but not necessarily a true believer. "I can't see a situation in which Bibi makes a strategic decision to go towards a unilateral move or an interim agreement with the Palestinians or something like that," Dayan says. "But I cannot go to sleep and say, 'Okay Bibi's all right, you can rest'."
But Dayan is surprisingly optimistic about a second Obama term. He believes that the U.S. president has scaled back his efforts in the peace process, and particularly against settlement construction, not because of "electoral politics" but rather due to a hard-learned understanding "that trying to push for something unattainable in the Middle East will only humiliate him and bring no benefits." He explains, "People say the bad old Barack Obama will reappear the day after the election if he is reelected, but I think that the second-term Obama will be much more similar to the second half of [the first-term of] the Obama administration than the first half."
The irony is that the settler movement, at a time when external factors seem to be lining up almost perfectly in its favor, seems poised to implode from within -- and undermine its own success. "We are standing on the edge of a historic victory against the left, since soon the situation will be irreversible, and a Palestinian state would not be able to be established," Dayan boasts. Centrist politician Tzipi Livni, he told Maariv, "told me she doesn't sleep at night because we are winning. ... But [the settlers] are still stuck with our spikes and our paintballs. There was a time when eviction threatened us, when this was justified. Now we need to know how to break free from this."
Despite Dayan's self-declared victory, the reality is that he is far from consolidating power even over the settler movement. Last month, hardline Likud politician and influential settler leader Moshe Feiglin called for the settlers to break off from the Yesha Council, while Migron's residents recently announced that Dayan no longer represents them. "If Yesha [Council] calls now, people will not answer," Boaz Haetzni, who leads one of the numerous radical settler groups that have recently splintered from the council, told Moment magazine. "Lots of groups are working without the Yesha Council, and avoiding it entirely. Everybody has his own agenda."
As settlers abandon Dayan's organization, they may no longer face the constraints that accompany Dayan's mainstream pretensions. "We don't like extremism, but when the situation is extreme, a moderate response is madness," Haetzni said. Forcing them out of the Yesha Council may have paved the way for the violent "price tag campaign," which Dayan has not been able to curb despite his vocal condemnations. "The problem is that people in our camp actually sanctify violence," Dayan says.
And he may even be losing at his own game of emphasizing politics over protests: Dayan failed to prevent factions of his movement from an attempt to unseat Netanyahu as the head of the Likud party during its primary earlier this year. He blames them for Netanyahu's decision to form a (now-defunct) coalition with centrist party Kadima, comparing it to the settler movement's role in toppling the settler-friendly Likud government after the 1992 Madrid Conference on peace talks. Once again, the settlers may be their own worst enemies. <>
"The pyramid of control cannot be the same when we are 360,000 like it was when we were 20,000," Dayan laments of the splinters within his movement, seeming anxious for the first time in our conversation. "When your power is strong, then you have to be much more responsible in knowing how to use it, and maybe more than that, how not to use it."
Alex Eppler, Noah Nunez-Gross, and Shira Telushkin contributed research.