Arabic Words for 'Gay' Need to Be Better than 'Pervert' or 'Deviant'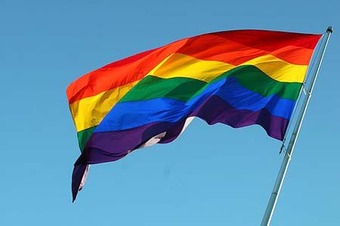 I don't speak Arabic -- though I recently ordered the beginner module from
Rosetta Stone
which still sits in its wrapper on my desk shelf.  (I am in the Arab world a lot however and learning more each trip) Perhaps after the conventions.
But a friend, Foued Mokrani, speaks Arabic just fine -- and reported on his Facebook page the following after watching a film during a flight to Paris:
He continued, responding to a person who really loved the film:
Nice movie.  They should sue the translator.



The exchange intrigued me -- and obviously raised the question of what the right word in Arabic might be for "gay" and in my own inexperience with the language whether there was such a word at all.
Another commenter on Mokrani's page wrote:
Maybe "homosexual" in Arabic takes too many letters.  They had to choose something shorter for the subtitles

.

Mokrani responded:
Somehow there is no decent word to say homosexual in Arabic. . .They started recently using a word
for it but still very unfamiliar one.

When I wrote to Mokrani about this, intrigued that a language as distinguished, beautiful and storied as Arabic would not have been modernized to include "homosexual" in its basic vocabulary, he wrote this to me:
In Arabic, there is no exact word to say "homosexual."  People use bad words like faggot, pervert, or just use the sentence "liking people from same sex."  Recently, a few people started using the word "mithli" modifying the word for "sex" -- meaning "same as me".

What they used in the movie is "pervert" to translate the word gay -- or "cheth" in Arabic.

The same word was used by my Imam when I met him as a young guy and told him I like men.

Still intrigued, I called Ghaith al-Omari, executive director of the American Task Force on Palestine, to see whether what I was hearing was right or not -- and ask how he would say the word "gay."  Al-Omari just happened to be walking into a lecture he was giving to a bunch of foreign service students on the topic of Arabic language, so the timing was perfect.
Al-Omari texted me after his lecture:
I have it on good authority that the word is "mithli al-jins" (which is a literal translation of "homosexual"), sometime shortened to "mithli" which is the literal translation of "homo."

Other commenters on the Mokrani thread wrote that Arabic also tends to describe gays as deviants -- using words like "munharif" and "shadh."
There are lots of struggles inside Arab terrain today -- about human rights, about the role of women, about gays, religion, education, about modernity in general -- but inclusive language that buttresses society's evolution and advancement seems important.
 
To that end, translators of American movies -- like the terrific and heartwarming The Best Exotic Marigold Hotel -- really ought to preference words like "homosexual" or even "homo" in their Arabic form over "pervert" or "deviant."  That might help move hearts and minds in the right direction.