Africa's Coming Agricultural Revolution
It's one of the least agriculturally developed regions of the world, but infrastructure and innovation could help it and the world to eat.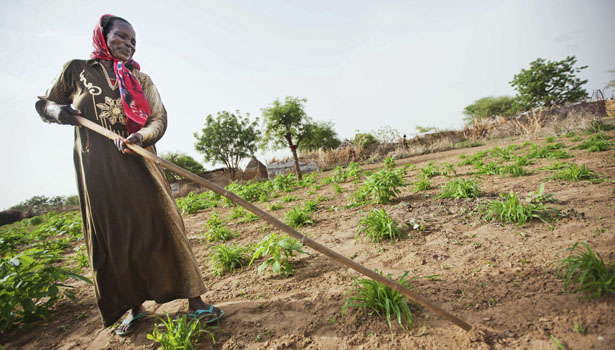 ---

MORE FROM THE COUNCIL ON FOREIGN RELATIONS
---
Headlines of late have focused on the worst drought in decades in the United States, and the impact that is having on global food prices. With half of the American corn crop in poor condition, food prices are rising and pinching wallets around the world. In the short term, the sharp spike in the cost of corn (used mostly for animal feed) and other commodities could lead to unrest in poorer countries around the world that import large amounts of food.
The longer term concern is that severe droughts in countries that produce much of the world's food could be the new normal due to climate change. With a global population that crossed the 7 billion mark earlier this year and is expected to hit 8 billion by 2025, it is critical to develop greater agricultural capacity. Africa is one part of the world with enormous untapped potential. Although parts of the continent-like the Sahel-face grave food insecurity, also partly due to drought, increased irrigation stands to make African agriculture at least 50 percent more efficient. Today, just 6 percent of Africa's cultivated land is irrigated as opposed to 14 percent in Latin America and 37 percent in Asia. Expanding irrigation in Africa could make a huge difference for the continent's food insecure people, and also contribute to global food supplies.
Recently, I spoke with Martin Fisher, the co-founder and CEO of KickStart, a non-profit organization specializing in irrigation technology targeted to improve the crops of sub-Saharan Africa's impoverished smallholder farmers. KickStart's strategy is to sell portable pumps (the MoneyMaker Hip Pump and the Super MoneyMaker) that cost around $35 to around $95, a substantial but affordable sum to farmers in Kenya, Tanzania, and Mali. Farmers are also using the pumps in Malawi, Rwanda, Sudan, Uganda, and Zambia. As Fisher explains, KickStart sells the pumps instead of giving them away because this promotes entrepreneurship instead of dependence and ensures that the people who really want the pumps get them. The organization estimates that from 1991 onward, the small farm businesses of people who use KickStart pumps "have already lifted 667,000 people out of poverty" and that "in Kenya alone, the users of our tools are generating new revenues equivalent to 0.6% of the GDP."
Africa's significant infrastructure challenges increase food insecurity by limiting farmers' ability to store and transport crops. According to FAO estimates, sub-Saharan Africa each year loses around $4 billion of its grain harvest out of an estimated $27 billion, in good part due to food spoilage associated with poor storage and transportation. In the words of FAO's assistant director-general Maria Helena Semedo, "This lost food could meet the minimum annual food requirements of at least 48 million people." Of course, the long-term solution to this problem is improved infrastructure-namely roads, ports, refrigeration, power generation--requiring significant investments at a national level, investments that African governments have largely failed to do. In the meantime, inexpensive irrigation techniques allow small farmers to grow crops during the off-season, smoothing out the availability of food and increasing their profits.
Fisher points to numerous examples of farmers who have used KickStart pumps to improve irrigation, such as the widow in Kenya who after her husband died, used the pump to increase her yields, expand her business, and support her family. She now sends her daughter to graduate school in Denmark and pays for her son's private education in Kenya. As Fisher says, KickStart is helping to "create an entrepreneurial middle class, starting with a family farm."
KickStart's irrigation pumps are just one piece of a patchwork of food security solutions, which also include improved infrastructure and agricultural innovations such as genetically modified crops. With drought taking its toll on the American Midwest, and adverse weather affecting other major food exporting regions of the world such as the Russian heartland and Ukraine, African farmers need every bit of help to improve their productivity.
This article originally appeared at CFR.org, an Atlantic partner site.