Time to #Fast: A Twitter Service Helps Muslims Observe Ramadan
The new, Twitter- and text messaging-based tool alerts Russian-speaking subscribers when it's time to pray and time to eat.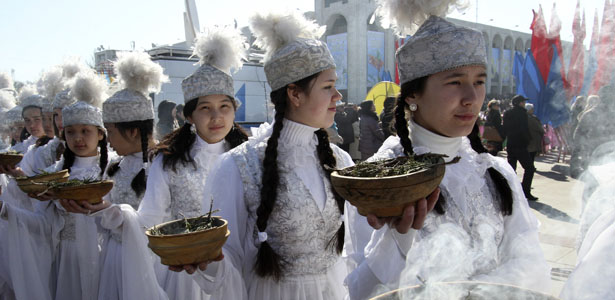 In case anyone still doubts that a 1,400-year-old religion is compatible with a 21st-century social-networking tool, a new Twitter-based project in Kyrgyzstan should put those doubts to rest.
On July 20, the country's Muslims joined with millions of their co-religionists across the world in marking the start of Ramadan, Islam's annual holy month of fasting, self-sacrifice and contemplation.
Sticking to the rules of the fast -- which forbid eating or drinking during daylight hours -- can tax even the fittest of the faithful in Central Asia, where summer temperatures regularly rise above 86 degrees and the sun stays out from before 6 a.m. until after 8 p.m.
But this year those new to Ramazan, as it is called in Kyrgyzstan, or simply worried about missing their pre-dawn breakfast, can sign up for a free text-messaging service that will send morning and evening reminders about prayer and meal times, as well as 140-character-max hadiths (sayings attributed to the Prophet Mohammed) and ayahs (Koranic verses) about the importance of love, attentiveness, loyalty, caring, knowledge and Ramadan itself.
The new Russian-language resource, called @RamazanTime, was the brainchild of a 22-year-old Bishkek resident whose two female friends, aged 21 and 22, then joined her as co-writers.
"We created this service to morally support our compatriots who are planning to keep the fast," the idea's author wrote in an email to EurasiaNet.org. (She asked that neither her name nor her friends' be printed as they were doing this "not to promote ourselves, but to gain Allah's pleasure and motivate others.")
The idea came to her thanks to a similar service provided by the news outlet where she works: Readers can sign up for free text messages with the day's news. She consulted the company's programmer and he explained that setting up such a text-message mailing list was as simple as opening a Twitter account, which she did: @RamazanTime. By early July, the three friends began writing in shifts -- morning, afternoon and evening -- sending out about three to five messages a day.
"I knew based on my own experience how important it is for those just starting to fast to have some support and this text-message service would be good motivation both for us and for others during the month of Ramadan," says one of the young women.
"I think," added the project's founder, "there are a lot of families in Kyrgyzstan in which only one person is keeping the fast. We hope it will be easier for him to wake up in the morning and keep the fast if he feels support from others."
Statistics suggest the logic behind @RamazanTime makes sense, as research consistently shows the majority of Kyrgyzstan's Muslims are passive adherents to the faith, but almost all of them have cell phones. According to two national polls carried out last year, between 85 and 88 percent of Kyrgyzstanis self-identify as Muslims, while only 24 percent said they had attended any sort of religious institution or service in the month before the polling took place. Meanwhile, cell phone penetration is nearly universal: As of 2011, according to a Radio Azattyk report citing the State Communications Agency, the number of mobile phone subscribers in Kyrgyzstan was nearly 6.3 million, or about 16 percent more than the country's population.
The young women running @RamazanTime -- whose messages will go to any Kyrgyzstani cell phone customer who sends the words "follow ramazantime" to the number 4040 -- estimate the number of their subscribers so far at "around 80-100 people. But the exact number is known only to Allah."
This article originally appeared at EurasiaNet.org, an Atlantic partner site.