Our expert panel gauges the odds that the United States or Israel will strike the Islamic Republic in the next year.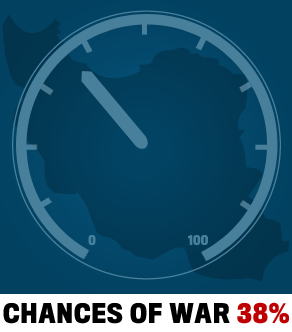 The chances of conflict with Iran have increased to 38 percent, according to the The Atlantic's Iran War Dial.
We've assembled a high profile team of experts from the policy world, academia, and journalism to periodically predict the odds of hostilities, including: Daniel Byman, Shahram Chubin, Golnaz Esfandiari, Azar Gat, Jeffrey Goldberg, Amos Harel, Ephraim Kam, Dalia Dassa Kaye, Matthew Kroenig, John Limbert, Valerie Lincy, James Lindsay, Marc Lynch, Gary Milhollin, Trita Parsi, Paul Pillar, Karim Sadjadpour, Kenneth Timmerman, Shibley Telhami, Stephen Walt, and Robin Wright. For more on the Iran War Dial and the panelists, visit our FAQ page.
In July, the panel's average estimate of the chances of an Israeli or U.S. strike on Iran in the next year was 38 percent. This is a 2-point increase on June's figure of 36 percent and snaps a 3-month streak where the chances of conflict steadily declined.
July saw the introduction of a new round of sanctions on Iran, including an EU oil embargo, which Iranian officials described as "warfare."
In a meeting with Mitt Romney, Israeli Prime Minister Benjamin Netanyahu pushed for a tough stance. "All the sanctions and diplomacy so far have not set back the Iranian program by one iota. We need a strong and credible military threat coupled with sanctions."
One of Romney's top foreign policy aides promised that a Romney White House would "respect" Israel's decision to strike Iran. This deliberate loosening of the reins could make the threat of an Israeli attack more credible. But it could also diminish Washington's capacity to restrain Israel.
Meanwhile, negotiations with Iran appear to have stalled. Each side's diplomatic B Team, or the deputy negotiators, met in Istanbul last week. But there was little sign of progress, and the A Teams are still waiting in the wings.
One of our panelists, Valerie Lincy, offers a comment this month about the dynamics of war.
Progress (or not) on several fronts affect the chances of war: diplomacy, sanctions, inspections, and the success with which the targets of military action can be damaged.  If no additional sanctions are adopted in the coming months, and if Iran continues to obstruct the work of international nuclear inspectors, and to stonewall in multilateral negotiations, then the likelihood of war will increase.  There will a strong sense that these options have been exhausted after a decade of application, and that the remaining options are containment, or an attempt at prevention through military strikes.

Iran's nuclear progress is another variable.  For instance, Iran could begin enriching uranium above the 20 percent level, justifying the action with a (nonexistent) need to produce fuel for future nuclear-powered submarines.  An Iranian naval official floated this idea last month, and it has been repeated by several high-level Iranian officials since then, and taken up by Iran's parliament.  Iran could also increase the rate of production of 20 percent material at Fordow, which could put a dangerous enrichment capability beyond the reach of Israel's bombs.  Such progress could happen before the end of the year.  A bombing campaign in response to these developments might be seen as an acceptable option because of the significance of what would be destroyed.  The attacker would accept that not all parts of Iran's nuclear program would be eliminated, but decide that the value of what would be eliminated justified the costs of an attack.


Peace is more likely than war, but as we enter election season, the temperature has risen.

We want to hear what you think about this article. Submit a letter to the editor or write to letters@theatlantic.com.