Sorry, Turns Out Kim Jong Un Didn't Marry the North Korean Pop Star Behind 'Excellent Horse-Like Lady'
But here are the bizarre video and lyrics anyway, to see what the North Korean leader will be missing.
But here are the bizarre video and lyrics anyway, to see what the North Korean leader will be missing.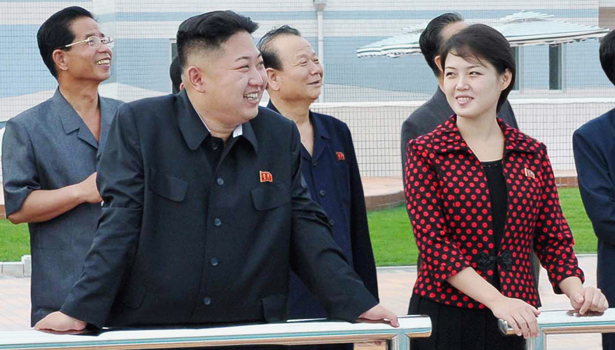 Like so many stories out of North Korea, simply keeping track of whom the head of state has married can be difficult, baffling, and at times outright absurd. Let's start at the beginning: for weeks, youthful North Korean leader Kim Jong Un has publicly cavorted with a mystery woman. Was she his girlfriend? Wife? Sister? The world wondered, but it ultimately knew only what North Korean media told it, which was nothing. And even these unexplained photos were nearly unprecedented for North Korea, which rarely glimpsed Kim Jong Il's wives, the exact number of which remains unknown.
So it was a big deal for when, this morning, North Korean state media announced that Kim Jong Un and the young woman were married and that her name is Ri Sol Ju. A South Korean analyst told the New York Times that he believes they were most likely married in 2009 and may already have a child. The simple fact that analysts still have to glean such basic information from years of obsessive analysis and speculation, as if they were the coordinates of uranium enrichment sites, tells you something about just how little we know about North Korea.
One thing we did learn is that Kim's wife is not, as long speculated, North Korean pop star Hyon Song Wol. Rumors -- yes, we are reduced to rumors, and we're to lucky to have even that -- say that Kim and Hyon got involved a decade ago, but the relationship was shut down by then-leader Kim Jong Il. She hasn't been seen publicly in years despite her high-profile music career; some observers speculate she had to leave the public eye in order to stay close to Kim Jong Un, or for her own safety as boyfriend Kim got closer to his father's throne. But it seems the rumors were false.
That's particularly disappointing, because then the leader of one of the most truly evil nations on earth would be married to a women who is otherwise best known for her 2005 hit single, "Excellent Horse-Like Lady." The propagandistic song (what, you thought North Korea would allow anything else?) has Hyon boasting that she works extra-hard in her factory job like a "well-bred horse maiden."  Whether Kim really dated this woman or not (and, yes, there are theories that Hyon is the same person as Ri, though I don't see the resemblance), it's worth taking this as an opportunity to visit her chief work. Below are the video and one MetaFilter reader's translation of the lyrics.
Excellent Horse-Like Lady (or: Well-Bred Horse Maiden)
Our factory's comrades laugh and say
Why, they take one look at me and say
I'm a maiden on a well-bred horse
Even after a hard day's work
(I) don't complain
My skills are truly like lightning
They say I'm the well-bred horse maiden
Today (as usual) I went off to work earlier than everyone else
Wouldn't you know it my name was in the paper!
In the age of flight we fly
This must be an award bestowed upon youth
They say I'm the well-bred horse maiden
In the era of creation borne of the labor party
The cherished new name bestowed upon (my) youth
Seated upon the well-bred horse by the great general
My life to extoll his name
They say I'm the well-bred horse maiden
Seated upon the well-bred horse by the great general
My life to extoll his name
They say I'm the well-bred horse maiden