London Feels More Like a Military Base Than an Olympic Park
Security measures to prevent a terrorist attack are said to give the Olympics host city a distinctly occupied look.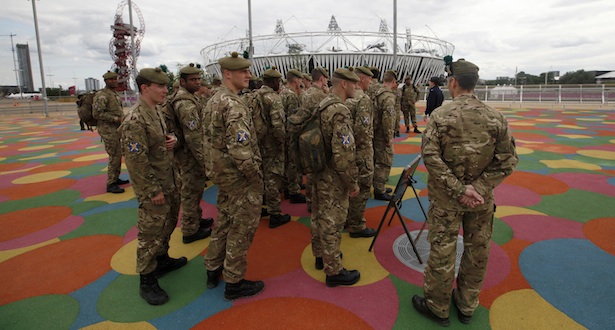 Reuters
In the course of preparing for the Olympics, John Burns, London bureau chief for the New York Times and a former war correspondent, gave a radio interview that included a depressing observation.
"I have to say, having spent time out at Olympic Park, that it's a little bit of a disappointment in a certain sense. It's a rather cheerless place," he told Hugh Hewitt. "If you see it from the air, as you and I have done, it looks very pleasant, that you can see that it's a park. On the ground, because of security, it's become a kind of, well, one of my colleagues said it was a kind of Gitmo experience, meaning Guantanamo. Security is very tight indeed, as you would expect. There's a lot of wire mesh fencing to channel you around, there are concrete blocks, actually, a kind of environment that I'm very familiar with from the American military bases in Iraq and Afghanistan."
Later the same day, the war zone atmosphere would only grow more pronounced, according to The Boston Globe. "British troops dressed in fatigues manned Olympic Park security checkpoints Tuesday, putting on their friendliest faces as visitors, volunteers, and the media trickled onto the site. All went well, but it was a far cry from the first impression London Olympics organizers had intended," the newspaper reported. "The soldiers were called in at the last minute to fill the staffing gap left by the Olympics' private security contractor... Last week, the company's failure forced the government to turn 3,500 British soldiers into security guards."
Then there's the ABC News story from earlier this month:
 

The British government confirmed Tuesday that it had placed missile batteries at six sites around London in advance of the upcoming Summer Olympics, including atop two apartment buildings where residents had previously expressed reservations about hosting the anti-aircraft weapons.

Shashank Bengali adds some context:
To understand the gargantuan security operation that authorities have prepared for the Olympic Games that open here Friday - nearly twice as many military troops are on the streets here as Britain has deployed in Afghanistan, for starters - it helps to remember what happened the morning after London won the right to host these games seven years ago.

On July 7, 2005, homegrown militants detonated bombs in the city's Underground subway and on a passenger bus, killing dozens in one of the worst terrorist attacks in the country's history.

While there's no evidence that attack was linked to the Olympic bid, it's had an unmistakable impact on planning for these games. The 10,000 athletes competing for medals will be dwarfed by a contingent of more than 36,000 soldiers, police officers and private security staff, backed by American law enforcement agents, thousands of closed-circuit cameras, unmanned drones, at least six missile batteries positioned on rooftops in East London and the Royal Navy's largest warship, the HMS Ocean, floating in the Thames.
Questions for which I have no answers: How great is the terrorist threat to the London games? How does one measure the cost of attending an event as if in an occupied city? At what point does the law of diminishing returns make money spent on security an unwise investment? Is the reportedly $1.6 billion price tag the most cost effective way to save lives in the United Kingdom?

Perhaps the British government has pondered all these questions, but from the outside, I get the unnerving feeling that, as with airport security in America, arbitrary decisions and inertia are as responsible as anything else for the measures taken in the name of protecting us. That isn't to say that London officials are overestimating the threat of violence (though I hope they are), or that there is any easy way for them to get the level of security just right.
As Greg McNeal argues:

Many of the tools now being used by the British may, from a tactical standpoint, prove successful in deterring a terrorist attack.  For instance, teams of undercover security operatives will keep a would-be terrorist guessing about whether someone will thwart his attack prior to detonation of a weapon...The seemingly endless layers of security, some visible and some not, can actually deter potential attacks by giving terrorists the illusion of London as an impenetrable fortress on the watch for attacks, even if such a level of security does not exist in the real world.
On the other hand, he adds:
There is a risk associated with high profile security expenditures -defeating them affords high level strategic benefits to an attacker.  Just imagine if al Qaeda was able to carry out an attack in an area where the government has introduced security measures that include the showcasing of missile defense systems, drones, electric fences, and attack dogs.  The corresponding message would be of the sort that would make any al Qaeda ideologue salivate: "You are not safe anywhere...your $1.6 billion dollar security measures cannot protect you." 

The money having been spent, let's hope its effect is deterrence.