Kenyans See the Italian Mafia's Hand in Worsening Drug Trade
Italian migrants started moving to the sunny Kenyan coast in the 1980s, but now locals say the country's infamous criminal element has come with them, spreading drugs and prostitution to a place that already had plenty.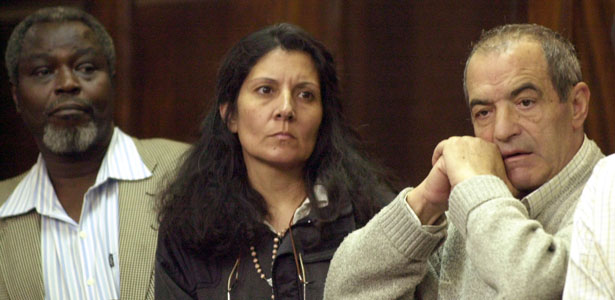 MALINDI, Kenya -- In the days since Paul Gitau's July 2nd article circulated through the streets of Malindi, a Kenyan coastal town 80 miles north of Mombasa, the 30-year-old journalist has kept his head on a swivel. He sticks to crowded areas. He uses alternate phone lines when discussing his whereabouts or sensitive issues. Two security guards -- independently hired -- guard his home from evening until morning.
Gitau had anticipated the backlash. His article, originally published in the local County Weekly, exposed Malindi's underworld of drug trafficking, prostitution rackets, money laundering, and a for-hire service to harbor international fugitives, all within the Kenyan city's large Italian community.
At ten in the morning on the day of publication, Gitau's expectations proved correct with an ominous phone call from a local Italian investor.
"We have formed a committee and we have met to deal with the author. Tomorrow we can meet and, if you cooperate with us, you will be safe," the man told him, as Gitau recounted to me in a one-room office in Malindi, the town's lone newsroom shared by all the local outlets.
Gitau was spinning. He talked with friends, contacted a lawyer, reported the matter to the police, delivered statements, and requested protection, which he didn't get. The Italian still hasn't called back.
When it comes to organized crime in Kenya, corruption is often not far behind. Stories about bribing police, or even government officials, are common. When I asked Kiprono Langat, the officer in charge of the Malindi Police Department, to comment on Italian crime in the area, he refused. But he did give me a wry smile when he denied that Gitau's report had been filed.
Gitau was unsurprised when I told him what the police chief had said. "The same person that is supposed to be protecting me says he doesn't know about the report," he fumed, conspiratorial as ever. "That means he's an interested party."
Documentation of the Italian criminal network on the Kenyan coast is relatively scant, but the international community is starting to take notice. U.S. diplomats, in a 2005 cable later released by WikiLeaks, reported that "Some long-term resident Italians are evidently involved" in drug trafficking here, which they say is "skyrocketing." The Kenyan coast suffers from endemic poverty, poor infrastructure, and the neglect of the central government. The Italian community, though relatively young, plays a critical role in the local economy. It might be dirty money, but it's still money, and for better or worse it's dramatically changed the way of life in what was once a conservative and devoutly Muslim fishing village.
"If the high season is underway, the economy is booming. The buying power for the common man is very good," said Mansour Naji Said, who's owned a hotel here since 1989, referring to the tourist months from July to October and January to March. "The poverty level here is high. All the people in the town, from the fisherman to the tour guide, earn well when the Italians are here. They won't look at the negative impact."
Italians first began flocking to Malindi in the 1980s. They swept up nearly all of the prime real estate; a construction boom followed a decade later. Several thousand Italians currently live year-round in the palatial villas and cottage communities around town. During the high seasons, there can be about 30,000, according to figures compiled by Malindi's Italian consulate.
Head of the consulate Roberto Macri dismissed the accusations of criminal activities in the Italian community but admitted that he'd heard reports of mafia involvement after the 1990s construction wave. But he said the Italian migration to Kenya was straightforward: prices are cheap and the country is beautiful.
"They thought they found an Eden in Africa," Macri told me, taking on a mystical tone. "Financially, their dreams could materialize very easily compared to Italy."
In the areas along the Kenyan coast near Malindi, virtually all of the available beachfront real estate is commonly believed to be owned by Italians. Italian Formula One icon Flavio Briatore, who while no mafioso was convicted in the 1980s of gambling-related fraud charges and was forced off of his F1 team over a 2008 race-fixing scandal, is currently building a Billionaires Club resort adjacent to the Malindi Marine National Park. Italians have constructed over four thousand homes and villas along the beach and on second row plots.
Much of that real estate has been purchased and developed in completely lawful ways. Those businesses now provide jobs that put food on the table for countless Kenyans. Most Italians in Malindi are in no way affiliated with criminal activity on any level. Local community leaders are quick to point out that any Italians involved in drug trafficking or prostitution are a subset of the larger, law-abiding community.
"The big percentage of Italian investment is legal and has helped us very much.
We have a good number of them who are doing a good job here, uplifting life through investment," said Bishop Thomas Kakala of Malindi's Jesus Care Center Church, pointing out that Italian locals have helped orphans relocate to Italy to make new lives there. "We recognize that. We have many Italian friends. It is not the whole community."
For all the local suspicions -- which can sometimes verge on conspiracy theory -- their accusations can be difficult or impossible to confirm, and no one has yet demonstrated a link between criminal activity in Kenya and Italian mafia families. But there's also been no real investigation, either, which is remarkable in itself since even U.S. diplomats in the area apparently consider the accusations to be credible. Kenyan police arrested two Italians in Malindi in connection with a 2004 cocaine seizure worth an estimated $6.25 million, one of several high-profile drug busts in the country over recent years that have entrenched local suspicions. Still, it's also extremely difficult to determine whether or not criminal activity in the region is increasing.
For a drug trafficker of any nationality, the geographic appeal of coastal Kenya is obvious; a porous transit point between Latin American producers and international markets. And Kenyan corruption, as well as the almost non-existent security along the coast, make it an attractive spot for illicit trades.
"That's the way the typical narcotics trade works ... getting it from the producing areas to the biggest markets while trying to evade security," said John Dickie, professor of Italian Studies at University College London.
"The obvious thing for them to do is go to where security isn't functioning well," he added. "It has more to do with that than geographical locations."
The United Nations Office on Drugs and Crime claimed last year the Kenyan coast is increasingly used as a transit hub for narcotics on the global circuit. In response, the U.S. government is planning to train anti-narcotics forces in Kenya, according to the New York Times.
"We know Malindi is used as a headquarters of transporting heroin to other countries. The Italians are involved," insisted Pamau Mohamed, Chairman of the Coast Community Anti-Drug Coalition, a local group that advocates against drug use and tries to inform authorities of incoming consignments and connects addicts to rehabilitation clinics. "There are so many people we know about working with drugs here but people can't discuss them. It's very risky. Some are working with [members of parliament] and ministers. They are involved strongly in this area." Like many people I spoke to, he had strong accusations but little or no proof, and native Kenyans are of course necessarily involved in the drug trade, meaning that the presence of drugs is not proof of any Italian connection.
James Kitau is a local contractor who says he's worked with almost every construction firm in the area since moving to Malindi in 1976. He says he he's seen homes with secure communication satellite links and underwater tunnels that feed into palatial homes, he suspects to allow small vessels to enter the properties undetected.
"They have speedboats. They bring drugs in mixing it with other goods. They import it through the sea," said Kitau.
Traditionally, law enforcement officials and mafia researchers have focused on West Africa, not East African countries such as Kenya, as a conduit for drugs imported from Latin America to Europe. And Turkey has historically been the major route into the lucrative European markets from heroin producing areas in Afghanistan, Pakistan, and Southeast Asia. But, as international enforcement focuses more on those well-worn routes, the Kenyan coast might seem more attractive to traffickers.
Mafia expert Federico Varese, author of Mafias on the Move: How Organized Crime Conquers New Territories, says that East Africa is just emerging as a criminal hub. He suggests that Malindi would provide an ideal environment for another chief mafia revenue generator: money laundering.
"Traditionally, there is a lot of Italian tourism there in Malindi," said Varese. "[Criminal networks] need to invest in profitable businesses, many times abroad. They do it in communities that they know ... where they have friends and shady financial advisors."
Many Italians have been staying in the country illegally for extended periods of time but government officials that seek to mete out lawful punishment to the fugitives face consequences. According to Julius Kobia, who used to be Malindi's Immigration deputy officer in charge of investigation and prosecution, some Italians live here without proper visas, sometimes to avoid criminal charges back in Italy. As the 2005 U.S. diplomatic cable reported, "One Italian living openly in Malindi is facing a thirty year Italian prison sentence -- if only Kenya would extradite him. Other Europeans sought on drug charges have similarly avoided extradition by political payoffs and  protection. Malindi service is said to be so profitable that"
Kobia recalled his 2009 and 2010 campaign to apprehend and repatriate an Italian fugitive named De Caro Giovvani, wanted on criminal charges in Italy and sought by Interpol, Giovvani had been living in Kenya without a visa since 1992.
Kobia says that Giovvani approached him and offered a bribe. The immigration officer refused to drop his investigation, but his bosses later transferred him. He was reassigned, he believes as punishment from his bosses for pursuing the well-connected Giovvani, from his respectable job to a shift supervisor in Mombasa's Moi International Airport.
"I refused to follow his line," Kobia fumed, blaming Giovvani. "He wanted to compromise me. All the security services were under his control. They used to get cuts from him so he was untouchable." Still, he was able to continue his work on the case -- a high-level connection allowed him to keep on it from his new job in Mombasa, he half-explained. A few weeks ago, Giovvani was successfully repatriated to Italy.
"There are some criminals in Malindi that have relationships with senior policemen or political figures," Kobia added. "When you touch them, you touch a live wire."
Prostitution is a thriving industry in Malindi, as a 2006 UN study documented. Local health advocates say that Italian-run prostitution rackets sometimes coordinate sending local Kenyan women and men to the European sex industry.
"Many are promised other jobs. Then, after they arrive, they are told there are none. Their passports are taken and they're forced into the sex industry," said one former male sex worker, now a HIV/AIDS and sex abuse advocate. "Some are successful and return with lots of money. Some disappear. We've heard they're dead," He asked to remain anonymous over fears of reprisal from the local, conservative Muslim community.
In many parts of Malindi, Kiswahili has become a secondary language after Italian. During the sun-soaked days, Italian men ply the roads with Vespas. Italian markets sell salami, wine, and cheese. At night, the pimps ply their European clientele for business. Geriatric Italian men mingle with young Kenyan women in the countless bars and resorts, buying drinks, getting physical, and celebrating with Italian friends.
To the extent that there is a criminal subset within the larger, law-abiding Italian community, they're exacerbating the larger "Kenyan-Italian tensions," as the WikiLeaks cable described them, reinforcing negative Kenyan stereotypes of Italians and leading locals to associate the wealthy Europeans with something more nefarious.
"I don't want to generalize but I'd have to say most of the Italians here are involved in drugs or the sex industry," said the sex abuse advocate, probably unfairly. "And when they leave here, they leave their footprints. Lives are ruined."