Kazakhstan's Olympic Teams Have a Secret Weapon (It's Horsemeat)
The Kazakh national squads are bringing horse delicacies that might be tough to find in London.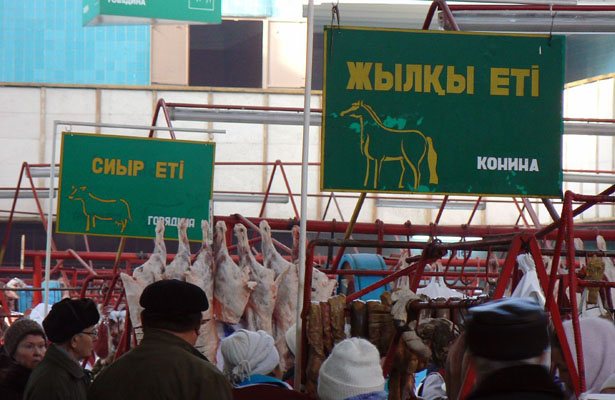 Kazakhstan's sportsmen are leaving nothing to chance before the Olympic Games open later this month in London. They will power themselves with horsemeat sausages shipped specially to the British capital for the occasion.
Prized kazy (dried horsemeat sausage) and karta (a delicacy made from the animal's large intestine) will be taken to London to add a taste of home to the diet of the Kazakh team, a government sports official told the Vesti.kz news site.
Visitors to Britain often complain about the food, but Yelsiyar Kanagatov, deputy head of the government's Agency for Sport and Physical Training, said the decision to fatten up sportsmen with homegrown specialties was not a reflection of the gastronomic delights on offer at London's Olympic Village, where "whatever you want" will be available. It's just that Kazakhstan's sportsmen will have something "extra," as he put it, to help them reach peak fitness. That means not only the horsemeat delicacies that are staples in every Kazakh's diet, but also a taste of luxury: Caspian Sea caviar.
Kazakhstan is fielding 114 athletes in this year's Summer Olympics and has set an ambitious but achievable target of bringing home three gold medals.
Historically, Kazakhstan's strongest suit is boxing: It has won five Olympic golds in the sport, and Bakhyt Sarsekbayev hopes to repeat his success at the Beijing Olympics four years ago when he boxed his way to gold. Kazakhstan's other gold medal winner in 2008, weightlifter Ilya Ilyin, also hopes to cruise to victory. Fans are likewise hoping for a medal in wrestling.
Besides these culinary weapons, Kazakh sportsmen have been offered big incentives to win: $250,000 for a gold medal, $150,000 for silver, and $75,000 for bronze.
This article originally appeared at EurasiaNet.org, an Atlantic partner site.