Indian Media Fume at Oprah for Her Portrayal of a Backwards, Cliched India
The media mogul wants to educate Americans about India, but critics say she mostly entrenched negative stereotypes.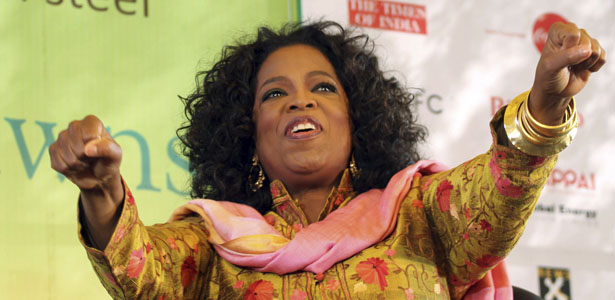 Oprah Winfrey's recentTV special on India generated quite a buzz here in the past week. Many Indian media outlets expressed revulsion at the TV star for her portrayal of Indians as people who "still eat with their hands."Rajyashree Sen's "You still eat with your hands? Oprah's magical mystery tour of India," went viral as it drew attention to Oprah's several clichéd experiences. "Myopic, unaware, ignorant and gauche. This was Middle America at its best worst," was Sen's most retweeted statement.
Other sources, ranging from The Wall Street Journal's India Real Time blog to Kafila, have been less harsh. India Real Time contributor Tripti Lahiri argues that Oprah exposes many realities of India that would otherwise go unnoticed. Kafila's Dan Husain notes the similarities between his first journey to the United States and Oprah's to India.
Meanwhile, a second India Real Time post, "Oprah, Obama and India's Insecurities," argues that Indians have reacted too defensively in the face of critique. Margherita Stancati writes, "Sure, we don't need Oprah to tell us many in India are still poor -- but why does the public get a lot more prickly when it's a foreigner pointing this out?"
In either slamming Oprah for her "eating with hands" comment, or forgiving her for shortsightedness, the media have ignored the more problematic trends associated with Oprah's Next Chapter: Oprah Travels to India. Yes, Indian media can be hypersensitive to outside political criticism, but that doesn't excuse Oprah for promoting clichés about India in her special.
---

MORE FROM ASIA SOCIETY
---
In reaction to the Kony2012 controversy this March, novelist Teju Coletweeted, "This world exists simply to satisfy the needs -- including, importantly, the sentimental needs -- of white people and Oprah." The Atlantic later published his tweets and commentary in "The White Savior Industrial Complex." Throughout her travels in India, Oprah merely performs her savior persona and shrieks superlatives such as "This is the craziest-ass thing that ever happened to me." While bidding the Hedge family farewell in the Colaba slums, she looks directly into the camera and smiles for a second while tossing the second Hedge girl in the air and giving her wet Oprah kisses. As she reflects on her horse-driven carriage ride with Rajasthani royalty in Jaipur, she says, "To this day, my favorite shot is my head thrown back, going "Whoaaaa!'" Needless to say, Oprah is a genius at satisfying the sentimental needs of the camera.
Throughout her Next Chapter, Oprah points out that she continues to be faced with the "paradox of India." For her, the paradox mainly lies in the fact that the hyper-wealthy live side-by-side extreme poverty. She acts surprised to see how frugally some Indians live, and she sensationalizes the lifestyles of the rich. On CNN-IBN, Rituparna Chatterjee's "An open letter to Oprah Winfrey from an Indian who eats with her hand," explains: "We have seriously twisted issues.... Our problems are generically different from yours. But we don't make a spectacle out of yours. That's the difference." This is why the public "gets more prickly when it's a foreigner pointing out" poverty in India. Even though poverty in India is a critical issue, to make it a tourist stop on a two-week voyage through India is uncharitable.
It doesn't seem fair to expect a sophisticated perspective from someone who crams India into two hours. Nevertheless, Oprah did more to cover the clichés about India than to cover India itself, which is why the media reacted the way it did. Most interestingly, the reactions to Oprah's Next Chapter: India emphasize how television today must stand the test of social media. When an American produces a TV special on India, it circulates beyond the West. Ideally this reality will inspire Oprah and other personalities who want to give India to the world to do some homework before daring to broadcast.
This article originally appeared at Asia Society, an Atlantic partner site.