How the President's Penis Got in the Middle of South Africa's Thorny Racial Politics
When white artists satirized President Zuma's infamous philandering, they hit on some of their country's touchiest issues.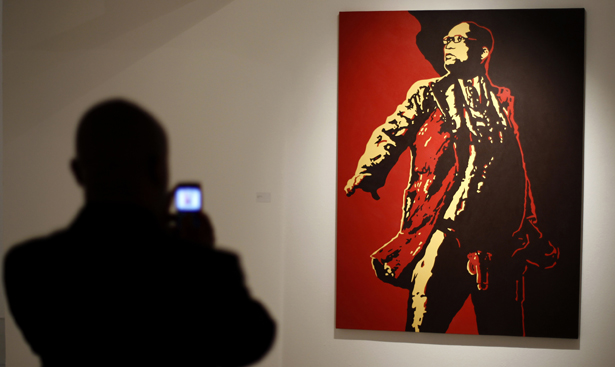 South African President Jacob Zuma's genitals have gotten a lot of attention lately. In May, a month after Zuma married his sixth wife -- he presently has four -- a Johannesburg art gallery featured a red-and-black acrylic painting of Zuma, striking Vladimir Lenin's famous pose, his genitals hanging out of his pants. The Spear, painted by a white artist, became a national controversy: Zuma's party sued to have it removed, angry vandals splashed it with paint, and protesters marched. The widely read South African City Press launched a dedicated, multi-day special report, including a soul-searching interview with the editor-in-chief on her decision to pull images of The Spear from their site.
Now South Africa is dealing with another, if cruder, version of the same controversy, this time over the work of prominent South African political cartoonist Jonathan Shapiro, also known as Zapiro. His latest cartoon portrays Zuma as a giant, walking penis frowning at his (its?) reflection in a mirror hung on the wall of that same Johannesburg art gallery. The cartoon includes a limerick mocking Zuma's government for its lawsuit against the gallery that displayed The Spear. The South African government called for the cartoon to be pulled.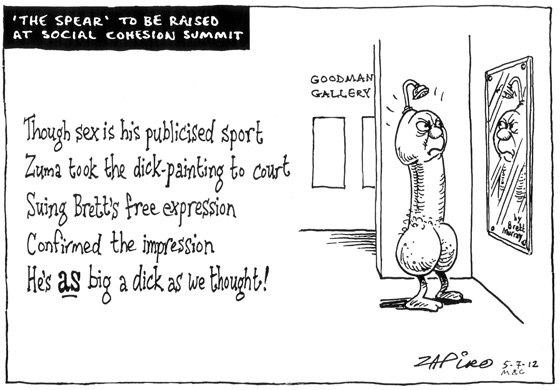 One reading, probably the one Zapiro intended, is that the cartoon satirizes the outrage over the high-brow painting with a low-brow portrayal of the same subject, maybe to challenge the idea that Zuma's sexuality is taboo. The other reading, the one that seems to have a number of South Africans outraged, as they were over The Spear, is a bit more complicated. You might say it boils down to something like, This is still how you whites see us, isn't it?
Apartheid might feel like a long time ago -- it ended in 1994 -- but those 18 years since are a blip compared to the centuries of white minority rule. And that rule was often predicated on certain ideas insisting on differences between whites and blacks, one of them sexuality.
European colonists became so obsessed with the idea of hyper-sexualized black Africans that, in 1810, an enslaved South African woman named Sarah Baartman was carted around European freak shows, which charged tickets to see the unusually large genitals of the "Hottentot Venus." She died in 1815, but a Paris museum displayed her actual genitals, preserved, until 1974. Over the intervening century and a half, Europe was swept by one wave of "primitivist" art after another, often playing up the supposedly heightened, almost animalistic sexuality of black Africans. In Apartheid South Africa, this stereotype was often treated as one more reason why it was better to have the whites in charge.
So when South Africans see The Spear and Zapiro's cartoon, not all of them might immediately think of say, Zuma's polygamy, or the presidential sex scandals -- he was acquitted in 2005 of raping an HIV-positive family friend -- that make Bill Clinton look like Rick Santorum. Rather, they might see a continuation of South Africa's ugly history of racially charged -- you might even say racist -- depictions of black Africans' sexuality. "What's up with these white satirists and their fascination with the presidential d*ck?" asked a featured commenter on a popular South African news site.
This is a remarkably touchy issue for both whites and blacks in South Africa. Though Apartheid is over, some of its economic and political legacies are not: a recent New York Times article from Cape Town, "In a Divided City, Many Blacks See Echoes of White Superiority," glimpses at the still-remaining barriers between the two racial groups. With Nelson Mandela's quest for racial equality and harmony still very much a work in progress, it's understandable that black citizens can be sensitive about perceived reinforcements, as in these controversial artworks, of the old racial order.
Still, whites are citizens as well, and they expect the freedom to criticize their government and president. That government can still be alarmingly corrupt at times, and that president is, after all, infamously philanderous, even for a head of state.
As with so many things in South African politics, a conversation that might not seem to be about race or Apartheid is heavily laced with both, whether the people having that conversation want it to be or not.