How Cell Phones Are Bringing Rural Africans Into the Modern Economy
Soon, more people in the developing world may use cell phones for retail banking than in the developed.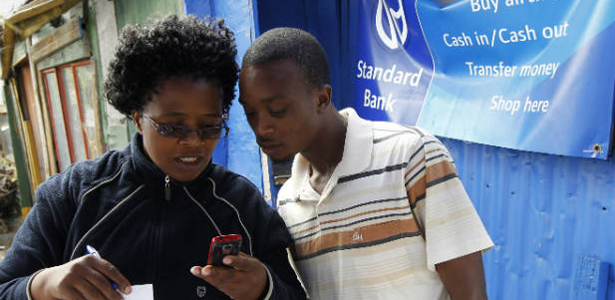 A new client at South Africa's Standard Bank learns how to use mobile phone banking. (Mike Hutchings/Courtesy Reuters).
---

MORE FROM THE COUNCIL ON FOREIGN RELATIONS
---
It's hard to keep up with the rapid pace of change in the world of mobile banking. In Africa in particular, mobile payments have really taken off. In a blog post last year, I discussed Kenya's mobile money system, M-Pesa, which has extended banking services to roughly 40 percent of Kenya's adult population. By some estimates, a third of Kenya's GDP now flows through M-Pesa.
In a move that has the potential to really scale up mobile banking across the African continent, Visa acquired the South African software company Fundamo last year. Fundamo, which just celebrated its tenth anniversary of supporting mobile financial transactions this spring, provides the technology that approximately a third of all mobile money systems use today. Visa's purchase should push forward the greater inter-operability across systems that is necessary for the next stage of growth. Currently, mobile money transactions are limited by closed-loop systems: you can send money to someone else only if they are on the same system. The challenge is getting different mobile money deployments--and the banks behind them--to interact with each other.
I had the opportunity to speak with Hannes van Rensburg, Fundamo's founder and chief executive officer, earlier this year when he was visiting the U.S. from South Africa. Van Rensburg is enthusiastic about the potential of mobile money to promote economic growth and alleviate poverty. "Cash economics are locked into poverty," he says. An open electronic payments system can spur growth by enabling new types of transactions, including person-to-person payments, e-commerce, and transfer payments from government to its poorest citizens.
Van Rensburg well understands how transformative Visa's entry into the market will be. "Opening closed-loop systems is not just about plugging in," he explains. "It's about trust and rules, and managing disputes." Visa, the world's biggest bank-card network, has the assets, brand, experience, and systems to open Africa's myriad closed-loop systems. Van Rensburg says they will start by connecting Fundamo's own deployments to each other and then move on to other systems. One of Visa's first big initiatives is in Rwanda, where it has an agreement with the government to improve payment infrastructure like ATMs and work on financial literacy issues. Visa, of course, sees the potential for its own bottom line. Its CEO is gunning to generate over half the company's revenue from outside the U.S. by 2015. Emerging markets like Africa are critical to Visa's global growth plans.
Give the size of the opportunity, it is not surprising that other big financial services companies are looking to enter the mobile payments market. Last month, the United States Agency for International Development (USAID) announced a partnership with Citi to expand mobile financial services to the unbanked. USAID has committed $23 million to help set up these programs, including training users and governments. Citi will also use its experience and broad reach to enable its banking clients to sign on to mobile money systems. As Citi's CEO Vikram Pandit puts it, Citi seeks to close the "last mile"--the gap between a user and a bank or mobile carrier in completing a financial transaction. Initially focused on Colombia, Haiti, Indonesia, Kenya, and the Philippines, the USAID-Citi partnership will reach nine countries.
With the spread and growing sophistication of mobile money systems in the developing world, it is likely that some aspects of retail banking--namely, widespread and easy use of mobile money--in many poor countries will surpass that in the developed world. In some places, it already has. Maybe someday mobile money will connect the approximately nine million unbanked American households to the financial system.
This article originally appeared at CFR.org, an Atlantic partner site.