Good Job, CIA: Your Pakistan Vaccine Plot Helped Bring Polio Back From the Brink of Eradication
As locals learn to fear vaccines, a global health campaign is being rolled back.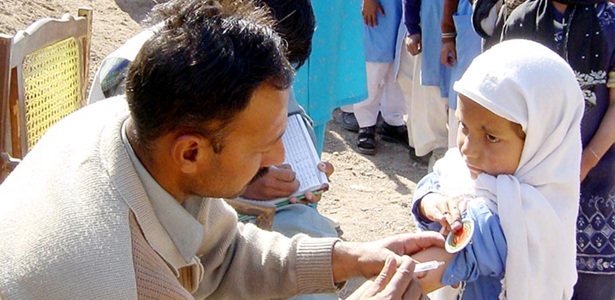 ---

MORE FROM THE COUNCIL ON FOREIGN RELATIONS
---
Last year the CIA deployed a Pakistani physician to execute a phony hepatitis vaccine campaign in Abbottabad, hoping to extract blood samples from the children living inside a compound, thought to house Osama bin Laden and his family. Because of the vaccine deception, multiple imams and Taliban leaders have declared that vaccines are CIA plots. The ruse may also be responsible for what appears to have been an assassination attempt against a World Health Organization immunization convoy that injured two people on July 17.
After the bin Laden incident, Dr. Orin Levine, a key figure in global vaccine efforts, and I wrote in the Washington Post that the CIA's plot "burned bridges that took years for health workers to build." Our concerns were dismissed last summer by the Obama administration, with unnamed spokespersons for the CIA insisting that ridding the world of the al-Qaeda leader was more than worth whatever "minor problems" might be experienced in vaccination efforts.
Since then, the "minor problems" have mounted steadily, and it is possible polio eradication will now worsen general civil unrest and anti-government sentiments across the country. Shortly after Pakistan started its National Immunization Days, featuring nationwide vaccination for polio, measles, and other childhood infectious diseases, this week polio workers were beaten publicly by mobs in Islamabad. In addition, another polio eradication team was fired upon in the southern town of Jacobabad and the Taliban has banned all immunizers from entering the northwestern region of the country, forbidding the vaccination of nearly 300,000 children.
According to the WHO, only three countries in the world remain polio-endemic with "persistent pockets of polio transmission" in northern Nigeria and along the border between Afghanistan and Pakistan. Pakistani health authorities have tried to counter the Islamist resistance with polio education and vaccination, but the credibility of their efforts was undermined by evidence of fraudulent immunization reporting to the WHO. Worse, authorities tried to force immunization and jail parents that stopped vaccine workers, fueling antipathy further.
And decades-old regional tensions were inflamed after India, which eradicated polio from its country, declared that its children were threatened with cross-border spread of the disease as long as Pakistan remained unable to carry out mass immunization. Such cross-border spread was responsible last year for bringing polio to China, and Beijing has been quick to join the chorus of Af/Pak neighbors worried about the deterioration of vaccine efforts.
Some people said that a small amount of suspicion of vaccines from the CIA activities a year ago was merely collateral damage in the "war on terrorism." Al-Qaeda attacks on the United States and its allies have over the last 15 years killed about 5,000 people. Today that collateral damage could mean that many children in Pakistan are at risk of dying or being permanently paralyzed by polio, and the reversal of eradication efforts that could swiftly spawn outbreaks across the entire region.
This article originally appeared at CFR.org, an Atlantic partner site.