Former Obama Official on Syria: 'A Lot of What We're Doing Is Not Visible'
The line between U.S. humanitarian and military intervention is blurring as the death toll rises in Syria.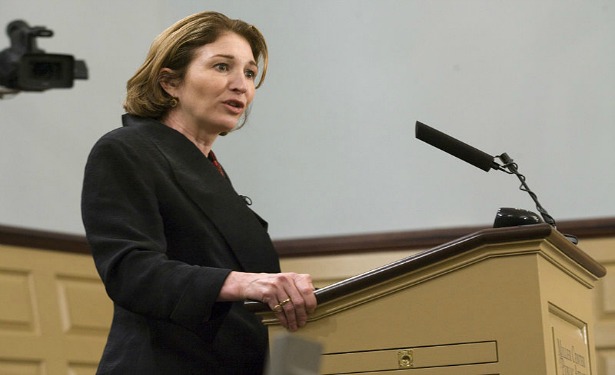 Wikimedia Commons
One of the most difficult questions in international affairs right now is whether the U.S. is doing enough to aid Syrian rebels. When pressed on the issue during a panel discussion at the Aspen Ideas Festival Sunday, Anne-Marie Slaughter, a former senior official at the State Department, pushed back against the idea that the U.S. is standing on the sidelines: "We're doing much, much more than we were and a lot of what we're doing is not visible," said Slaughter, who stepped down as the State Department's director of policy planning in 2011. "Right now, I actually think we've been doing much, much more than we were." The level of U.S. involvement in the escalating crisis is a tightly-guarded secret and reportedly ranges from diplomatic efforts to the coordination of weapons shipments to rebels. But it's anyone's guess just how entrenched the U.S. is becoming in the conflict, which is spiraling into a full-fledged civil war. Here's what we know about U.S. involvement thus far:
In April, the State Department acknowledged that it was going beyond humanitarian assistance and providing rebels with communications equipment to evade attacks and coordinate with people outside the country. Sources told CNN that included satellite communication equipment and hardware systems "to help the opposition evade government censors, and more easily communicate internally and externally."
In May, The Washington Post reported that the U.S. was helping coordinate shipments of "lethal materials," including antitank weaponry, to opposition fighters. Details were slim but in a June story by The New York Times, it was revealed that the CIA was helping steer "automatic rifles, rocket-propelled grenades, ammunition and some antitank weapons" into the country in an effort to make sure weapons purchased by Turkey, Saudi Arabia and Qatar weren't getting into the hands of Islamic extremists.
On Friday, The Guardian reported that a tiny Syrian village four kilometers from Turkey has become a hub of arms shipments to rebels.  The report includes the curious detail that an American working for the U.S. government was brought in by rebels a week ago for purposes that couldn't be confirmed.
Notes from the Aspen Ideas Festival --
See full coverage
The details of these efforts are intriguing for a couple of reasons. First off, the Obama administration's official position is against further militarization of the conflict in Syria. "We don't want to contribute to the further militarization there," White House press secretary Jay Carney has told reporters.The second factor is U.S. defense officials who say the conflict in Syria is a veritable hornet's nest. Earlier this year, Joint Chiefs of Staff Chairman Gen. Martin Dempsey cited a range of reasons against intervention in Syria, including Syria's "very credible military," stockpile of "chemical and biological warfare threat," and potential to escalate into a regional conflict between Sunnis and Shia. Of course, the Obama administration's calculus can always change. As the death toll piles up (at least 10,000 killed according to the UN) and shocking details about massacres surface, such as the Houla child massacre, the White House comes under increasing pressure to intervene. The question remains: To what extent are we intervening already?