CNN's Effusive Coverage of Kazakhstan Is Quietly Sponsored by Its Subject
A special report on this oil-rich, former Soviet republic includes interviews with "experts" who are actually current or former government employees
.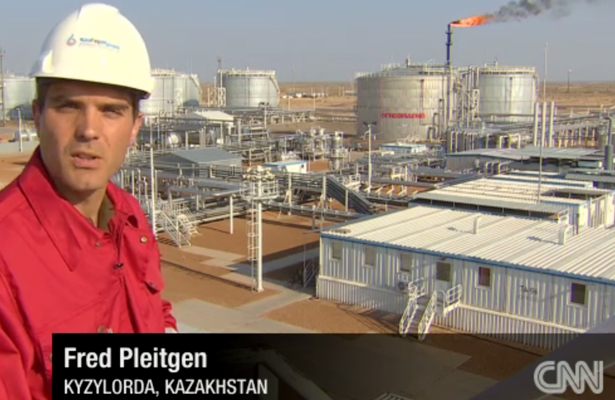 The Republic of Kazakhstan is not the sort of country that you hear about much in American media. Newspapers and TV networks have limited space, after all, and with so much happening in places like China and the Middle East, the dealings of this land-locked former Soviet territory don't rate as much ink or airtime. Still, Kazakhstan's story is significant and often entertaining -- it's a big, rapidly modernizing, resource-rich nation sandwiched between Russia and China -- so it was an unusual treat to discover that CNN International is devoting an entire special report to the country. The network's first-ever live broadcast from Kazakhstan would seem to be a small but important landmark moment for CNN International, bringing its enormous audience into contact with a corner of the world they might otherwise never experience. But there's more than meets the eye to this cheery series, and some apparent overlap in mission and tone with the Kazakh government's recent, high-profile lobbying campaign.
"Eyes On Kazakhstan," a half-hour collection of nine short segments that first aired this weekend and runs again once or twice a day through Wednesday, brings viewers into contact with a part of the world about which they might otherwise read or learn very little. The show mostly focuses on the country's booming energy industry and its opportunities for foreign investors, though also explores, for example, indigenous Kazakh sports,. But, if you go online to watch the clips on oil mining or read about the changing capital city, you might notice a disclaimer at the bottom of the article that reads, "CNN's Eye On series often carries sponsorship originating from the countries we profile. However CNN retains full editorial control over all of its reports."
Sponsorship is nothing out of the ordinary -- you might notice ads running alongside this very post -- but it turns out that there are some unusual things going on with CNN International's Kazakhstan series. You'd have to know the country pretty well to spot them, which I don't and didn't. But a Central Asia-based consultant named Myles Smith did, pointing them out in a post on EuriasaNet.org (disclosure: as an Atlantic partner site, EurasiaNet articles frequently appear on TheAtlantic.com).
The first thing that Smith found is also perhaps the strangest. He writes that both the website and TV-only promotional teasers say that the program is "in association with" a firm called Samruk-Kazyna and the Astana Economic Forum. Oddly, it doesn't actually name either of these groups, merely displaying their logos, which Smith recognized. Samruk-Kazyna is a massive, state-run holding company that manages national assets and resources worth tens of billions of dollars. The Astana Economic Forum, also state-run, lists "attracting potential investors and partners to help facilitate development projects" as an official goal.
Browsing the Eyes On page and watching the clips myself, I could find no indication of who was sponsoring the program or even that it had sponsors at all, other than the vague note about "sponsorship [often] originating from the countries we profile," which doesn't clarify if that means the country's government or just companies that happen to work within that country.
I was baffled. Not that Kazakhstan's state-owned firms would "sponsor" a report on their country -- which could be kosher if the sponsors were clearly identified and if they had no effect effect on the actual news coverage -- but that I couldn't find any disclosure myself of the sponsorship. I reached out to a U.S.-based EurasiaNet editor, and he couldn't, either. But he got in touch with his colleagues back in Central Asia, and it turned out that the "Eyes On Kazakhstan" page looked slightly different when they loaded it. Their version shows the "in association with" disclaimer (screenshot here), while Americans see nothing.
This was one of the things I asked about when I got in touch with CNN International. "All campaigns have the ability to geo-target different advertisements to different regions in the world," a press representative told me, though the "in association with" line looks more like a disclaimer than an advertisement. "It's not visible in the U.S. because the U.S. is not a target market." She confirmed that Samruk-Kazyna and the Astana Economic Forum are sponsors and didn't dispute their links to the Kazakh government.
But maybe the strangest part of the series was what it left unsaid about its sources. In an upbeat segment on what a CNN reporter called Kazakhstan's "strong and vibrant" energy-driven economy, he interviewed a man named Murat Karymsakov, introduced only as an "energy expert." Karymsakov had effusive praise for the government's management of the Kazakh economy, which he said is poised for continued growth. And why shouldn't he? As EurasiaNet points out, Karymsakov is employed by the same government on which he's asked to comment: the state-run Eurasian Economic Club of Scientists' Association, headed by the president of Kazakhstan, lists him as the chairman of its executive board. Karymsakov's "economic club" is also an "organizer" of the same Astana Economic Forum that sponsors the show, which means that CNN is, in a sense, presenting one of its advertisers as an unbiased expert to evaluate the work of that same advertiser.
In a segment on the government's efforts to combat brain drain, another CNN reporter introduced "economist Darmen Sadvakasov," stumbling over his name. Sadvakasov praised the Kazakh president's program for sending promising young people to foreign universities in exchange for a pledge that they return to work in Kazakhstan. Sadvakasov, himself a product of the program, emphasized that most of its students come back to work in the private sector. But not him: he returned to work for the government, and, according to a lengthy title that frequently appears alongside his name in web searches, headed an entire department of the president's office at least as recently as October.
CNN's spokesperson said that Sadvakasov "no longer works with the Kazakh government," but didn't dispute that he recently had or that Karymsakov still does. When asked who had arranged the interviews and if CNN was aware that their sources had such close ties to the regime, she replied, "Both interviews were arranged by the CNN International editorial team in the context that each guest is an expert in their respective field." They're certainly experts, but their association seems relevant as well. Imagine if CNN had interviewed Peter Orszag, the 2009-2010 director of President Obama's Office of Management and Budget, as merely an "economist" asked to evaluate Obama's economic policies; or if it had presented an executive at Ford Motor as an unbiased "auto expert" who might give comment on Ford's comeback.
The government of Kazakhstan has been making a significant lobbying and public relations push abroad since at least 2010, when it began employing lobbying firm BGR Gabara. It has also hired Tony Blair Associates, Portland Communications, and Media Consulta. A January investigation by EurasiaNet found that the U.S. Foreign Agents Registration Act database listed Kazakhstan's UK embassy as having hired BGR Gabara for "relevant outreach to government officials, news outlets, and other individuals with the United States, as directed by the Embassy of Kazakhstan in London, United Kingdom." EurasiaNet suggested that the campaign aimed to combat the country's troubled human rights record (Freedom House lists Kazakhstan, a dictatorship for 21 years now, as "not free") and to attract investment for the rapidly growing economy.
The strength of the Kazakh economy is no lie, and I had a hard time finding anything to disagree with in the thrust of CNN's reporting. After all, we listed the country as one of five rising economic powerhouses just in February, for which I wrote that Kazakhstan, despite its "Stalinist ticks," is "well positioned to profit off of Asia's rise, especially as Middle Eastern turmoil makes this sparsely populated and stable country an attractive energy source. The mostly benevolent government is investing the revenue wisely, growing infrastructure and non-energy industries such as transportation and pharmaceuticals, while still avoiding overheating."
I arrived at my own upbeat conclusions about the Kazakh economy without ever having met a pro-Kazakhstan lobbyist in my life, so it's easy to imagine CNN's much more seasoned reporters doing the same. And CNN has separately reported on the country's darker side. Still, in a stand-alone package premised on bringing CNN viewers a tour of a country they might otherwise know little about, the network could have been transparent with those viewers about the Kazakh government's connections to its reporting, which after all focused heavily on evaluating that government's performance. Whether CNN chose to label present and former government employees as unbiased "experts" without noting their connections or was simply unaware of those links, it's an odd moment of convergence between one of the largest news networks in the world and the lobbying campaign of this far-flung Central Asian oil exporter.