As Cirrus Goes, So Goes Hawker Beechcraft
Early last year, at the Asian Aerospace show in Hong Kong, I watched eager Chinese purchasers line up for tours of all sorts of aircraft, including business jets large and small. As I describe in my book, I even saw a business-jet purchase completed in cash. It's all part of the gold-rush era for many of China's new rich.
In an alternative universe in which it were possible to fill a book with pictures with no increase in production cost or purchase price, I would have had ones on every page to convey what I had seen and was talking about. For instance, here is a Hawker Beechcraft jet, the
900XP
, awaiting a tour by the next group of prospective Chinese purchasers at the Hong Kong show.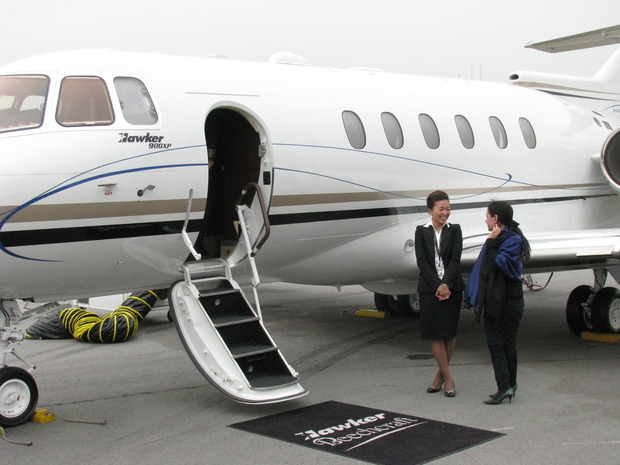 These planes go for somewhere around $15 million apiece. But it appears that the whole Hawker Beechcraft company, a
venerable manufacturing firm
based in Wichita and combining the heritage of the Beech and Hawker Siddeley aircraft lines, goes for a little more than 100 times that much, or around $1.79 billion. That's the sales price
announced today
for the firm's transfer (out of bankruptcy, and from current owners Goldman Sachs and Onex)
to its new Chinese
owners, the Superior Aircraft Beijing corporation. The business-jet line, plus familiar models like the Beech King Air, Baron, and Bonanza, are part of the sale. The strictly-military part of the Hawker Beechcraft business won't be transferred.
The larger story here -- yes, you knew there was one -- is of the multi-front Chinese effort to leap from nowhere to a leading role among the world's aerospace powers. This is important from the Chinese perspective for many reasons: because its own purchases of airplanes are rising constantly (so why not make them itself?), because a high-end aviation establishment is a proxy for other kinds of technological sophistication, because there are defense implications, and so on.
At the high end, as a hoped-for eventual rival to Boeing and Airbus, there is the
C919
from the Chinese state aerospace company Comac. Part of its display at the same Hong Kong airshow, depicted flying over the Chinese pavilion from the Shanghai World Expo.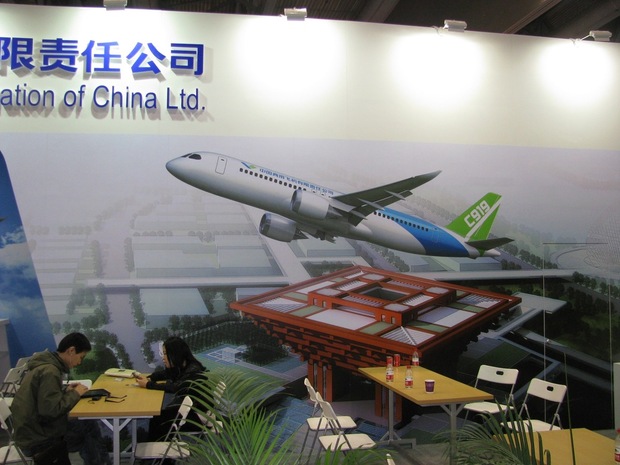 In the middle range, for Gulfstream-style business jets, now we have the newly Chinese-owned Hawker Beechcraft. In the helicopter business, there is all-out Chinese activity. And for light propeller planes and "personal jets," we have the Cirrus Aircraft corporation -- still with its factory and design center in Duluth, Minnesota, but as of last year also owned by a Chinese state aerospace corporation, with headquarters in Zhuhai. (This is the same plane in which I took my
hair-raising ferry flight
back in 2006, and the same company I wrote about in
Free Flight
.)
Here is how the Chinese-owned-Cirrus display looked at this same Hong Kong airshow last year. The gentleman at the left is a recently prosperous Chinese factory owner I spoke with, who was ecstatic about fulfilling his lifelong dream of getting into flying.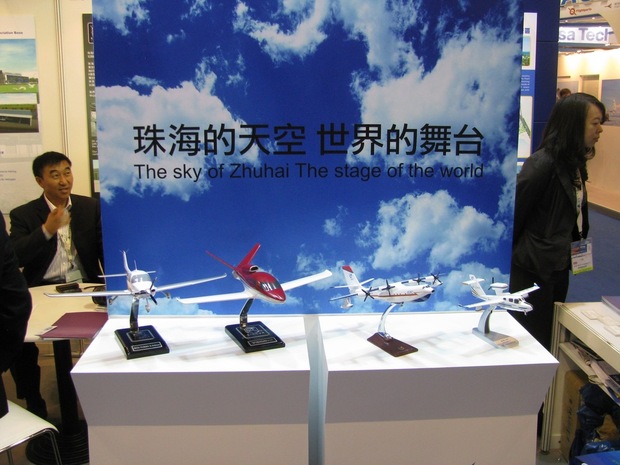 And here, just after the sale of Cirrus to its Chinese owners, is a hangar in Zhuhai that would become part of a new Cirrus repair and service base.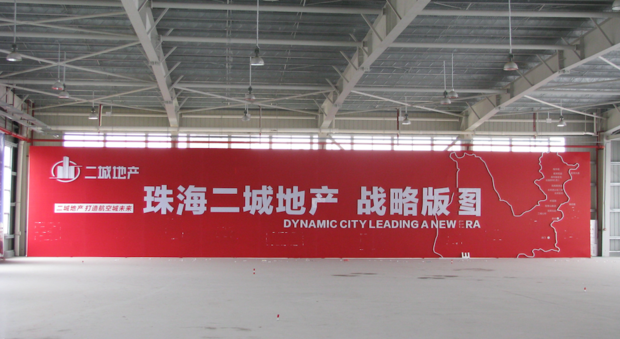 Just for the hell of it, here is one of the existing planes from the Zhuhai flight line, before all this modernization takes place (and illustrating why Chinese officials are so interested in modernizing).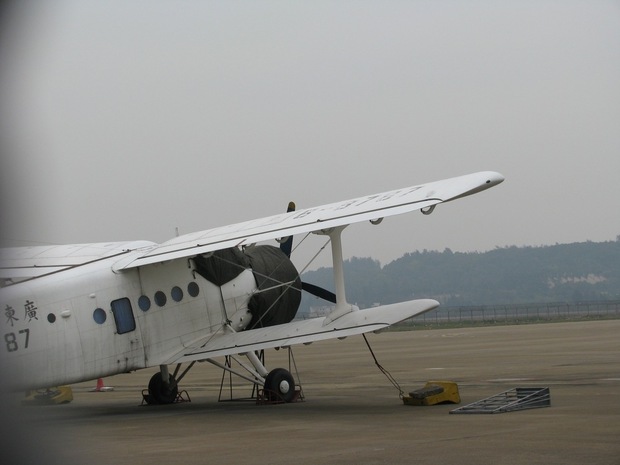 What does this all mean? Are the Chinese investing their money wisely, or foolishly? Is there a more sweeping lesson, good or bad, for the United States and the world? Hmmm, if only there were some
larger analysis
that put it all in perspective and extracted its lessons for China's development in a broader sense. More on this news shortly.
__
Update
This part of the AP story on the sale was particularly interesting to me, for reasons spelled out in the book:
Robert Miller, CEO of Hawker Beechcraft Inc., said in a news release that Superior first approached Hawker Beechcraft years ago regarding a potential partnership....

"Importantly, this combination would give Hawker Beechcraft greater access to the Chinese business and general aviation marketplace, which is forecast to grow more than 10 percent a year for the next 10 to 15 years," Miller said.