This article is from the archive of our partner
.
There's a work of maybe-satire that's been floating around the Internet for the last couple of weeks. You may have seen it. You may have laughed at it or shared it on your Facebook page or read blog posts about it, like Lindy West's amusing take on Jezebel yesterday. It's a piece in the University of Georgia student newspaper Red and Black titled "How to find that perfect husband in college," by Amber Estes, purportedly the girl in the image below, purportedly a sophomore majoring in public relations.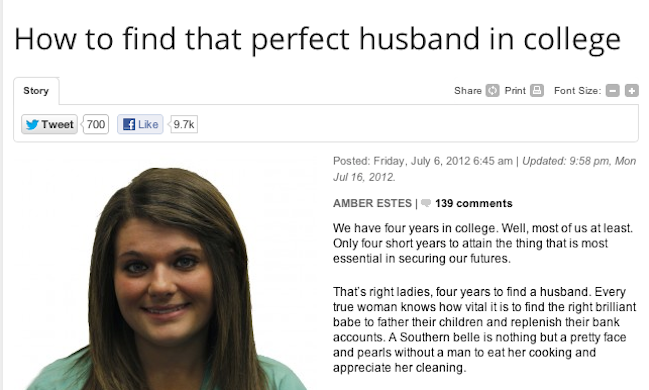 In her piece, Estes reminds women that the clock is ticking—there are but four years to find that "right brilliant babe to father their children and replenish their bank accounts." Estes goes on to instruct the Southern belle looking for "a man to eat her cooking and appreciate her cleaning" to hang around the law school for the most ambitious guys, to "Instagram everything," to "STAY CLASSY," and to get a ring, "not a fling."
If this isn't satire it's unbelievable, but even if it is satire (and the paper's EIC, for the record,  thought that it clearly was) there's a lot of wrong here. It's too easy to sit back and laugh at something like this while remaining blind to its more insidious elements. Because what Estes is describing, tongue in cheek or not, is a stereotype of a woman that a lot of people actually do believe exists. (If you've been to college at any point in the last 50 years, you probably remember someone referring to that girl who was just there for her "MRS" degree, no?) What's ultimately gross about those jokes and this piece is that they're just another vehicle for woman-bashing, albeit one cloaked in extreme ridiculousness or even in a kind of presumed feminism, aka, women shouldn't go to college to try to find husbands. But to mock women for, say, actively wanting to get married (while on the other side of the coin, mocking them for not doing that) presents a situation in which women are stereotyped and criticized for whatever they choose—and whatever they choose has to do with men in these and most examples. In fact, a look at some of the most common stereotypes about women indicate a frightening reality: In the collective mind, sometimes there is no way for women to behave. That is not very funny.