Will Turkey Follow Its Tough Talk on Syria With Action?
This close American ally is still stopping just short of military force against Bashar al-Assad.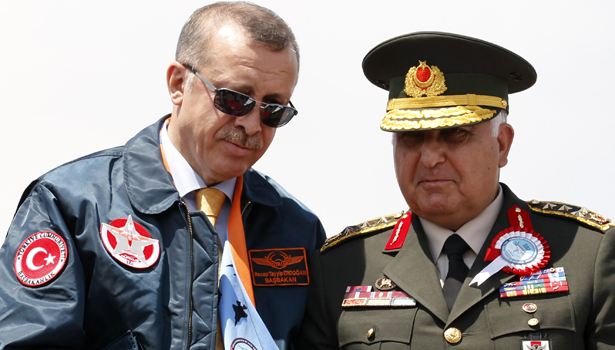 Turkey, one of the United States' closest allies, has done more to bring down Syrian strongman Bashar al-Assad than any other country. It now needs to decide just how far it's willing to go.
Turkey already houses the leadership of the Free Syrian Army, giving the rebels safe haven from which to plot new attacks against Assad. Gulf diplomats say Turkish intelligence operatives and special-forces personnel are working to train the insurgents into a force capable of beating back the Syrian military. Turkey is also the main transit point for most of the money, radios, body armor, and weaponry that is flowing to the rebels, the diplomats say.
One thing the Turkish government hasn't done, however, is actually use its own military against Assad. Turkey has one of the region's strongest armies, but Prime Minister Recep Tayyip Erdogan and his military advisers worry about being dragged into an open-ended and potentially bloody conflict there. The question now is whether that reluctance will begin to fade in the aftermath of Syria's recent downing of a Turkish warplane.
Publicly, there is evidence that Turkey may finally be willing to act. Speaking to parliament on Tuesday, Erdogan said Syria represented a "clear and imminent threat" and promised to respond militarily to any new Syrian incursions into Turkish territory.
"Any military element that approaches the Turkish border from Syria posing a security risk and danger will be regarded as a threat and treated as a military target," Erdogan told the lawmakers.
---
MORE FROM NATIONAL JOURNAL
---
Within hours, Turkish media reported that large numbers of Turkish troops, artillery pieces, and tanks were massing along the Turkish-Syrian border.
Erdogan's harsh denunciations of Assad were echoed by both North Atlantic Treaty Organization officials and the Obama administration. NATO Secretary-General Anders Fogh Rasmussen said NATO partners considered Syria's downing of the Turkish plane "unacceptable and condemn it in the strongest terms." White House press secretary Jay Carney said the U.S. stood in "solidarity" with Turkey and would "work with Turkey and other partners to hold the Assad regime accountable."
Still, neither Rasmussen nor Carney gave any indication there was willingness to use force against Assad. With the Afghan war dragging into its 11th year, there is simply no appetite within NATO for another overseas adventure. Here in the U.S., the Obama administration has no desire for a new military intervention just months before November's elections and has limited its involvement to diplomatic condemnation, sanctions, and the provision of nonlethal aid to the rebels.
Turkey, for its part, has been talking for months about creating a humanitarian safe zone along its border as a haven for Syrian refugees--and to use warplanes to protect the area from Assad--but has yet to actually do so. Launching direct strikes into Syria would be a far more aggressive move, and Syria experts say Ankara would be unlikely to take such a step without clear American backing.
"They want U.S. support and until now they haven't received it," said Andrew Tabler of the Washington Institute for Near East Policy. "This is not something they would do on their own."
Stephen Larrabee of the RAND Corporation said Erdogan was trying to line up NATO's diplomatic backing in case Syria continued to make other provocative moves in the future, and Turkey felt no choice but to respond in kind. Turkey, he said, hadn't reached that point just yet.
"They want to call attention to Syria's behavior but it isn't as if they thought they'd get NATO support for any military action, or that they're ready to go down that path themselves," he said by phone from Turkey. "At this point, the name of the game is to arm the rebels and put pressure on Assad, not to take him on alone."
Turkey has been at the forefront of the anti-Assad movement for months, and it would almost certainly be the vanguard of any push to use military force to oust Assad. For the moment, though, Syria's grim status quo is likely to hold. Erdogan may be talking tougher than ever about Assad, but the current flap is almost certain to die down without anything more than those angry words.