Will the EU Survive? The View From Aspen
A conversation about what lies ahead for Europe, with possible scenarios ranging from gloomy to gloomier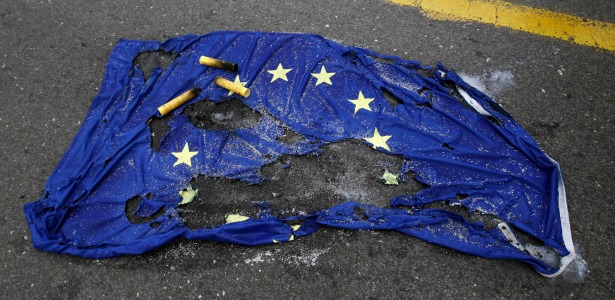 Reuters
I moderated a session at the Aspen Ideas Festival yesterday on the topic, "Will the European Union Survive?" The panel was Richard Haass, Simon Johnson and Beppe Severgnini--so we were one American, two Americanized Brits, and one bona fide European. How's that for global?
Severgnini, one of Italy's best-known political and cultural commentators, and an astute observer of the US too, was the most optimistic of the bunch (clip here). This is how Europe makes progress, he argued--by muddling through from crisis to crisis. Johnson was gloomier, emphasizing how much harder modern financial markets have made it to maintain that old approach. They are far bigger than they used to be, and much less patient. Slip up and the punishment might be swift and devastating. Meanwhile, the EU keeps failing to address its underlying problems.
These are points you'd think were obvious, but apparently not. This week's EU summit--hailed for now at least as a breakthrough--made some progress but seems to me another instance of playing for time (see previous post). Europe's already pressed its luck too far.
Notes from the Aspen Ideas Festival --
See full coverage
Haass made an important point, I thought. We keep looking for a "solution", but there is no once-and-for-all solution: the challenge is to manage an ongoing condition. He had no doubt that the EU would survive--the eurozone in its present configuration was another matter--but a better question would be to ask whether it will prosper. His answer? No, it won't. Muddling through might avoid an outright collapse, but Europe shows too little appetite for the structural reforms that would be needed to improve longer-term growth. The condition it has to manage is secular decline.
Asked what advice he'd give to EU leaders attending the summit, Severgnini said he'd tell Angela Merkel to explain to Germans why it was in their own best interests to support the EU's struggling economies more generously. Johnson said they needed to start discussing an orderly dismantling of the euro system.
Maybe next time.