What China's Talking About Today: Not Tiananmen
Instead, web users are discussing the Canadian porn actor who dismembered a Chinese student.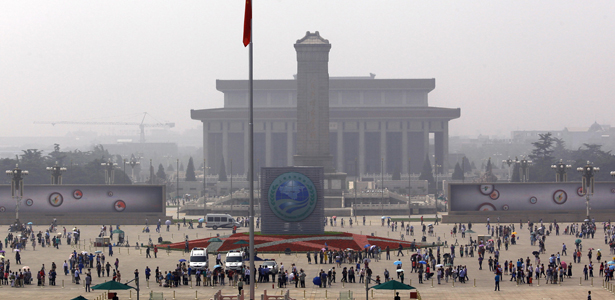 While many Chinese social media users would probably like to discuss today's 23rd anniversary of the 1989 massacre at Tiananmen Square, censors appear to be working hard to prevent even the most tangentially related keywords from appearing online. Banned words on Chinese social media today include the Mandarin for "candle," "massacre," "tank," and "never forget."
Sina Weibo censors are less inclined to redact foreign-language postings that won't reach a large readership. In English, "never forget" yields mild commentary on the Tiananmen Incident.
"I never forget what had happened today," wrote Weibo user Kenneth0_0v, based in Hong Kong, where an annual event at Victoria Park commemorates the massacre of countless protestors on June 4th, 1989.
Instead of Tiananmen, Weibo users are talking about the brutal murder of a Chinese study abroad student in Canada.
Last week, Interpol announced it would track down Canadian adult film actor Luka Rocco Magnotta, charged with killing and dismembering Lin Jun, a 33-year-old Chinese student at Concordia University in Montreal. Lin's hand and foot were mailed to Canadian conservative political parties before Magnotta fled the country. The two were reportedly romantically linked.

A video posted to the Internet reportedly captures Magnotta engaged in cannibalistic and sexual acts with what is believed to be Lin's corpse.
Magnotta was arrested today in Berlin Monday, sparking a trend on Weibo, with well over 400,000 messages in under a day.
Many users reported that they were traumatized by the news, but there was no dearth of colorful, often absurd musings on everything from Germany as the capital of the gay world to the victim's age.
"I just knew he was in Germany. That place is a gay paradise," wrote user Terrrrrrry.
Commenting on the victim's age, one user wrote, "33 years old and still in school?"
For some micro-bloggers, there is an age where education becomes inappropriate. In the same vein, some people are apparently too good looking for homicide.
One Shanghai-based female user wrote a wistful "Ai yo... That foreign young man looks so handsome. How could he be so deranged."