Welcome to YouFace.uz, Uzbekistan's Copyright-Stomping Facebook Clone
The site, which carries the same name as a joke from TV show 30 Rock, is the latest odd Uzbek social media venture.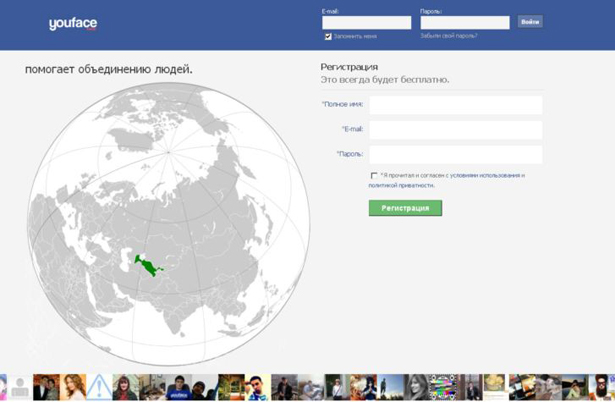 "Our answer to Facebook." So goes the PR blurb for a new social networking site designed for Internet-unfriendly Uzbekistan, but, say critics, it might as well read "our clone of Facebook."
YouFace.uz
has an interface strikingly similar to its famous counterpart: from the blue background and logo touting free-of-charge access (YouFace: "It will always be free"; Facebook: "It's free and always will be") to the almost identical user layout.
In an ironic twist, the launch comes 18 months after the NBC show 30 Rock
spoofed
social networking platforms with a fictional site called - you guessed it - YouFace.
The real, Uzbek YouFace has so far attracted 332 users, and on May 31 they were avidly debating (in Russian and Uzbek) whether the Facebook clone would take off.
"A shining example of how a lemon can be turned into lemonade," commented one.
"You shouldn't steal from someone else," snapped another.
Ayyub Abdulloh
, 22, says the site is his brainchild, set up with four sponsors - but financial issues are "private."
In an online YouFace chat with me, he defended it against plagiarism charges: "It is not similar [to] Facebook, but just looks like that." He pointed out that cars have similarities which create "comfort for drivers," and in the same vein "websites must be comfortable too."
Ayyub Abdulloh has already
told critics
that he plans to redesign YouFace, but that didn't stop one user joking that his next project should be "AyyuTube.uz."
Joking apart, rights activists fear that social network visitors in the .uz domain are subject to even greater controls in Uzbekistan's
restrictive
media environment than they are when using international domains. Last year, the launch of an Uzbek-language social networking site, Muloqot.uz, prompted concerns about
official cyber-snooping
.
YouFace's launch came as activists in Tashkent describe new Internet restrictions introduced "in an attempt to win the hearts of the youth in the face of so called 'mass culture' and also under the influence of 'the Arab Spring' events."
The Expert Working Group, one of the few independent human rights organizations in Uzbekistan, published a report May 29 suggesting that Tashkent had ordered lyceum and college teachers to patrol Internet cafes between 9 a.m. and 8 p.m. and order students out.
The move comes a year after restrictions on minors getting online were introduced, the report said, adding that documentaries warning of "negative aspects" of the Internet have proliferated on state TV.
There hasn't been much sign of negativity on YouFace so far. Abdulloh ended the online chat with EurasiaNet.org with a plea to let the world recognize "our great country," which is "the best country in the world."
This article originally appeared at EurasiaNet.org, an Atlantic partner site.