The Words That Scare America— and China
(Please see update(s) below.) For our special May 35 edition (look it up), a comparison of the words that can get you in trouble with the authorities in the world's two leading powers.
For America,
the list shows up in the Department of Homeland Security's "Analyst's Desktop Binder," viewable in
Scribd format here
. It was released
last week
after a
Freedom of Information Act suit by the
Electronic Privacy Information Center
. It includes terms-to-watch in monitoring social media and other communication channels. For instance, these are the tricky works in the "Domestic Security" category: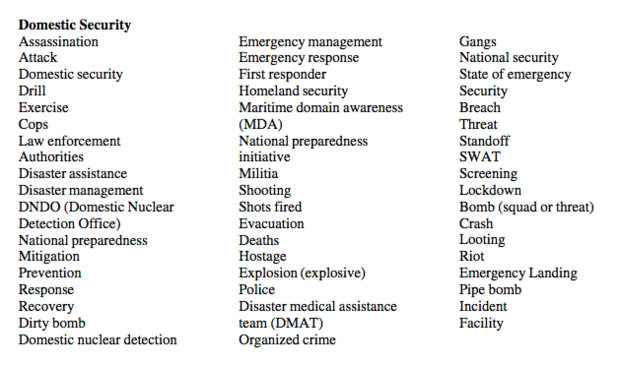 The whole document is an enlightening bureaucratic specimen.

For China
, the list has been produced through very creative use of the feature Google made available a few days ago. As
mentioned last week
, Google
started warning
users within
the Great Firewall
when one of the search terms they were entering was likely to trigger a disconnection or blockage. The
tyros
whizzes at both
GreatFire.org
and
ATGFW.org
managed to reverse-engineer this feature to produce a more-or-less master list of currently firewalled terms. This is interesting in its own right -- and additionally significant because the uncertainty of what was and was not allowed added to the Great Firewall's effectiveness.
GreatFire's list of blocked keywords contains some English and many Chinese entries. Here is a brief part of the English section. The * marks are for wildcards, and 什么 means "what?" or "what is?":

blood is on the square
boobs
chinese people eating babies
east.*turkistan|turkistan.*east
epochtimes
facebook
falun
freetibet
gfw.*什么|什么.*gfw
great.*firewall|firewall.*great
heguoqiang
heywood
hotspot.*shield|shield.*hotspot
hujin
jasmine.*revolution|revolution.*jasmine
jiangzemin
jiaqinglin
jzm
lichangchun
likeqiang
liu.*xiaobo|xiaobo.*liu

In every one of those terms (and this is a tiny sample) is a whole saga for people following the Chinese developments. More details on GreatFire's site, plus this explanation by Bill Bishop on Sinocism. I have theories about what the lists say about each country, and about the beyond-national-differences workings of security-state agencies, but I'll skip them for now.
UPDATE China Digital Times goes into detail about the sensitive terms, and allows users to add updates, in English and Chinese postings.
Update2: Several readers have noted that I included the DHS/TSA list of touchy words as an image, rather than as pasted-in text. You're right! This was no accident. I figured I didn't need to ask for more trouble in TSA screening lines by putting up a post with all sensitive terms back to back.
I'm kidding, mostly. But the use of an image rather than text was intentional.: While on the road, I had missed Rebecca Rosen's very good previous item about the US list.

Update3