The Global War on Journalists
Reporters, particularly women, are coming under fire around the world.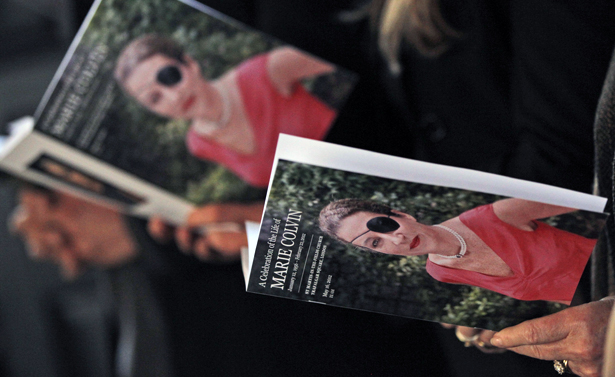 On Sunday, gangs of men sexually assaulted British freelance journalist Natasha Smith in Tahrir Square as crowds celebrated the results of Egypt's presidential election.
On Wednesday, Syrian rebels attacked a pro-government television station and executed three to seven employees.
And later that day, a court in Ethiopia convicted prominent journalist Eskinder Nega of being a member of a secret plot to overthrow the government.
The theme of all the attacks? Journalists being demonized as spies, government agents, or terrorists.
"We see a horrendous rise in this type of violence," Frank La Rue, the United Nations Special Rapporteur on freedom of opinion and expression, said at a conference this week. "Not only in deaths but in the form of harassment, and in sexual assaults against female reporters."
In a searing and courageous blog entry posted on Tuesday, Smith, the British freelance journalist, described a vicious assault in Tahrir Square.
"The women told me the attack was motivated by rumors spread by troublemaking thugs that I was a foreign spy, following a national advertising campaign warning of the dangers of foreigners," Smith wrote. "But if that was the cause, it was only really used as a pretext, an excuse, to molest and violate a blonde young Western girl."
Lara Logan, an American journalist who endured a similar assault in Tahrir Square last year, said she believed recent attacks on international journalists -- and on foreign and local women in Egypt -- were directed by remnants of the regime of former President Hosni Mubarak.
"It's a systematic campaign against journalists, who are enemies of the state," Logan told the Committee to Protect Journalists, a New York-based press freedom group, this week.
"They want to get the foreign media out," Logan added. "They don't want foreigners from the media, aid organizations, or doing democracy work. We are regarded as a threat to the regime."
The assault on Logan last year prompted dozens of female journalists to break a code of silence and disclose previous sexual assaults. In the four months after the attack, 52 female reporters disclosed to the Committee to Protect Journalists that they had experienced varying degrees of sexual violence -- from rape by multiple attackers to aggressive groping -- in retaliation for their work or while reporting.
The victims included 27 local journalists from the Middle East, South Asia, Africa, and the Americas. Twenty-five international journalists reported being assaulted, including two who said they had been raped. Several male journalists said they had been sexually abused when in detention or captivity. Most of the attacks occurred in the last five years. A small number date back 20 years.
"Many of the assaults fall into three general types," CPJ said in a June 2011 report entitled "The Silencing Crime". "Targeted sexual violation of specific journalists, often in reprisal for their work; mob-related sexual violence against journalists covering public events; and sexual abuse of journalists in detention or captivity."
Journalists are also dying. This year, Syria has the world's highest death toll. So far, 12 Syrian and foreign journalists have perished while covering the conflict there.
In February, government forces fired rockets at a makeshift press center used by Syrian and foreign journalists in the city of Homs after apparently tracking satellite telephone signals from the site. The attack killed the Syrian blogger Anas al Tarsha, French photographer Remi Ochlik and American journalist Marie Colvin. The Syrian government has also tried to use spying software to track Syrian anti-government activists, according to the Electronic Frontier Foundation, an Internet free-speech group.
Around the word, technological innovations are giving journalists in developing countries larger audiences and more power, according to advocates at this week's conference, which was organized by the International Press Institute. States, in turn, are trying to silence reporters in multiple ways.
In Guatemala, a recently enacted law makes sparking a "bank panic" a criminal offense. The practical result is that journalists are barred from examining the performance of banks and other financial institutions.
In parts of Europe, the siblings and other relatives of journalists have been arrested or physically assaulted in retaliation for critical reporting. And in former British and French colonies, antiquated criminal defamation laws allow politicians and businessmen to file defamation suits carrying potential jail terms against journalists.
"We have insult laws, we have sedition laws, we have falsehood laws," said Faith Pansy Tlakula, an African press freedom monitor. "Only 10 countries on the African continent have adopted open information laws."
As the intimidation and harassment worsens, press, and Internet-freedom groups are increasingly calling for the United Nations to do more to protect journalists and the public's right to information. But China, Russia, India, Brazil, and other countries are calling for the UN to be given the power to police speech, not protect it.
They are proposing that an obscure UN agency -- the International Telecommunication Union -- have control over the administration of the Internet, instead of the California-based non-profit, ICANN, that currently does.
Chinese officials argue that UN oversight would help block the spread of malware and spam. Press freedom groups say it is a blatant attempt to control the Web.
"Will the UN be the global censor?" asked Joel Simon, CPJ's executive director. "Or the global defender of the right to information?"
Let's hope it's the latter.
This post originally appeared at Reuters.com, an Atlantic partner site.