Rumsfeld's Strange 2002 Memo About Saudi Arabia
Nine months after the rest of America, Bush's defense secretary decided that the U.S. should think about its relationship with the country.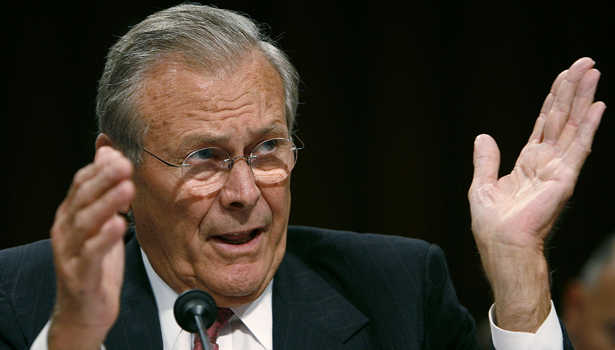 Donald Rumsfeld has put a lot of documents from his storied career online. Kudos to him. They're searchable, and he's also created pages that highlight papers that pertain to specific people. For example, he introduces this page by noting, "This small sample of the many documents related to Dick Cheney in the Library was selected to give a sense of the many issues, great and small, that he and I have grappled with over our decades of public service." Interesting, right?
But as I perused the papers he selected, this one (PDF) puzzled me:
June 20, 2002 - 2:56 pm
SUBJECT: Saudi Arabia

On June 19, before the NSC meeting started and while we waited for the Vice President, I talked to the President and those who were there about Saudi Arabia.

I expressed my concern about the country and the fact that they were putting things on television that were anti-Israel, paying suicide bombers' families and continuing to fund madrassa schools. We have a lot of Americans on the ground there, and it concerned me. I thought the U.S. Government ought to give some thought to it.

Everyone agreed, including Powell, Cheney and the President.

It just seems so weird that, nine months after a massive terrorist attack perpetrated by 19 hijackers, 15 of them citizens of Saudi Arabia, Secretary of Defense Rumsfeld was sitting around with President Bush, Secretary of State Powell, and others, musing that maybe the U.S should give some thought to the country, as if that was a new suggestion, and he was feeling them out to see whether they agreed or not. But that would be crazy. To be fair, the Saudi government has been fighting terrorists for as long as has the U.S., making the two governments natural allies against their common enemy. And, in the months after the September 11 attacks, that alliance was getting even closer as the U.S. turned more attention to some of the same extremist movements that Saudi Arabia had plagued Saudi Arabia since the 1979 siege of Mecca. So it was, in some ways, a natural moment to step back and question the U.S.-Saudi relationship.
As weird is that Rumsfeld would highlight this memo, transcribed in full above, in the section for papers that relate to Dick Cheney, whose connection to this conversation seems to be that his tardiness permitted time for it (and that he agreed that the U.S. should think about Saudi Arabia, which was deemed noteworthy).


Am I missing something?