Panetta Courts India to Up its Game in Afghanistan?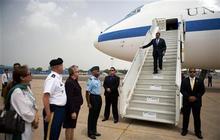 Defense Secretary Leon Panetta is now in New Delhi reportedly
encouraging India to increase its role inside Afghanistan
.  Isn't that exactly what Pakistan fears?
When I spoke to former President Pervez Musharraf at a Washington College event on Maryland's eastern shore last year, Musharraf lamented that Afghanistan did not send its government officials and military to train in Pakistan.  He said "they send all of these people to India for training and education." (photo to right: Reuters)
He argued that this sort of rejection of Pakistan institutions and relations by the Afghan government apparatus only heightened Pakistan's paranoia about India's influence in this key strategic border state.  Musharraf said that Pakistan would cover all the costs for training Afghan technocrats.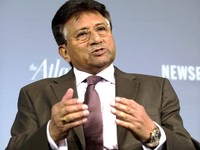 Whether this is smart for Afghan civil servants or not (and probably not), many Afghans feel that they have little control over what happens inside their national boundaries -- that Iran, Pakistan, India, China, the US all have agendas, agents and stakes inside the country.
Perhaps as the US downsizes its military footprint, the American strategy now being deployed is of balancing, or tipping as the case may be, the contending forces inside -- pitting Indians, Pakistanis, and perhaps Iranian interests against each other inside Afghanistan. Or maybe (facetiously) it is the Chinese pitting us against Pakistan and Iran inside the country with India as an ally?
Whatever the game afoot may be, it seems that the plans for a US-nudged India-Pakistan rapprochemont as a key step in stabilizing Afghanistan may have just been torn up by the Defense Secretary who remains frustrated with Pakistan's lack of cooperation on the terror front.