One Dictatorship's Answer to Declining Newspapers Sales: Force People to Buy Subscriptions
The autocratic government of Turkmenistan now requires state employees to subscribe to Turkmen Dili and other papers.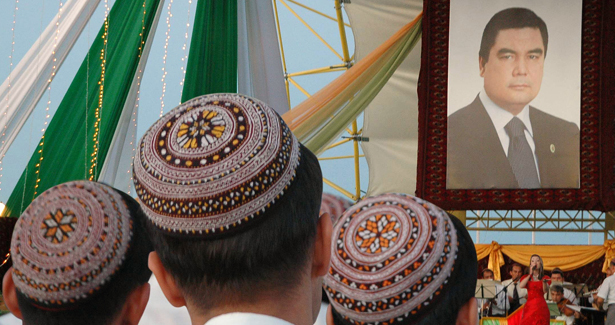 Newspaper owners around the world worry obsessively about circulation figures, but Turkmenistan's state media is getting around that problem by forcing government workers to buy subscriptions.
Mandatory attendance by state employees at horse races and concerts to celebrate national holidays has been standard for some time now, so this practice is only part of the bigger picture.
Turkmenistan has no independent media, and the state newspapers and magazines that are published are to a great extent exercises in praising the policies of President Gurbanguly Berdymukhamedov. Perhaps for that reason above all others, they are not overly popular in their own right.
In what appears to be an exercise to compensate at least partially for the outlays involved in producing print publications, government workers are, as of the second half of 2012, being obliged to take out subscriptions.
So, for example, people working in schools and universities will now have to commit to buying at least four newspapers and one magazine, which should include the capital city government's newspaper, "Ashgabat," and education workers' newspaper, "Mugalymlar Gazety" (Teacher's Newspaper).
Perversely, postal service workers, who have access to all the newspapers in the country -- at the workplace anyway -- are being made to spend at least $17.50 twice a year on publications they could have already read.
The forced subscriptions drive has yielded most returns for weekly newspaper "Turkmen Dili," (Turkmen Language) which costs around $1 for six months and has 117,500 subscribers. It popularity may have more to do with its cheapness than anything.
By way of comparison, the only available Russian-language newspaper, "Neutralny Turkmenistan," has a circulation just over 49,100.
This article originally appeared at EurasiaNet.org, an Atlantic partner site.