Not The Onion: Moscow Bans Gay Pride for Next 100 years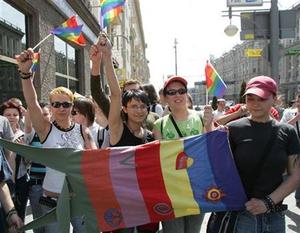 This is not from
The Onion
, and it's not April Fool's.  Moscow's city and district courts are in unison that gay pride parades in Moscow will be banned until at least 2112 -- 100 years from now.
Human Rights First is already out with its condemnation:
Human Rights First condemns the Tverskoy District Court ruling to uphold the decision of Moscow authorities to ban gay pride parades in the city until May 2112. The Moscow City Hall has banned such events for seven consecutive years, citing numerous letters from public officials, religious organizations, and private citizens urging the authorities to prohibit a demonstration. The European Court of Human Rights pronounced these bans illegal in October 2010. (photo credit: Reuters)


"This unprecedented ban is not entirely surprising, but Russia's society is evolving at a pace not even Vladimir Putin can control," said Human Rights First's Innokenty Grekov.  "More people are becoming accepting and tolerant to LGBTI persons. The 100-year ban, along with the discriminatory laws prohibiting "promotion of homosexuality" that are spreading through local legislatures, show that the Russian government remains behind the times."
Putin better go back and study up on the Hegelian dialectic.  It's hard to imagine a more animating event than a 100-year ban to throw at gays, their families and friends, and believers in democracy than such an absurd and comic ban.
I can see the G8 meeting protest rallies, the UN General Assembly events, the websites taunting Putin and his judges, and more.  The gay crowd will harrass and torment and undermine and prevail over those trying to repress them.  This ban is a gift.
This may become one of my favorite new causes as well.  Russia -- strategically important, a key member of the UN P-5, a country America must work with on challenges ranging from Iran to Syria to global oil and energy issues, with a steady and mostly sensible foreign minister -- is increasingly becoming a farce among nations, its seriousness dissolving with idiotic gestures like this gay ban.