Making News: Human Rights Watch
Starting from modest origins, the international arbiter has evolved into a well-respected -- and essential -- journalistic force.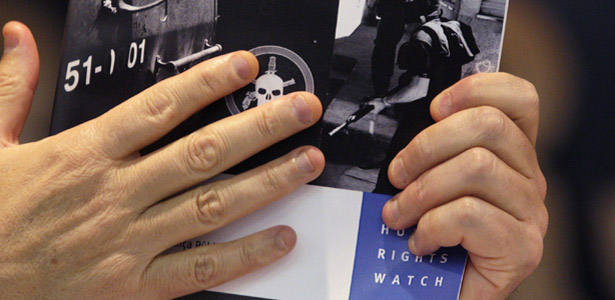 Reuters
Wherever in the world there is trouble, a Human Rights Watch researcher is almost certain to be on the ground gathering facts and offering invaluable insight. Since its earliest work in the late 1970s, Human Rights Watch (HRW) has evolved into one of the leading international arbiters of abuses by governments and opposition forces against civilian populations. Decades of factual reliability in countless reports from every corner of the globe has made it into an indispensable resource for tracking repression and violence and demanding accountability from those responsible. In recent years, in addition to its human rights activities, HRW has also become an award-winning, respected provider of news.
I am an emeritus board member of Human Rights Watch and now only serve on its communications advisory committee. In that role, I have come to understand how significant the organization is in supporting journalism with a stream of information across multiple platforms. This is an era when credible, real-time facts are essential to reporters coping with the complexities of events and the incessant requirements to stay in touch with developments in fast-moving stories. Material from human rights groups traditionally was regarded with skepticism by the media because of the implicit notion that advocacy might shade their findings. But that is no longer the case for Human Rights Watch. With courageous and intrepid staffers dispatched globally, there is ample evidence that they turn out the kind of detailed reporting that correspondents can unequivocally accept. On war-related issues, the rule of law, human trafficking, and every other form of abuse, HRW's expertise is profound. In addition to its daily output, HRW's major reports and its annual survey of worldwide human rights conditions are closely followed by the constituencies they are meant to reach in governments and civil society.
Human Rights Watch calls its people in the field "researchers," a term that can be misleading, indicating somehow that they are deskbound. In fact, they are the opposite, positioned to move into zones of trouble at the first signs of conflict. But to call them journalists or reporters would be a misnomer also, because they are mission-driven to find and record every violation of international standards. Their goal is to bring perpetrators to account and end the abuses they uncover. Nonetheless, their empirical precision with detail has earned the researchers and the HRW communications and executive leadership that guide them confidence from across the media spectrum. HRW is cited in countless news reports every day without qualification by the most important independent news gatherers in print, online, and broadcast.
Human Rights Watch started as a group of committees established to monitor compliance with international law and to speak up on behalf of dissidents in the Soviet bloc, and later for victims in Latin America (particularly in the 1980s civil wars in Central America), Asia, Africa, and the Middle East. In the 1990s, the committees came together as Human Rights Watch, and the organization expanded its work to include women's rights, prison conditions, children's' rights, and arms transfers. After years of effort, HRW was also instrumental in the establishment of the International Criminal Court and the Hague tribunals. Today, HRW has a budget of $65 million and is growing annually. A $100 million, ten-year challenge grant from George Soros greatly boosted HRW's ambitions. Its endowment, subject to market fluctuations, is around $85 million. It has over 350 employees, offices around the world, and researchers covering 90 countries. This year, HRW won two prestigious Peabody Awards for multimedia features on Russia and Papua New Guinea. The Russia feature on civil society included stunning portraits by New Yorker staff photographer Platon. It was published in the magazine and in publications and websites in twenty other countries. The Papua New Guinea feature accompanied a report on abuses against people living near the Porgera gold mine with deplorable environmental conditions and violence by security guards against the populace.
Responding to the awarding of an established journalism prize such as the Peabody to a human rights organization, Carroll Bogert, HRW's deputy executive director, said, acknowledging the honor: "It's also a reflection of how much the media business has changed. Human Rights Watch is a player now in the global information marketplace, alongside even the world's top media organizations." In terms of social media, HRW has over 350,000 Twitter followers, and about sixty staff members produce their own tweets on a regular basis. Researchers and the program staff also write dozens of press releases vetted by editors and legal advisers, and HRW's robust website and Facebook presence is constantly updated. In the past three years, HRW has won four Webby awards. Information updates flow directly into Google news along with the reports from the world's leading news organizations. The European Broadcasting Union takes HRW's video feed and makes it available to eighty-five broadcaster members. HRW's YouTube video channel has been viewed almost two million times.
As a human rights organization, HRW follows these principles: gather the facts and use them to support advocacy and recommendations for change and accountability. This distinctive combination of activities gives Human Rights Watch a unique place among institutions that shape our view of the world. As an impeccable gatherer of information and a persuasive voice for respect of human rights, HRW has become a vital force in a turbulent world that urgently needs what this formidable organization is so well equipped to deliver.