Julian Assange Might Want to Think Twice About Seeking Asylum in Ecuador
The Ecuadorian government has treated media organizations harshly, though its president seemed to show sympathy for Wikileaks during a recent, collegial TV interview with Assange.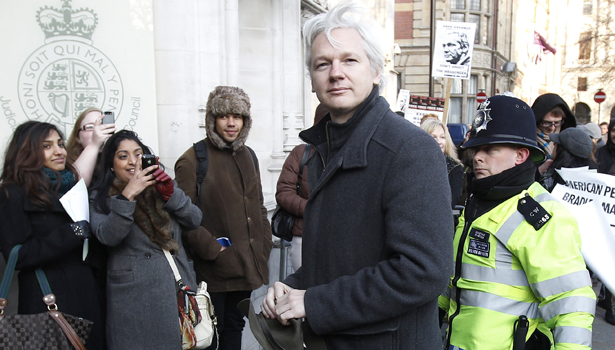 "ALERT: Julian Assange has requested political asylum and is under the protection of the Ecuadorian embassy in London," the official feed of Assange's Wikileaks tweeted this afternoon. Ecuadorian officials quickly confirmed to Reuters that Assange is seeking asylum, a request they said they're "studying and analyzing."
Five days ago, Assange lost his final court bid to halt his scheduled extradition to Sweden, where he is facing rape charges. A British court had set an extradition deadline of July 7, meaning that the end of Assange's British legal drama, which began with his December 2010 arrest, appeared to be nearing its end. If it's true that he's fled to Ecuador's London embassy, in a sort of reverse Chen Guangcheng, it would appear to be a last-ditch effort to escape the Swedish criminal charges against him.
It's still not clear why or how he settled on Ecuador. But, whatever the rationale, would this really be the safest destination for a self-styled journalist and revolutionary? The Ecuadorian government at times imposes severe -- and worsening -- restrictions on journalists as well as critics of President Rafael Correa.
International NGOs describe Ecuador as a country that is increasingly hostile to both journalists and transparency advocates, neither of which would seem to bode well for Assange. Reporters Without Borders has chronicled one shut-down after another. Last week, Freedom House issued its latest press release detailing the Correa government's ongoing crackdown on journalists: "The closure of another independent media outlet and numerous public comments made by President Rafael Correa attacking private media are an alarming illustration of Correa's growing attempts to silence critical media." The Human Rights Watch page for Ecuador warns, "Ecuador's laws restrict freedom of expression, and government officials, including Correa, use these laws against his critics. Those involved in protests marred by violence may be prosecuted on inflated and inappropriate 'terrorism' charges." Ecuadorian officials have attacked some of the critical NGOs. Wikileaks is not analogous to Freedom House or Human Right Watch, but if Assange were interested in predicting how a governmental transparency organization might be received in Ecuador, he might find some cause for concern.
In May, panelists at the Human Rights Foundations' annual Oslo Freedom Forum dedicated some time to worrying about Ecuador's treatment of media and political dissent, two terms that might be roughly considered to include Assange's own work. Of particular concern was the million-dollar fine that President Correa imposed on an Ecuadorian newspaper for printing a letter to the editor alleging he had been involved in ordering police to fire on demonstrators at a protest in September. The letter's author, ironically, is currently seeking asylum in the U.S.
So why Ecuador? We might now know the answer for some time, if ever, but it's worth noting that only last month, Assange sat down with Correa to interview the Ecuadorian president for his show on the Moscow-sponsored TV channel RT.
"A new generation of Latin American leaders has arisen," Assange opened the segment. "Correa is a left-wing populist who has changed the face of Ecuador. But unlike his predecessors, he holds a Ph.D. in economics. According to U.S. embassy cables, Correa is the most popular president in Ecuador's democratic history. But in 2010, he was taken hostage in an attempted coup d'etat. He blames the coup attempt on corrupt media and has launched a controversial counter-offensive. Correa says the media defines what reforms are possible. I want to know, is he justified? And what is his vision for Latin America?"
The interview began with Correa asking the first question. "Are you in England?" Assange answered, "I am in England, under house arrest." Later, after sharing a joke about Correa's decision to close a U.S. military base in Ecuador, the president asked between laughs, "Are you having a lot of fun with this interview, Julian? I am too." They went on to discuss tension in the U.S.-Ecuador relationship, including Correa's decision to expel the U.S. ambassador.
Assange did ask Correa about his "reforms" in media policies, and whether they would repress "true information." He answered by praising Wikileaks for exposing that "in a shameless way, the [Ecuadorian] media did not publish those cables or news which affected them." He dismissed reports of his media suppression as "just myths," saying that "this is hardly ever seen in Latin America."
To be fair, Wikileaks did publish a number of cables from the U.S. embassy in Ecuador. Some could be seen as embarrassing to Correa's government, such as this late 2011 cable noting "several items of concern which, left unresolved, could prejudice a clean and orderly vote" in the national elections. Still, they weren't all bad. Correa even read a couple of them over the air on Assange's show.
Correa, in explaining his media crackdown to Assange, repeatedly cited "media power," which he warned "was, and it probably is, greater than political power." Assange has portrayed his own organization as more powerful than national governments. It's difficult to envision those two philosophies meshing very well.
---
Update: Some readers have pointed to a November 2010 public statement by Ecuador's deputy foreign minister suggesting that his country would allow Assange residency. However, later that month, Ecuadorian Foreign Minister Ricardo Patino walked that back a bit, saying such a plan "will have to be studied from the legal and diplomatic perspective."