It's Not Just Newspapers: Circulation Tanks at Al-Qaeda's Magazine, 'Inspire'
In June 2010, members of the vibrant online jihadist community launched al-Qaeda's first-ever English-language magazine. The premier issue of Inspire was glossy (or it would be if you printed the downloadable PDF, at least), filled with color photos and languid essays on the Great Satan, and a bombshell in the Western media, which relished the opportunity to see the world through the eyes of al-Qaeda propagandists.
Bad news, however, for the editors hiding out in Yemen or Pakistan or wherever they might happen to be: Inspire, like so many newspapers and magazines here in the U.S., has seen its readership absolutely crater, judging by the download rates at jihadist site Tawhed. Here are the download statistics for all nine issues, compiled by New America Foundation terrorism analyst Brian Fishman (and kindly graphed by colleague Derek Thompson):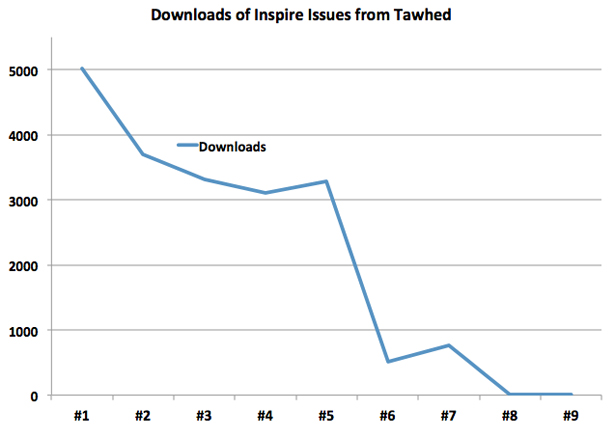 Yes: it's not just bad, it's local American broadsheet bad. Even the folks at the San Francisco Chronicle, which had circulation drop 23 percent in a single year, wouldn't want to see numbers this severe.
Still, as terrorism analyst J.M. Berger pointed out, issues eight and nine posted on Friday, so it's not really fair to judge the publication by those numbers yet. To get a rough sense of Inspire's decline, then, let's gauge their current readership by averaging together the download totals for issues six and seven, which comes to 640 readers. By comparison, the average of their first two issues was 4356 readers. That's a staggering drop of 85 percent over a two year period.
Of course, Tawhed isn't the only download source, and it's possible that multiple people read each downloaded copy or upload them to other sites, so the readership is likely larger than this. But there's no reason to think that the broader trend of decline here wouldn't hold across platforms.
Why the big drop? Three theories: the first is that al-Qaeda is such a mess, and facing such terror in the U.S. drone strike program, that either its product isn't as good or its readership is literally declining in size. (Foreign Policy's Blake Hounshell jokingly summed this up, "So, droning their editors is a winning strategy?") The second theory is that al-Qaeda's core message and ideology are becoming less appealing among Inspire's target audience of angry, web-savvy, English-speaking would-be jihadists.
There's probably some truth to both of these, but it's the third that seems most likely: the web magazine was being downloaded by lots of curious non-jihadists, driven by the heavy Western media attention, and now that Inspire isn't as fresh or interesting any more, they're no longer flocking to sites like Tawhed to check it out.
Whatever the reason, be glad you're not managing circulation at Inspire. It's probably one place where you really, really don't want to piss off your bosses.