What China's Talking About Today: Is Chinese Soft Power Working?
A new U.S. policy that restricts Confucius Institutes starts a debate about China's influence abroad.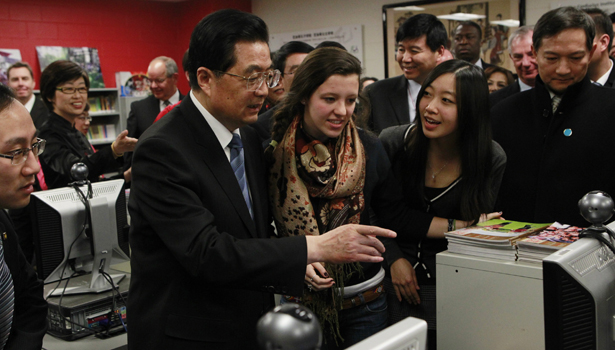 When the Chinese government, riding the increasing global interest in learning Mandarin, started to open up language and cultural centers abroad by the hundreds, worried murmuring spread among foreign critics. Confucius Institutes and Confucius Classrooms, as these centers are called, have 380 locations in the U.S., and are run by Chinese government-trained and -financed language teachers in collaboration with American education institutions. But, due to the various censorship rules governing what it can and can't say -- no mention of the Dalai Lama or the Tiananmen Massacre -- some in the West have criticized it as propaganda vehicles, a label that has not pleased the Chinese authorities who hoped the initiative would improve China's image. Still, the most painful sting came this week, when the State Department announced new policies to regulate these teaching centers in the United States.
Chinese language teachers at university-based institutes who are teaching at the elementary- and secondary-school level are violating the terms of their visas, according to the announcement, and must leave the U.S. by June to renew them abroad. It also requires the U.S.-based centers to acquire American accreditation in order to continue accepting foreign teachers.
"Is it China who doesn't want to connect with the world, or is it America who doesn't want to accept China's rise?"
The State Department denies targeting Confucius Institutes with its new policies, and seems to have done some backpedaling after the announcement. The news has ignited wide discussion on Weibo, China's Twitter-like social media platform, including some thoughtful reflections on China's approach of pushing soft power abroad.
"The case of American [regulation of] Confucius Institutes in fact proves the influence of Chinese culture, but it's not a positive influence," user enterprise soft power wrote. "To improve the and promote our brand in the world, we still have a long way to go."
"Confucius Institute did promote the study of Mandarin and give foreigners a chance to understand Chinese. Only China has such thinking and capability to create a boom like this in so few years," daodaolaosuisuinian offered. "But everything has its limit. The push from the [Chinese] government should not go against the rules of education in other nations, and should not violate market and entrepreneurial principles."
Other users worry about the escalating tension between the two governments as Chinese official media outlets rush to condemn the U.S. policies, and advise their government to adopt a more levelheaded approach. "Americans see [the Confucius Institutes] as China's global cultural expansion after its economic boom. What China should do now is to solve the problem in America following the American way, so that it doesn't spread to other countries," user Cong Zhongming suggested.
Weibo user 3frank attempted to see the issue from the perspective of a common Chinese citizen, confessing that he has not been the biggest supporter of Confucius Institutes. "Taking tax-payers' money to invest abroad for political considerations, and sending cadres to be so-called volunteers...When there are hundreds of millions of Chinese parents and students who are burdened by domestic education industrialization and cannot afford to go to school, [the government] is spending colossal amount of money to teach foreigners Chinese."
Not surprisingly, some of the public anger in China is also directed at the U.S. Among the most prominent voices is Kong Qingdong, a rabble-rousing professor at Peking University who claims to be a direct descendant of Confucius.
"Citing visas, the U.S. has set a deadline for Chinese Confucius Institute teachers to leave the country," Kong said on his Weibo page, which has over a million followers. "Meanwhile, in China, everywhere you look you find Hollywood movies, Silicon Valley microchips and McDonald's french fries. From entertainment to technology to food products, the American cultural invasion is multipolar, omnidirectional, and deep."
Juxingguan also pointed out the disparity between the degree of cultural penetration China versus the U.S. have managed on one another's soil, calling the U.S. move a telling sign of its attitude toward China's rise. "Chinese education incorporates English into its requirements and treats it as an important subject in exams. In America, Confucius Institute is a branch for specialized learning, have to obtain accreditation to operate, and was even once suspected to be a spy agency," he wrote. "Is it China who doesn't want to connect with the world, or is it America who doesn't want to accept China's rise?"
More than a few Weibo users related the U.S. policies to the recent surge of xenophobia in China, and struck a prophetical tone in their comments. "A stupid foreigner trying to rape a Chinese woman on the street, a cellist insults Chinese passengers," user Laoma wrote. "I knew this is going to happen."