What China's Talking About Today: British Man Beaten After Sexually Assaulting a Chinese Woman
Some Chinese micro-bloggers are demanding a crackdown on foreign criminal activity in China.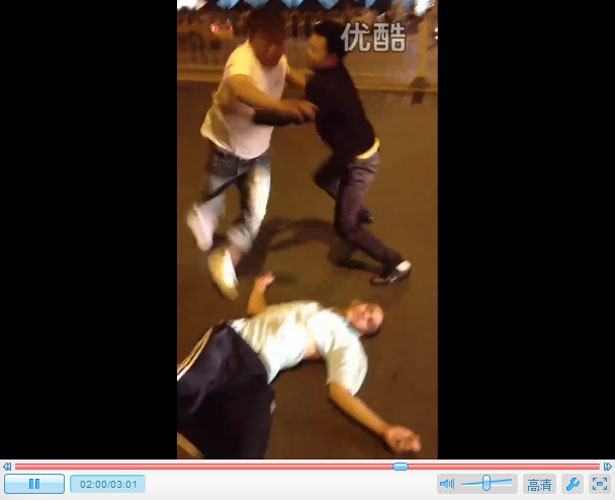 Chinese social media is buzzing about a British national who appears to have sexually assaulted a young Chinese woman on a street near Tiananmen Square on Wednesday evening. A bystander helped pull the assailant off the victim, who'd screamed for help.

The assailant, whose name has not been disclosed by Chinese authorities or the British embassy in Beijing, was reportedly drunk.
The assault, and the assailant's subsequent beating by Chinese passersby, were videotaped and posted online by a Sina Weibo micro-blogger, where it was distributed over 10 million times just on Youku, the Chinese YouTube.
The video shows the final moments of the assault against the victim, as well as the assailant being beaten and subsequently lying unconscious on the ground.
One off-camera voice shouts, "F**k your mother. This dirty [expletive] foreigner. How dare you try this crap in China!"
The Sina Weibo micro-blogger who recorded the incident also captured several photographs of the assailant ogling and harassing other women on the Beijing subway system.
The Beijing Municipal Public Security Bureau confirmed the report and announced that the assailant, on a tourism visa, is in custody while police investigate. Attempted rape is punishable by up to 10 years in prison under Chinese law.

Social media users were also angry at the British man. "Go back to where you came from," wrote user BeijiXingZhiXingyuan, a typical online response.
"There must be a lot like this guy in Shanghai. Send all the foreign criminals back," wrote user A Guitar and a Cigarette.
Others expressed desires that the assailant be prosecuted to the full extent of Chinese law, regardless of his citizenship.
"We can't let foreigners run around lawlessly," wrote Weibo user BuGeiliYo.