What China's Talking About Today: 'American French Fry Brother'
An American feeds an elderly homeless woman in Nanjing some fries and water, sparking a debate over charity.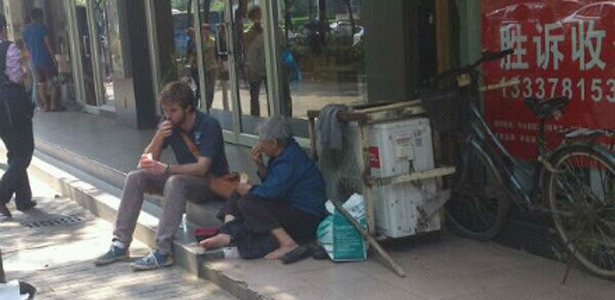 "American French Fry Brother," the nickname of an American study-abroad student, is now trending on Sina Weibo after he fed a homeless woman on the streets of Nanjing a packet of fries and some water.

Los Angeles native Lu Jiesen -- a phonetic translation of his English name, Jason -- is enrolled at Nanjing University.
Lu found the elderly homeless woman sitting outside of a McDonalds on Guangzhou Road in Nanjing. The two reportedly conversed happily while they shared their fries. Photos of the incident, taken by an onlooker, have gone viral on Weibo, where Lu Jiesen's compassion has turned into nearly 200,000 messages in the past two days.
"We can't help solve all the world's big problems, but at least we can pay attention to the people around us," Lu told Sina News, which interviewed him sometime after the photos started spreading online. It's not clear how Lu Jiesen was identified from the photos.

"Kindness has no borders," Sina Weibo said of Lu's act of philanthropy and McDonalds diplomacy, "Let kind hearts melt away indifference." Some online commenters seemed to yearn for the bygone days of revolutionary altruism.
"Some people haven't 'Learned from Lei Feng,'" wrote user VDONGWorkshop, invoking the Cultural Revolution-era slogan, which itself alludes to a Maoist icon who is believed to have devoted his life to his countrymen.
But amid the outpouring of regret about indifference in contemporary Chinese society, some commenters thought the fanfare was absurd. "I have faith that a lot of Chinese people are capable of the same thing," said user WangKai945.
Some users actually seemed upset by Lu Jiesen's cholesterol-filled charity."American imperialism won't even spare our old ladies," wrote WagnersHome.